ANA Show Report and New Auction Lots Posted

Now that everyone has departed the land of Disney and has had a moment to catch up from the past 10 days of numismatic fun, I wanted to look back on the experience with a somewhat clearer mind. I've read various reports about how there was very little business, attendance was down, and the activity on the floor was abysmal. Fortunately, I think that DLRC must have been attending another coin show as we had the opposite experience. While everyone was bemoaning the tax issues of California (which is a real concern), we took a step back and decided to focus most of our inventory for the show above the state tax threshold of $1,500 to avoid as much trouble as possible. Unfortunately it did force us to exclude a large part of our collector-friendly inventory, but in review, it seems to have worked out fine.
Our first day (Thursday) was spent at the local hotels visiting with other dealers where we used our contacts to source fresh material before the show even started. This turned out to be one of our best buying days as we ran into a few fresh deals that we ended up purchasing before the show even began.
We did attend the PNG Pre-Show from Saturday-Monday and had the same experience as most everyone else. The first day was really rocking but Sunday and Monday slowed to a numismatic crawl. Thankfully the Pre-Show for 2017 will be reduced from three days to one, but we wish that this adjustment had occurred this year. It also might have prevented the awkward three hour period where dealers were not allowed to leave the bourse from noon to 3 on Monday or they would not be allowed re-entry. I understand that there were security concerns, but it really threw a curveball that upset more than a few dealers.
Once the set-up for the official show started Monday evening, we saw a strong up-tick in the foot-traffic of the show and we were able to execute a few sales to those checking out the bourse for the first time. Overall, we were quite pleased with the sales as the show started. Of course we were active buyers throughout the set-up and were also heavily involved with the auctions that would be occurring over the next few days. As Tuesday and Wednesday progressed, we saw a steady number of collectors roaming the floor and while there was no "buzz" to the room, we credit that to the cavernous area that housed the show. Unfortunately there did seem to be quite a bit of empty space as many small to medium-sized dealers decided not to take a booth due to the rather inflated costs of doing business in California, but overall it was still a pleasing turn-out. We've yet to see the results of the ANA's attendance estimates, but we feel that it may be a bit misleading as those that were in attendance were very qualified collectors and weren't afraid to buy coins. In many cities, the attendance has seemed rather high, but without real numismatic collectors in attendance. At this particular ANA, we felt that our sales to those on the floor exceeded our wholesale business, which is a real rarity for us at a coin show! Perhaps it was due to the quality and types of coins we carried, but overall, I think it is simply a sign that the location was far better than most want to admit.
As usual, the auctions, hosted by Heritage and Stack's-Bowers brought very strong numbers on the really fresh collections that have been off the market for some time. It really shows that if you buy the right coins, you'll likely benefit handsomely for it over time. The lesser quality items and the coins less highlighted did not perform quite as well, but overall, the results were fine for such a large event with so many coins crossing the auction block. What really seemed to be lacking from this year's ANA was the wholesale business between dealers. Whether it be due to the protracted event, the space between tables, or simply the pacing of the buying for dealers, it seemed that the wholesale transactions were a bit less than what one would expect for such a long show, but thankfully that wasn't our goal in attending. Overall, the show was a great (if not too long!) experience. With the impressive exhibits, the enjoyable kids-focused activities, the World Mints in attendance, and the abundant educational opportunities, you have to applaud the ANA for a job well done. While there may be more grief thrown their way than praise in the coming week, the team at DLRC enjoyed being in the shadow of Disneyland for the past 10 days. In fact, it was a real treat to get out of Rosemont, Illinois for the first time in what felt like a decade and the opportunity to enjoy an actual ANA event with the family was a great experience. I hope that the ANA will consider this in the future as well as it truly was a family-friendly numismatic event for the first time in quite a few years.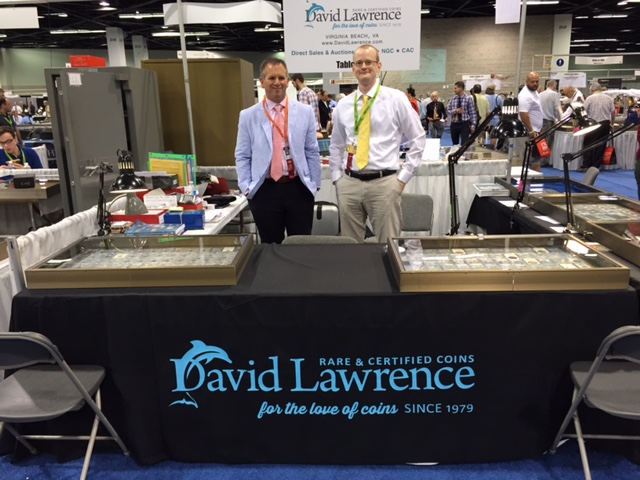 Back at the office, our Sunday Internet Auction #923 is now live with a great selection of 220 fresh, new coins. Some of the more interesting highlights from the collection and from this week's auction include:
Our Highlight selection of the week is a 1916-S $10 PCGS Secure MS66. This coin is an extremely tough S-mint, especially in gem grades and higher from a mintage of 138,500 coins. Beautiful orange-peel luster with gorgeous surfaces. Only 3 pieces are graded finer by PCGS.


Of course there are many other highlights, so be sure to browse all lots in this exciting new sale before it closes on Sunday, August 28th.