Auction #1093 Live Now! Browse & Bid Today!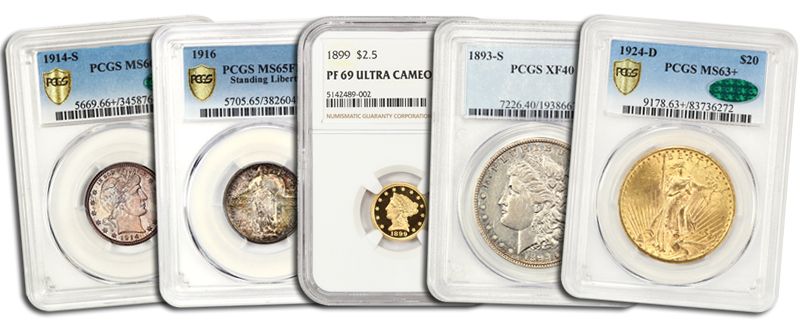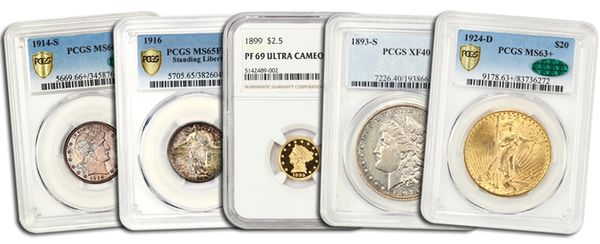 Our Sunday Internet Auction #1093 offers another selection from the D.L. Hansen Collection as well as a scarce Type 2 trime, a Deep Cameo Proof 3cN, a condition rarity Barber quarter, a beautiful key date Standing Liberty quarter, an 1883 Morgan dollar tied for Finest Known, a key date 1893-S Morgan dollar, a Finest Known 1899 Proof Gold $2 1/2, a pretty 1865 $3 Gold, an exquisite Liberty Gold $20, and a scarce date Saint Gaudens $20 Gold. In all, there's a vast selection of 500 New Items, featuring over 50 coins from the D.L. Hansen Collection, 50 No Reserve lots and 25 Vault Value items.
We hope that you'll enjoy viewing pieces that have once held a prominent spot in the Greatest Collection of U.S. Coins ever assembled, and we invite you to also become a part of numismatic history by purchasing coins from the D.L. Hansen Collection!
All lots will begin closing at 8pm EST on Sunday, December 1st. Some of the more interesting highlights from this week's sale include:

D.L. Hansen Collection Highlights
Our first highlight is an 1858 3cS PCGS/CAC MS66+ ex: D.L. Hansen. Golden centers turn into tints of rose, blue, and teal on the obverse, while deep purple and lime cover satiny surfaces on the reverse. A Type 2 3-cent silver with CAC approval and the PCGS+ grade for premium quality. The Hansen Collection possesses an MS67 example for the date.
This week's second highlight is an 1876 3cN PCGS/CAC Proof 66 DCAM ex: D.L. Hansen. Flashy reflective mirrors with light golden tints. Mintage of just 1150 proofs struck. The Hansen Collection holds one of the four finest known examples for the date, a PR66+DCAM.
The third highlight coin is a 1914-S 25c PCGS/CAC MS66+. Extremely scarce and popular date, especially in gem condition. Only a single piece is graded finer by PCGS, even with CAC sticker and a PCGS + grade!
The fourth highlight coin is a 1916 Standing Liberty 25c PCGS MS65 FH. Famous and popular key date SLQ. The 1916 is highly sought by all collectors of key date coinage as a low mintage first-year issue. Full head examples are especially tough. This particular piece exhibits gorgeous rainbow highlights, especially around the rim and must be viewed in-hand to truly appreciate. Gorgeous like no other example of this key date that we've had in quite some time, it is truly a stunning beauty.
Our fifth highlight is an 1883 $1 PCGS/CAC MS66+ DMPL ex: D.L. Hansen. Premium plus-graded gem with amazingly clear, watery mirrors and frosty devices. Tied for finest known and equal in eye appeal with the Hansen Collection example.
The sixth highlight coin is an 1893-S $1 PCGS XF40. The key to the Morgan dollar date set in grades Good-MS65 with the exception of perhaps the Proof-only 1895.
The seventh highlight is an 1899 2 1/2 NGC Proof 69 UCAM. Sharp, intricate details that contrast dramatically against brilliant deep mirrors. Flawless yellow-gold surfaces and unmatched eye appeal, sure to be the highlight of any collection. Finest graded at either service.
Our eigth highlight coin is an 1856 $3 PCGS MS64 ex: D.L. Hansen. Nice satiny luster and strong details. Type coin with a mintage of just 26,010. The Hansen Collection holds the finest known for the date, an MS66.
The ninth highlight is an 1854-S $20 PCGS MS63 ex: D.L. Hansen. Bright frosted yellow-gold surfaces with lots of luster. Phenomenal eye appeal! A historic piece from the Gold Rush era in San Francisco. The Hansen Collection contains one of the two finest known examples for the date, an MS65.
The final highlight coin is a 1924-D $20 PCGS/CAC MS63+. This scarce date Saint Gaudens gold is CAC approved for quality and has the PCGS+ grade for premium quality.
Of course there are many other highlights, so be sure to browse all lots in this exciting new sale before it closes on Sunday, December 1st.
If you have any questions about coins in our auctions, or items for direct purchase, please call us at 800-776-0560, or send an email and we will get back to you immediately.
Thanks for browsing our inventory and participating in our auction!
Sincerely,
The David Lawrence Numismatic Team