Auction #1094 Lots Posted. Browse & Bid Today!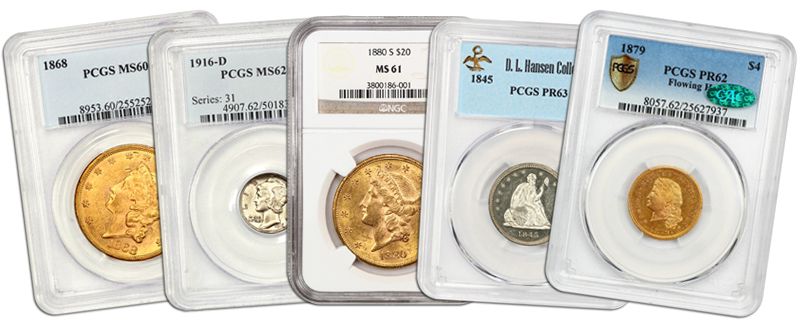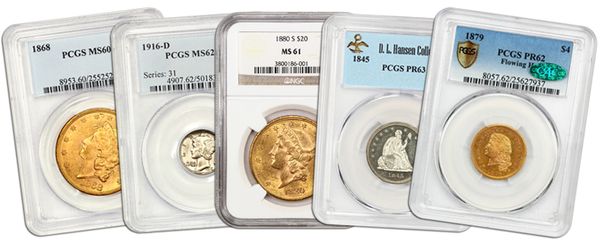 Our Sunday Internet Auction #1094 offers another selection from the D.L. Hansen Collection as well as a a Mercury dime rarity, a gorgeously toned Bust quarter, a flashy rare Liberty Seated proof quarter, a deep cameo Liberty Gold $2.50, a beautiful cameo proof $3 gold piece, a famous Stella, a rare New Orleans Liberty $20, a scarce date $20 Liberty example and a key date Liberty $20 gold piece. Additionally, we have over 150 graded U.S. currency notes. In all, there's a vast selection of over 500 New Items, featuring 50 coins from the D.L. Hansen Collection, 50 No Reserve lots and 25 Vault Value items.
We hope that you'll enjoy viewing pieces that have once held a prominent spot in the Greatest Collection of U.S. Coins ever assembled, and we invite you to also become a part of numismatic history by purchasing coins from the D.L. Hansen Collection!
All lots will begin closing at 8pm EST on Sunday, December 8th. Some of the more interesting highlights from this week's sale include:

D.L. Hansen Collection Highlights
Our first highlight coin is a 1916-D 10c PCGS MS62 FB. The key to the Mercury dime business strike set and one of the most popular of all U.S. 20th century coins. Lovely golden highlights with nice luster.
This week's second highlight is an 1805 25c PCGS MS63 ex: D.L. Hansen. Light golden centers yield outwardly to bands of plum, indigo, and seafoam green. Shimmering mint luster visible under the vibrant toning on both the obverse and reverse. Stunning eye appeal! The Hansen Collection contains a MS64+ example for the date.
The third highlight coin is an 1845 25c PCGS Proof 63 ex: D.L. Hansen. Amazing specimen! Boldly struck devices contrast noticeably against flashy mirrors. The Hansen Collection holds another example of the same grade for the date.
The fourth highlight coin is a 1904 2 1/2 PCGS Proof 64 DCAM ex: D.L. Hansen. Pristine lemon-gold example, displays a full strike and stark contrast against deep watery mirrors. The number one set holds a PR66+CAM example for the date.
Our fifth highlight is an 1884 $3 PCGS Proof 63 CAM ex: D.L. Hansen. Gleaming cameo fields with nice reflectivity when turned in hand. Frosty devices stand-out nicely, with pleasant orange-gold tints. The Hansen Collection number one set is home to one of the two finest known, a PR67CAM.
The sixth highlight coin is an 1879 Stella $4 PCGS/CAC Proof 62 (Flowing Hair). Also known as Judd-1635, this is the world famous Stella -- named for the 5-pointed star on the reverse. Just 425 of these coins were struck, mostly for the purposes of handing out to Congressmen to examine. A lovely rosegold tint with stark originality, this piece is super high end for the grade and attractive as it should be. In fact, we actually view the coin as a Proof 63 when it comes to quality and technicality, but we're happier to have it as a nice, original Proof 62. CAC approved for quality.
The seventh highlight is an 1852-O $20 PCGS MS61 ex: D.L. Hansen. Desirable New Orleans issue with strong details and radiant greenish-gold proof like surfaces. The Hansen Collection boasts one of the two finest known for the date, a MS62+.
Our eigth highlight is an 1868 $20 PCGS MS60. The 1868 is a low-mintage issue, relative to its San Francisco counterpart. With only 98,575 minted.
The final highlight coin is an 1873-CC $20 NGC AU55. The 1873-CC Liberty double eagle was produced to the tone of a lower mintage of 22,410 pieces. However, the issue is not as difficult to locate as the meager production total would suggest. Due to rough storage and transport, most examples are quite marked-up with heavy bagmarks. The present specimen is a bit of an exception and is quite lustrous with quality eye appeal. The appropriate amount of marks for the grade are noticeable, but overall the piece is quite appealing.
Of course there are many other highlights, so be sure to browse all lots in this exciting new sale before it closes on Sunday, December 8th.
If you have any questions about coins in our auctions, or items for direct purchase, please call us at 800-776-0560, or send an email and we will get back to you immediately.
Thanks for browsing our inventory and participating in our auction!
Sincerely,
The David Lawrence Numismatic Team