Auction #1095 Live Today! Browse & Bid Lots Now.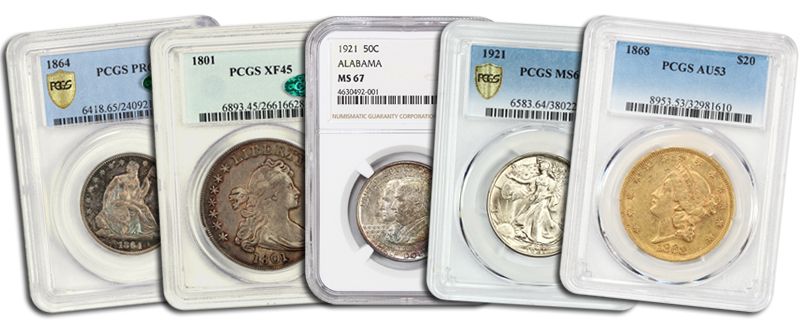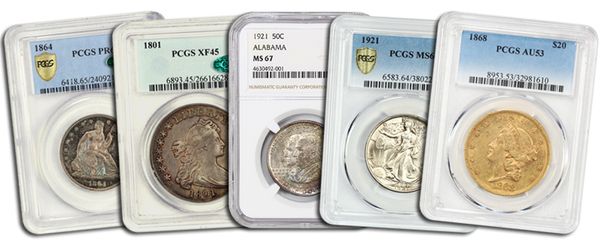 Our Sunday Internet Auction #1095 offers another selection from the D.L. Hansen Collection as well as a choice Flying Eagle cent, two beautifully toned Seated Liberty halves, a key date Walking Liberty half, a choice Bust dollar, a popular key date Morgan dollar, amazing proof gold pieces, a flashy Draped Bust Gold $10, a popular Type 2 Double Eagle and a rainbow toned Silver Commemorative. In all, there's a vast selection of over 400 New Items, featuring over 50 coins from the D.L. Hansen Collection, 50 No Reserve lots and 20 Vault Value items.
We hope that you'll enjoy viewing pieces that have once held a prominent spot in the Greatest Collection of U.S. Coins ever assembled, and we invite you to also become a part of numismatic history by purchasing coins from the D.L. Hansen Collection!
All lots will begin closing at 8pm EST on Sunday, December 15th. Some of the more interesting highlights from this week's sale include:

Our first highlight coin is an 1856 Flying Eagle 1c PCGS/CAC AU55 ex: D.L. Hansen. Golden-brown surfaces with well-defined design elements. Hints of luster still remaining with no mentionable detractions. The number one set holds a MS64 example for the date.
This week's second highlight is an 1839 50c PCGS MS62 (No Drapery) ex: D.L. Hansen. Very scarce and desirable type coin with pretty bluish-gray tints and nice overall eye appeal. The Hansen Collection holds the MS65 examples that is tied for the finest graded.
The third highlight coin is an 1864 50c PCGS/CAC Proof 65. Beautiful electric blue obverse tints with splashes of gold. The reverse adds in a lovely rose highlight as well. From a low mintage of just 470 coins.
The fourth highlight coin is a 1921 50c PCGS MS64. A key early Walker from the second-lowest mintage of just 246,000 coins. Nice and lustrous surfaces with nice overall eye appeal.
Our fifth highlight is an 1801 $1 PCGS/CAC XF45. Choice XF example of this early dollar. Solid details with nice remaining luster.
The sixth highlight coin is an 1895-S $1 PCGS MS65 ex: D.L. Hansen. Frosty golden tints with plenty of luster and gorgeous reflective fields. The 1895-S is one our favorite dates in the series as a sleeper issue that is surprisingly difficult to locate in AU and above. The number 1 Hansen set possesses another MS65 example.
The seventh highlight is a 1907 2 1/2 PCGS Proof 66 CAM ex: D.L. Hansen. Stunning yellow-gold gem with watery cameo mirrors that contrast starkly against well-detailed devices. Mintage of just 154 coins. The Hansen Collection holds a PR67 CAM example for the date.
Our eigth highlight is an 1875 $3 PCGS Proof 64 CAM ex: D.L. Hansen. Only 20 Struck! A true rarity in a series that is nearly impossible to collect. No circulation strikes of this date were produced, making it a proof only issue. Smooth orange-gold surfaces with a hint of rose, this piece is truly an underrated numismatic rarity for the advanced collector.
The ninth highlight coin is an 1891 $5 PCGS Proof 65 DCAM ex: D.L. Hansen. Magnificent gem proof that boasts enchanting deep field reflectivity and crispy frosty devices. Astonishing eye appeal! The Hansen Collection holds a PR65+ DCAM example for the date.
The tenth highlight coin is an 1800 $10 PCGS AU58 ex: D.L. Hansen. Really lustrous slider of this scarce draped bust eagle $10 gold. Great eye appeal with a fantastic pedigree.
Our eleventh highlight is an 1868 $20 PCGS AU53. The 1868 is a low-mintage issue, relative to its San Francisco counterpart. With only 98,575 minted.
The final highlight coin is a 1921 Alabama 50c NGC MS67. Exceptionally preserved with strong details and brilliant splashes of multi-colored toning. Original mintage of 49,038 coins commemorating the 100th anniversary of statehood. Plain obverse field.
Of course there are many other highlights, so be sure to browse all lots in this exciting new sale before it closes on Sunday, December 15th.

If you have any questions about coins in our auctions, or items for direct purchase, please call us at 800-776-0560, or send an email and we will get back to you immediately.
Thanks for browsing our inventory and participating in our auction!
Sincerely,
The David Lawrence Numismatic Team