Auction #1096 Live! Browse and Bid Today!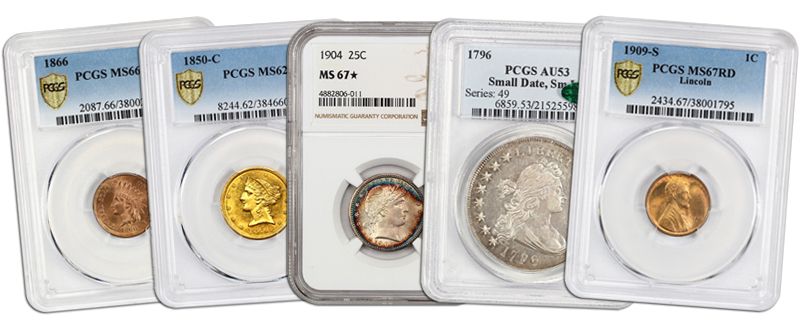 Our Sunday Internet Auction #1096 offers another selection from the D.L. Hansen Collection as well as an electric toned Half cent, a tied for finest Indian cent, an underrated Lincoln cent, a colorfully toned Bust quarter, a superb Barber quarter gem, a gorgeous Bust dollar, and a desirable Charlotte half eagle. In all, there's a vast selection of 350 New Items, featuring 80 coins from the D.L. Hansen Collection, 50 No Reserve lots and 25 Vault Value items.
We hope that you'll enjoy viewing pieces that have once held a prominent spot in the Greatest Collection of U.S. Coins ever assembled, and we invite you to also become a part of numismatic history by purchasing coins from the D.L. Hansen Collection!
All lots will begin closing at 8pm EST on Sunday, December 22nd. Some of the more interesting highlights from this week's sale include:

D.L. Hansen Collection Highlights
Our first highlight coin is an 1840 1/2c PCGS/CAC Proof 66 BN (Restrike) ex: D.L. Hansen. Beautifully preserved gem proof. Razor sharp strike and glossy brown surfaces that flash with neon tints of lime, indigo, and purple on both sides,it's no wonder this coin was CAC approved. The Hansen Collection holds the finest known for the date, a PR64RB.
This week's second highlight is an 1866 1c PCGS MS66 RD. A scarce date in all grades but even rarer in gem condition. Tied with seven other examples of the date as the finest graded, this lovely copper-peach tinted piece is super high-end and eye appealing for the grade!
The third highlight coin is a 1909-S Lincoln 1c PCGS MS67 RD. Scarce first-year Lincoln cent. Almost as scarce as the more famous 'S-VDB' in full red. Gorgeous golden surfaces with light hints of orange, this coin is the finest available for the date and grade.
The fourth highlight coin is an 1805 25c PCGS/CAC MS63 ex: D.L. Hansen. Exceptional example! Satiny silver centers yield outwardly to deep purple rim toning. Rainbow bands apparent on the obverse to the left of liberty and show boldly on the reverse peripheral. Lovely eye appeal and strong details for the grade. The Hansen Collection number one set holds an MS64+ example for the date.
Our fifth highlight is a 1904 25c NGC MS67 Star. The finest graded for the date by NGC, this star-designated superb gem is of the utmost quality and eye appeal. Beautiful blue and amber tints fall into a pleasant golden center with an even more attractive reverse. This piece is absolutely amazing for the quality with razor-sharp devices.
The sixth highlight coin is a 1796 $1 PCGS/CAC AU53 (Small Date, Small Letters). Fresh to the market, this piece is from an earlier strike for the date as can be determined from the light die polish lines and the two noticeable lint marks. Lovely peripheral golden tints with impressive luster, this piece is destined for the finest of Bust Dollar collections!
The final highlight coin is a 1850-C $5 PCGS MS62. Popular Charlotte issue gold piece with stunningly beautiful characteristics. Well-struck for the date with dazzling fields, this beautiful yellow-gold piece is certainly one of the most attractive for the date that we've seen. Only 63,591 coins minted of this issue.
Of course there are many other highlights, so be sure to browse all lots in this exciting new sale before it closes on Sunday, December 22nd.
If you have any questions about coins in our auctions, or items for direct purchase, please call us at 800-776-0560, or send an email and we will get back to you immediately.
Thanks for browsing our inventory and participating in our auction!
Sincerely,
The David Lawrence Numismatic Team