Auction #1100 Lots Posted. Browse & Bid Today!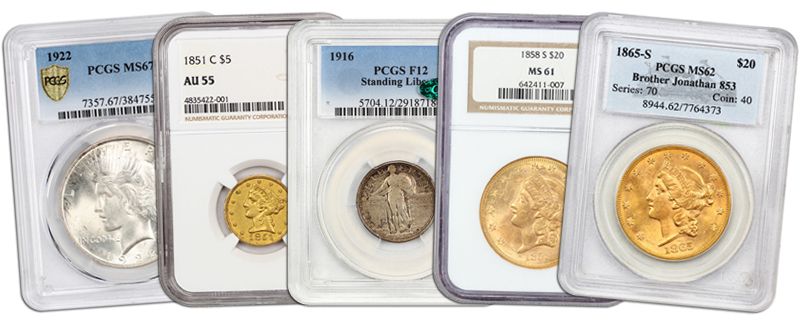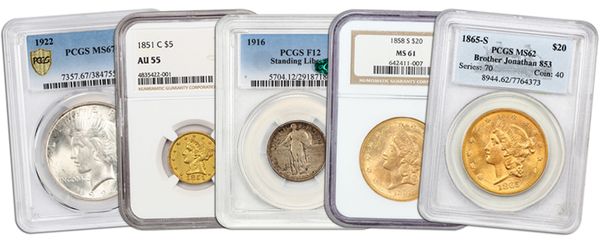 Our Sunday Internet Auction #1100 offers another selection from the D.L. Hansen Collection as well as a beautiful AU Liberty Cap Half Cent, a handsome Early Large Cent, a famous key date Standing Liberty Quarter, a better date Morgan Dollar, a superb gem Peace Dollar, a stunning matte proof $2.50 Indian Gold, a desirable Charlotte Half Eagle, a gorgeous $10 Draped Bust Gold, a satiny Type 1 $20, and a famous shipwreck $20 Liberty Gold. In all, there's a vast selection of over 35 New Items, featuring 92 coins from the D.L. Hansen Collection, 50 No Reserve lots and 40 Vault Value items.
We hope that you'll enjoy viewing pieces that have once held a prominent spot in the Greatest Collection of U.S. Coins ever assembled, and we invite you to also become a part of numismatic history by purchasing coins from the D.L. Hansen Collection!
All lots will begin closing at 8pm EST on Sunday, January 19th. Some of the more interesting highlights from this week's sale include:

D.L. Hansen Collection Highlights
Our first highlight coin is a 1793 1/2c PCGS AU50 ex: D.L. Hansen. A lovely and well-preserved AU example with light, even wear present across the reliefs. Smooth olive-brown surfaces show hints of original red patina and nice remaining luster. The Hansen Collection holds the finest known example for the date, an MS65 BN.
This week's second highlight is a 1796 Reverse of 1795 1c PCGS AU58 (S-98, Single Leaves) ex: D.L. Hansen. Handsome AU example with frosty medium-brown surfaces that show traces of remaining mint luster. Terrific eye appeal and nice details for the grade. The Hansen primary set holds the finest known example for the date, an MS66 RB.
The third highlight coin is a 1916 Standing Liberty 25c PCGS/CAC F12. The 1916 is the key to the Standing Liberty quarter series,and is also the first year of issue. Just 52,000 coins were struck and most were not saved.
The fourth highlight coin is a 1893 $1 PCGS MS62 PL ex: D.L. Hansen. Stunning example! Completely untoned surfaces with flashy reflective fields. The 1893-P is better in the Morgan dollar series with a low mintage of just 378,000 coins. The Hansen Collection contains an MS62 DMPL example for the date.
Our fifth highlight is a 1922 $1 PCGS MS67. This example is a popular type coin with beautiful silky surfaces.
The sixth highlight oin is a 1912 $2 1/2 PCGS Proof 64 ex: D.L. Hansen. A vibrant medium gold matte proof with undertones of olive and a fine, sandblast texture over the entirety of both sides. The Hansen Collection displays a PR67 example in the primary registry set.
The seventh highlight is an 1851-C $5 NGC AU55.. This desirable Charlotte half eagle has original greenish-gold surfaces with ample luster.
Our eigth highlight is an 1801 $10 PCGS MS62 ex: D.L. Hansen. Radiant mint luster glows from both sides and highlights satiny, sharply embossed reliefs. Astonishing eye appeal! The Hansen Collection displays the finest known example for the date, an MS65 in the number one registry set.
The ninth highlight coin is an 1858-S $20 NGC MS61. Fully lustrous example with lovely peach highlights on both sides. Exceptional eye appeal and minimally abraded for the grade.
The final highlight coin is a Brother Jonathan: 1865-S $20 PCGS MS62 (# 853). Very tough Civil War era gold piece struck at the San Francisco mint from a famous shipwreck.
Of course there are many other highlights, so be sure to browse all lots in this exciting new sale before it closes on Sunday, January 19th.

If you have any questions about coins in our auctions, or items for direct purchase, please call us at 800-776-0560, or send an email and we will get back to you immediately.
Thanks for browsing our inventory and participating in our auction!
Sincerely,
The David Lawrence Numismatic Team