Auction #1101 Lots Posted. Browse & Bid Today!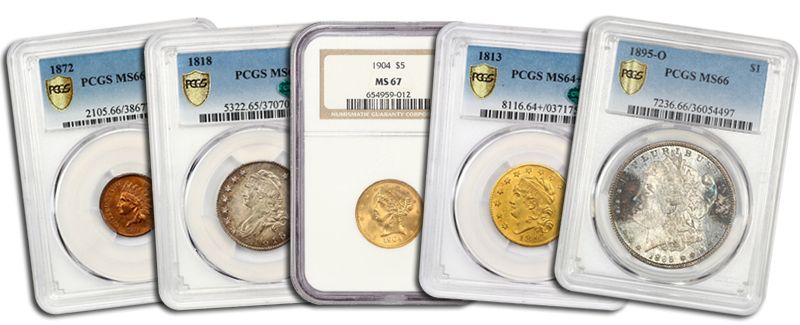 Our Sunday Internet Auction #1101offers another selection from the D.L. Hansen Collection, a beautiful gem proof Half Cent, a registry quality key date Indian Cent, an original Bust Quarter, a legendary condition rarity Morgan Dollar, scarce proof $3 Princess Gold, beautiful near-gem $5 Capped Bust Gold, a superb $5 Liberty Gold, a key date $5 Indian Gold, a 1797 Large Eagle $10 Gold, and a choice mint $10 Draped Bust Gold. In all, there's a vast selection of over 450 New Items, featuring 68 coins from the D.L. Hansen Collection, 50 No Reserve lots and 50 Vault Value items.
We hope that you'll enjoy viewing pieces that have once held a prominent spot in the Greatest Collection of U.S. Coins ever assembled, and we invite you to also become a part of numismatic history by purchasing coins from the D.L. Hansen Collection!
All lots will begin closing at 8pm EST on Sunday, January 26th. Some of the more interesting highlights from this week's sale include:

D.L. Hansen Collection Highlights
Our first highlight is an 1840 1/2c PCGS Proof 65 BN (Restrike) ex: D.L. Hansen. his sharply struck gem features seafoam green tints which flash over smooth fields while the remaining red highlights glossy devices. The number one set displays a finest known example for the date, a PR66RB.
This week's second highlight is an 1872 1c PCGS MS66 RD. The 1872 cent has long been considered a key date in the series and a mint state coin with red surfaces such as this one, is especially elusive and desirable. Struck in similar quantities to the 1871, it is the second toughest date in the series, behind the 1877. The planchets that were used to produce this date were inconsistent in quality, and as a result, many of the coins are streaky due to uneven alloy mixes or being struck very poorly through machine oil. This example is a rare exception, offering frosty, pink mirrors and an outstanding strike and luster. A superb addition for any registry set, it is tied with but one other example as the finest graded by PCGS.
The third highlight is an 1818 25c PCGS/CAC MS65. This eye-pleasing original gem offers lovely golden rim tints and plenty of remaining luster. CAC approved for quality.
Our fourth highlight coin is an 1895-O $1 PCGS MS66. The 1895-O is one of the most popular key dates in the Morgan series. An incredibly fresh and original coin it is one of only 3 graded MS66 by PCGS, with but a single coin grading higher at MS67. Dark bluish-gray tints from original album tones cover both sides of the coin with an overall pleasing appearance.
This week's fifth highlight is an 1888 $3 PCGS Proof 64 CAM ex: D.L. Hansen. From a mintage of 291 examples, far fewer survive to this day. Beautiful mirrors with gorgeous cameo reflectivity, this piece is definitively high-end for the grade. The primary Collection holds a Proof 65 Cameo version for the date.
The sixth highlight coin is an 1813 $5 PCGS/CAC MS64+. Very popular and scarce Capped Head to left design. Only issued from 1813-29, any issues of this type are rare in mint state. Satiny surfaces would have graded this as a MS65 if the luster had been a bit more prominent. A tough date to find in such high grades, this piece is absolutely a great coin to put away. CAC approved for quality. PCGS+ grade for premium quality at the top of end of the assigned grade.
The seventh highlight coin is a 1904 $5 NGC MS67. A stunning superb gem example of this common date gold half eagle.
The eighth highlight is a 1911-D $5 PCGS/CAC MS62 ex: D.L. Hansen. Lovely and original example which displays sharp strike and bright mint luster as well as attractive orange-gold coloration covering both sides. The mint mark is crisp. The 1911-D is one of the key dates in the Indian half-eagle set. CAC approved for quality. The primary set hosts a MS63 example for the date.
Our ninth highlight is a 1797 Large Eagle $10 PCGS AU53 ex: D.L. Hansen. A lovely early type coin with plenty of original mint frost remaining. Light, even wear is noticeable on all of the high points, as expected for the grade. The number one set of Gold Eagles held by Mr. Hansen displays a magnificent MS63 example for the date.
Our final highlight coin is an 1801 $10 PCGS MS62 ex: D.L. Hansen. Choice mint state example with lemon-gold patina and frosty luster covering both sides. Nice details throughout. The Hansen Collection displays the finest known example for the date, a MS65 in the number one registry set.
Of course there are many other highlights, so be sure to browse all lots in this exciting new sale before it closes on Sunday, January 26th.

If you have any questions about coins in our auctions, or items for direct purchase, please call us at 800-776-0560, or send an email and we will get back to you immediately.
Thanks for browsing our inventory and participating in our auction!
Sincerely,
The David Lawrence Numismatic Team