Auction #1102 Open Now! Closes February 2nd.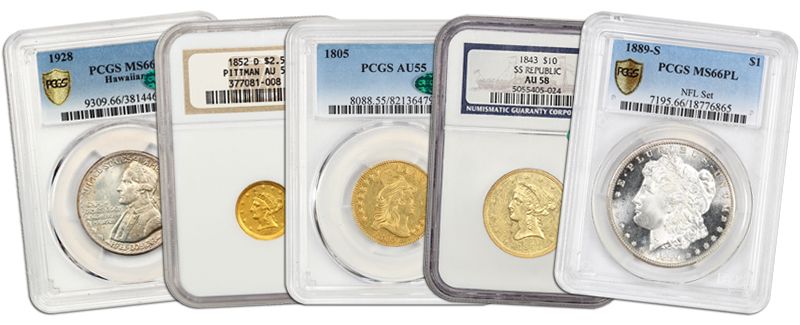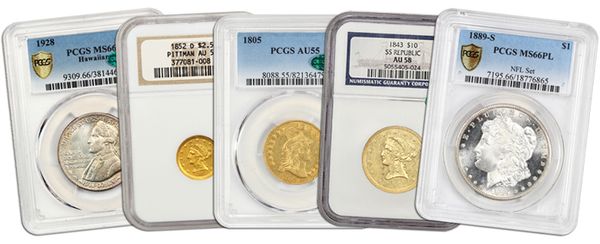 Our Sunday Internet Auction #1102 offers another selection from the D.L. Hansen Collection, a highly sought-after Indian half eagle, a colorfully toned Hawaiian commem, a lustrous gold eagle from the SS Republic Shipwreck, a choice, CAC-stickered early gold half eagle, and a low mintage Dahlonega quarter eagle from the Pittman Collection. In all, there's a vast selection of 300 New Items, featuring 63 coins from the D.L. Hansen Collection, 50 No Reserve lots and 25 Vault Value items.
We hope that you'll enjoy viewing pieces that have once held a prominent spot in the Greatest Collection of U.S. Coins ever assembled, and we invite you to also become a part of numismatic history by purchasing coins from the D.L. Hansen Collection!
All lots will begin closing at 8pm EST on Sunday, February 2nd. Some of the more interesting highlights from this week's sale include:

D.L. Hansen Collection Highlights
Our first highlight is an 1877 3cN PCGS/CAC Proof 66 CAM ex: D.L. Hansen. Attractive golden toned example with appreciable cameo contrast between mirrored fields and frosty, crisp devices. A key proof-only issue from a mintage of just 510 coins. This very desirable coin is also CAC approved for quality. The primary Hansen Collection set contains a PR67+CAM example for the date.
This week's second highlight is an 1800 H10c PCGS/CAC MS62 (LIBEKTY) ex: D.L. Hansen. A perfectly original example of this scarce and desirable early half dime with the draped bust obverse and heraldic (large) eagle reverse. A flaw in the R of LIBERTY resulted in the word LIBEKTY. This coin has nicely defined details with attractive lilac and peach toning on each side. The striking details are sharp, except on the eagle's breast. The Hansen Collection number one set displays an MS64 example for the date.
The third highlight is a 1797 $1 PCGS AU55 (9x7 Stars, Large Letters) ex: D.L. Hansen. Splendid silver mint luster gleams over the surfaces of this impressively preserved, choice AU example. Well defined design elements are highlighted by tints of lavender, peach, and gold. The original lot description at Stacks Bowers notes, "A flaw in the planchet obscures much of the T in LIBERTY, though the surfaces are lacking in notable post-Mint blemishes. The dies are heavily fatigued in this state, with dramatic cracks and evidence of clashing visible on each side." The Hansen Collection possess the finest known example for the date, an MS64.
Our fourth highlight coin is an 1889-S $1 PCGS MS66 PL ex: NFL Set. As described by Heritage in 2009 when the coin was housed in an Old Green Holder: A stone-white Premium Gem with impeccable preservation and impressive field reflectivity. Crisply struck and beautiful. The cheek is especially free from marks. The low mintage 1889-S is rare as an MS66, and is also rare with mirrored fields. It is remarkable that the issue exists both as MS66 and Prooflike. Pedigree: Gregg Bingham was a linebacker for the Houston Oilers between 1973 and 1984. He is also a numismatist, and his high grade collection of Morgan dollars was marketed as the NFL Set and auctioned by Heritage in 2001. Population: 2 in 66, 0 finer with 3 MS66 DMPL examples 1/20).
This week's fifth highlight is an 1891-O $1 PCGS/CAC MS64+ DMPL ex: D.L. Hansen. This near-gem DMPL displays substantial cameo contrast between liquid-like mirroring in the fields and precise devices. Terrific eye appeal! A better O-mint, scarce with DMPL surfaces, which is very deserving of the PCGS+ grade for premium quality and CAC approval. The number one Hansen Collection set holds one of the two finest known examples for the date, an MS65 DMPL.
The sixth highlight is an 1852-D $2 1/2 NGC AU50 ex: Pittman. A very low mintage issue of just 4,078 pieces, this coin hails from the collection of John Jay Pittman, a historic numismatist from the 20th Century. A man who mortgaged his house to participate in the sale of King Farouk's Collection, he was known to be very precise and persistent when he found something that he wanted or needed. A mentor of mine when I met him in the late 1980s, this coin is one of the few pieces that remain pedigreed to him.
The seventh highlight coin is an 1805 $5 PCGS/CAC AU55. Lovely and choice for the grade, this AU55 example of this popular early Gold Half Eagle is a perfect specimen for the collector/investor. These have become nearly impossible to find in recent months and this is a rare opportunity as of late.
The eighth highlight is a 1909-O $5 PCGS/CAC AU55 ex: D.L. Hansen. A gorgeous AU example of this highly sought-after Indian half eagle. Lightly circulated surfaces have a natural orange-gold patina and display bountiful original mint luster. The 1909-O is by far the lowest mintage coin in the series with only 34,200 struck. It is also quite popular as the only New Orleans issue in the entire set. The Hansen Collection holds an AU58+ example for the date.
Our ninth highlight is an S.S. Republic: 1843 $10 NGC/CAC AU58. Bright and lustrous yellow-gold surfaces show light chatter but the eye appeal is excellent for the grade. This issue is well deserving of the CAC approval for quality.
Our final highlight is a 1928 Hawaiian 50c PCGS/CAC MS66. Gorgeously original with light rainbow tints on the reverse. From a low mintage of 10,008 coins, the Hawaiian commem has long been considered the key to the type set of Silver commems. Issued to commemorate the 150th anniversary of Captain James Cook's landing in Hawaii, this issue is very tough in high grades.
Of course there are many other highlights, so be sure to browse all lots in this exciting new sale before it closes on Sunday, February 2nd.

If you have any questions about coins in our auctions, or items for direct purchase, please call us at 800-776-0560, or send an email and we will get back to you immediately.
Thanks for browsing our inventory and participating in our auction!
Sincerely,
The David Lawrence Numismatic Team