Auction #1104 Lots Posted Now! Closing February 16th.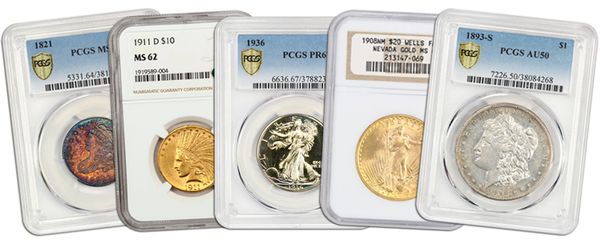 Our Sunday Internet Auction #1104 offers another selection from the D.L. Hansen Collection, as well as a rainbow-toned Bust Quarter, a stunningly mirrored Walking Liberty Proof, a frosty Morgan Dollar, a popular Civil War $5 issue, a key date Indian Head $10, and a superb No Motto Saint-Gaudens $20. In all, there's a vast selection of over 400 New Items, featuring XX coins from the D.L. Hansen, Collection, 75 No Reserve lots, and 25 Vault Value items.
We hope that you'll enjoy view pieces that have once held a prominent spot in the Greatest Collection of U.S. Coins ever assembled, and we invite you to also become a part of numismatic history by purchasing coins from the D.L. Hansen Collection!
All lots will begin closing at 8pm EST on Sunday, February 19th. Some of the more interesting highlights from this week's sale include:


D.L. Hansen Collection Highlights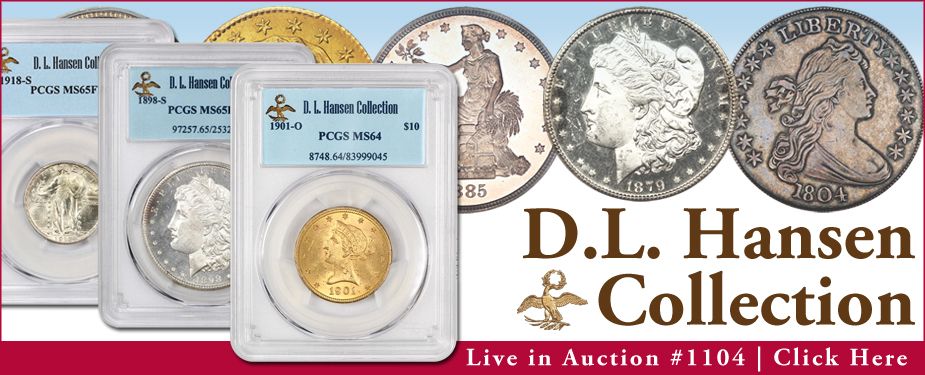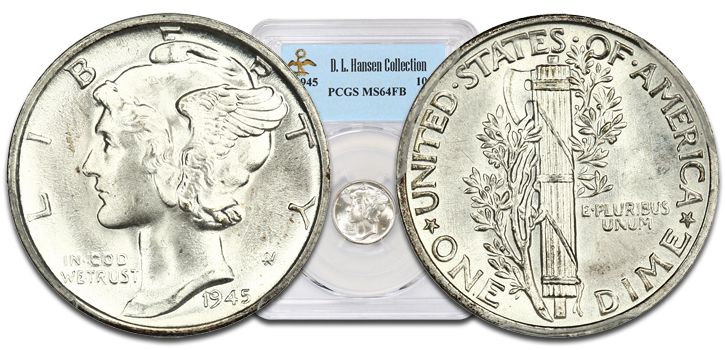 Our first highlight coin is a 1945 10c PCGS MS64 FB ex: D.L. Hansen. An extremely tough coin with full bands, a semi-key to the set. Near gem surfaces glimmer with bright, frosty mint glow. The Hansen Collection holds an MS67+ FB example for the date, tied for finest known with just one other.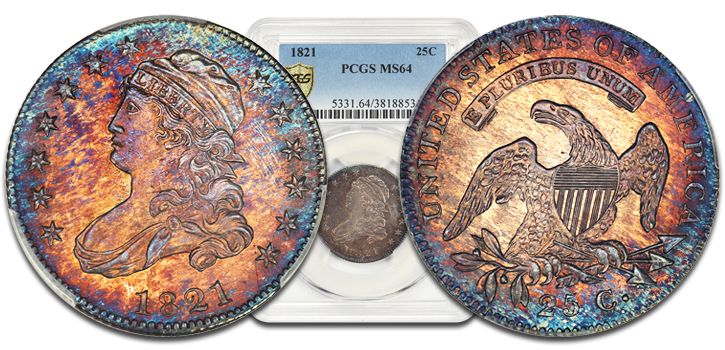 This week's second highlight is an 1821 25c PCGS MS64. A popular type coin with beautiful rainbow surfaces cascading from the rims to the golden, prooflike centers. Beautiful blue, rose and golden tints abound on this absolutely gorgeous example that matches perfectly from obverse to reverse.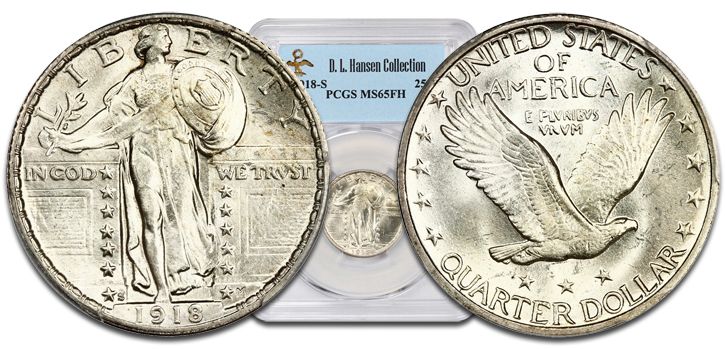 The third highlight coin is a 1918-S 25c PCGS MS65 FH ex: D.L. Hansen. It has gorgeous satiny luster with delicate gold iridescent toning to both sides. Impressive, fully struck gem! Popular S-mint SLQ. The number one Hansen Collection registry set displays an MS66 FH example for the date.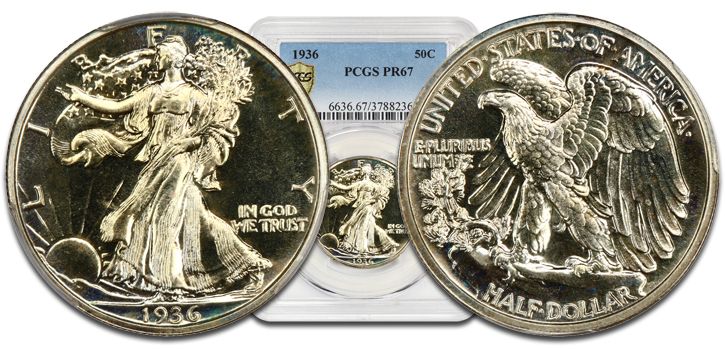 Our fourth highlight is a 1936 50c PCGS Proof 67. A key first-year Walker proof with stunning yellow-tinted mirrors. Absolutely gorgeous for the grade with stunning overall eye appeal and from a mintage of 3,901 coins.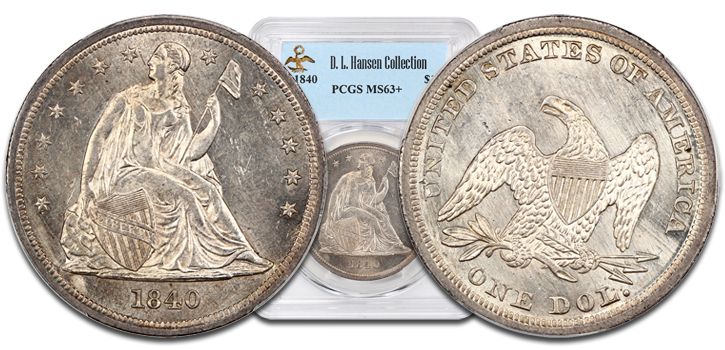 This week's fifth highlight coin is an 1840 $1 PCGS MS63+ ex: D.L. Hansen. Fantastic mint state example of this scarce issue! Impressively preserved surfaces display flashy luster and only minor signs of contact. The design elements exhibit pinpoint definition throughout. This is the first official year of silver dollar coinage since the hiatus taken after Bust dollars were struck in 1803. The Hansen Collection holds one of the four finest known examples for the date, an MS64.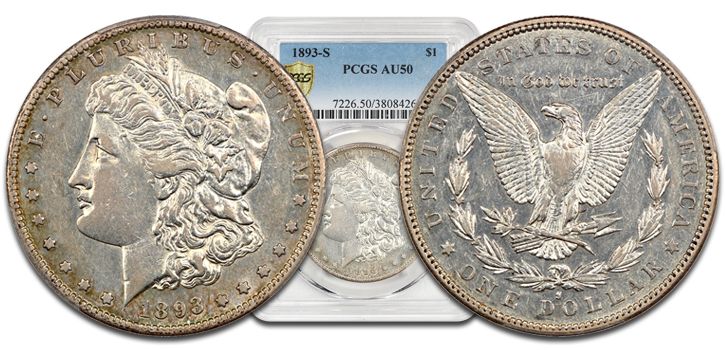 The sixth highlight coin is an 1893-S $1 PCGS AU50. The key to the Morgan dollar date set in grades Good-MS65 with the exception of perhaps the Proof-only 1895. Frosty, lustrous fields with nice overall eye appeal.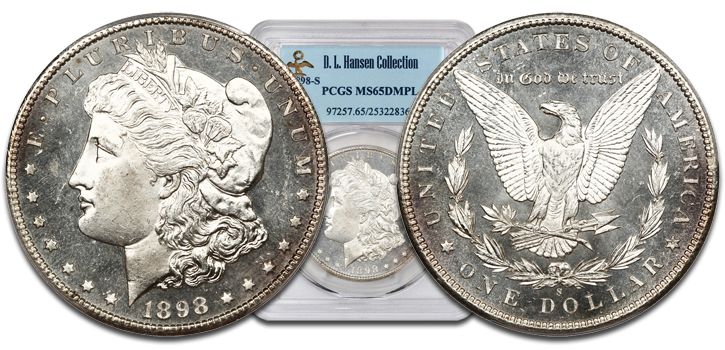 The seventh highlight coin is an 1898-S $1 PCGS MS65 DMPL ex: D.L. Hansen. Beautiful, better date DMPL. Watery, un-toned fields flash behind frosty sharply defined devices. No pieces graded finer with DMPL contrasts. The Hansen Collection holds an MS66+ example for the date.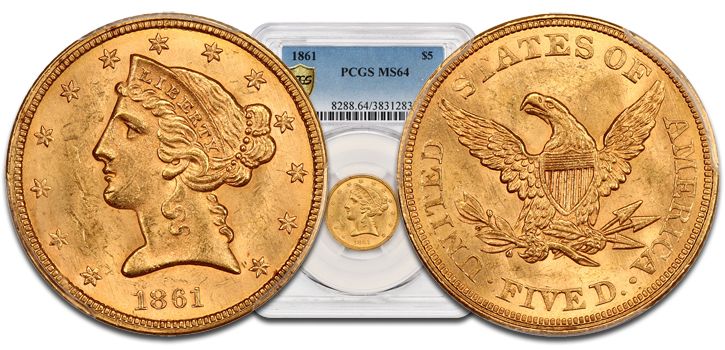 The eighth highlight is an 1861 $5 PCGS MS64. A no motto type coin with frosty, lustrous surfaces. A popular Civil War issue.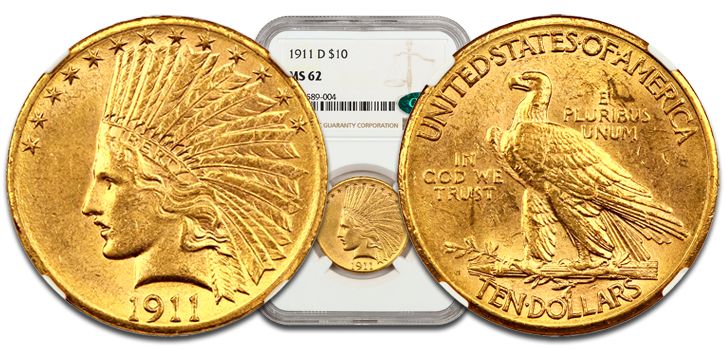 Our ninth highlight is a 1911-D $10 NGC/CAC MS62. A very desirable key date in which just 30,100 coins were struck of this issue. Flashy, lustrous surfaces that is far nicer than the typical example of this particular issue.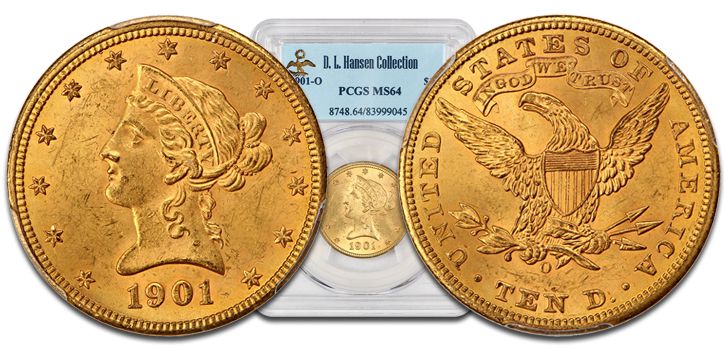 This week's tenth highlight is a 1901-O $10 PCGS MS64 ex: D.L. Hansen. Softly frosted wheat-gold example with a bold strike. The Hansen Collection contains an MS64+ example for the date.
Our final highlight is a 1908 $20 NGC MS68 (No Motto, Wells Fargo Hoard). A No Motto type coin, these pieces were re-discovered in the 1990s in Las Vegas, Nevada. Held as part of a huge hoard of $20 Double Eagles, most of the MS68 and finer examples for the series come from this hoard. A mark-free coin with superb eye appeal, these are popular amongst collectors and investors alike!
Of course there are many other highlights, so be sure to browse all lots in this exciting new sale before it closes on Sunday, February 19th.

If you have any questions about coins in our auctions, or items for direct purchase, please call us at 800-776-0560, or send an email and we will get back to you immediately.
Thanks for browsing our inventory and participating in our auction!
Sincerely,
The David Lawrence Numismatic Team