Auction #1108 Live! Closes March 15th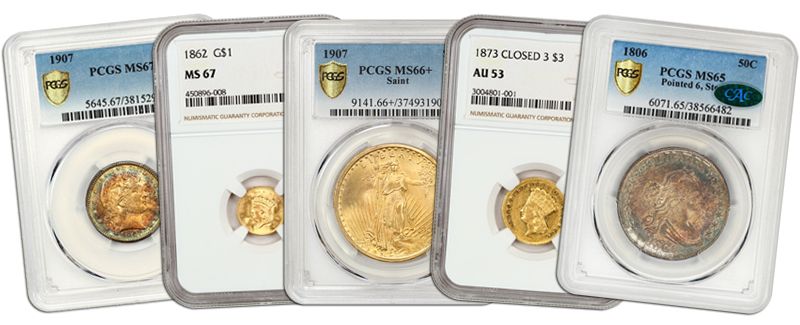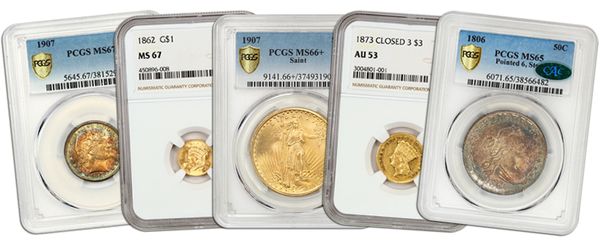 In our new Sunday Internet Auction #1108 we are proud to showcase 259 coins from the Old Green Holder Collection. The majority of which are set with No Reserve and over 90 have received CAC approval! If you love the classic PCGS and first generation "rattler holders" - this group is a must see. With prices ranges from $15 to $20,000 there is truly something here for every level of collector. In addition to the OGH Collection we also have a fine selection of NGC and PCGS coins including a gem barber quarter, an original 1806 half, a well-preserved Civil War Gold Dollar, a highly desired $3 gold, and a frosty Saint Gaudens $20!

Be sure to browse and bid before Auction #1108 closes on Sunday, March 15th.

Auction Highlights

Old Green Holder Collection Highlights
Featured Auction Lots
Our first highlight coin is a beautiful 1909-S VDB 1c PCGS/CAC MS65 RD (OGH) with a CAC sticker. One of the primary keys to the Lincoln cent collection and a rare date that is coveted by all collectors.
Our second highlight coin is a 1907 25c PCGS MS67. An absolutely gorgeous type coin that is very scarce in superb gem condition. There are seven graded as such, with only five at PCGS. Vibrant blue, rose and orange tints with stunning overall eye appeal.
An 1806 50c PCGS/CAC MS65 (Pointed 6, Stems) is our third highlight coin. Amazingly clean fields with stunning originality, this coin was freshly graded from a collection put together in the early 1900s. A truly special piece, I would put it up against the other examples graded similarly as possibly the nicest overall. It is also the finest graded of the variety O-115a, but we'll leave all of that aside and just state it as an extremely special coin that is deserving of all of the attention it might get. The CAC sticker assures high quality for the grade!
Our fourth Highlight coin is a gorgeous 1872 $1 PCGS Proof 64 (OGH). Beautiful rainbow rim tints cascading into brilliant silver centers. Low mintage issue of just 950 coins struck in proof format.
Our fifth highlight coin is an 1879-CC $1 PCGS/CAC MS63 (OGH). A key CC-mint Morgan, this is the famous Capped CC variety, which shows crustiness or raised dimples at the top of the CC mintmark.
Our sixth highlight coin is an 1851 G$1 PCGS/CAC MS67 (OGH). An absolutely stunning type one gold dollar with superb, original surfaces with a CAC sticker to boot! While there are other pieces technically graded higher, we view it as a crime to tamper with this beautifully preserved old green holder. The coin is truly special with such stunning satiny luster and no noticeable marks.
Our seventh highlight coin is an 1862 G$1 NGC MS67. Impeccably preserved Civil War-era type coin. Silky luster gleams from both sides of the superb gem. Sharp strike and fantastic eye appeal.
Our eighth highlight coin is an 1873 $3 NGC AU53 (Closed 3). One of the great rarities in U.S. gold issues, researchers believe fewer than 100 coins were struck of the 1873 Princess. Rare in any grade and highly desired by collectors. Lovely AU example! Minimal wear with attractive medium-gold color throughout with prooflike luster around the devices.

Our ninth highlight coin is a 1908-D $10 PCGS/CAC MS64 (With Motto, OGH). Beautiful near gem example of this first year with motto type. Bright lusters gleams from frosty surfaces that display a sharp strike and highlights of peach toning. Excellent details and eye appeal for the grade with the bonus of a CAC sticker, ensuring quality!
Our final highlight coin is a 1907 Saint Gaudens $20 PCGS MS66+. Exceptional gem! Thick mint frost coats attractive medium-gold surfaces, sharply struck throughout with no marks to distract from the superb eye appeal. First year of Saint Gaudens type. Popular date. PCGS+ grade for premium quality at the top of end of the assigned grade.

Of course there are many other highlights, so be sure to browse all lots in this exciting new sale before it closes on Sunday, March 15th.

If you have any questions about coins in our auctions, or items for direct purchase, please call us at 800-776-0560, or send an email and we will get back to you immediately.
Thanks for browsing our inventory and participating in our auction!
Sincerely,
The David Lawrence Numismatic Team