Coins We Love - April 20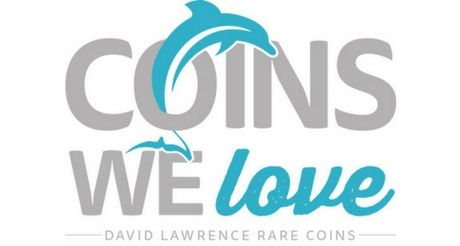 This week we've been dealing with the quick turnaround from the PCGS Invitational show to the upcoming Central States extravaganza. The Central States show used to be one of the largest shows of the year, but it is not quite as active as it once was. Located in Schaumburg, IL, a suburb of Chicago, the show has been held at the fantastic Renaissance Hotel and Conference Center for the past several years. The hotel is one of the nicest ones on our regular "circuit," and it's typically a very well-organized show. Alas, the transportation and frequency of use of the area for major shows in recent years has likely aided in the drops in attendance. While we haven't had a table in recent years, Gary has really re-kindled our enthusiasm for the show, and we will be set up at tables 405/505 right near the front entrance on the left. Due to the nature of the short turnaround, if there's anything in our vast inventory that you'd like us to bring, please let us know by Monday afternoon so that we can have it packed for the trip.
We look forward to seeing you in Schaumburg and hope that you enjoy viewing the wide array of coins mentioned in this week's CWL!
Sincerely,
John Brush and Your Friends at DLRC
---
Why we love it: Also known as Judd-1635, this is the world famous Stella -- named for the 5-pointed star on the reverse. Just 425 of these coins were struck, mostly for the purposes of handing out to Congressmen to examine for possible future mintage. The coin is listed in the 100 Greatest U.S. Coins. Considered a "type coin," the Stella is a significant numismatic rarity. Though it is technically a pattern as it was never authorized for production, the Stella is a necessary part of a complete type set of U.S. gold coins. Typically a very difficult coin to find, the present example is a gorgeous piece that is far above average in quality and thus has received the elusive CAC seal of approval.
Value: Combined population of 56 examples in PR63, this is one of just two examples to gain CAC approval. Fantastic coin to add to the most prestigious gold collection. CWL list price this week at $160,000 with extended payment schedule option available.
---
Why we love it:The 1918/7-S 25c is considered by many advanced SLQ collectors as the ultimate showstopper. While it is the second most popular date behind the 1916, it is far more elusive, especially in mint state grades with a full head. This MS64FH example is a true survivor of a weakly struck date. In fact, it is one of four pieces graded by PCGS in this grade, with only two pieces finer. The opportunity to own such a gem is a rare occurrence as we've not handled but a single other example in this grade in over 20 years. In fact, only a single coin has appeared in MS64FH or 64+FH (same coin twice!) since 2003, and the likelihood of another appearing any time soon is very low.
Value: The Collector's Price Guide sits at a conservative $147,500 and this piece is available for $145,000 via Make Offer this week. With the PCGS Price Guide sitting at an unrealistic $135,000 due to a lack of sales records, we expect to soon see this coin in a top flight collection of SLQs in the near future!
---
Why we love it: Beautiful key-date gem in RD that are always in high demand. Mintage of 484,000 doesn't seem incredibly low; however, considering it's a first year issue and how many people collect Lincoln Cents, it remains in ultra-popular.
Value: MS66's jump to $7,500-$8,000 making this 65RD example an excellent value reserved at $4,000.
---
Why we love it: A scarce overdate issue, created due to a die that was made in 1829 but never used. A curious distinction for a mint looking to save costs and work. Pretty golden brown rim toning with gorgeous lustrous centers
Value: One of three graded in MS64, with just three examples graded finer at PCGS. This is the only example with CAC approval in MS64. Reserved this week at $6,500!
---
Why we love it: Gorgeous, frosty example, so close to MS68. Great registry addition with CAC approval. No need to look any further once you have this one in your collection.
Value:
Value: With PCGS Plus grade and CAC approval, it's the best you can find without paying the next level up at over $12,000! Reserved this week for $3,800 in Auction #957.
---
---
Why we love it: If you're looking for a nice Type example of a $10 Indian, here's your coin. Beautiful, smooth surfaces on this lustrous gem.
Value: The real beauty is the discounted price of $2,950 this week, which comes in lower than the last MS65 auction records.
---
Why we love it: We love affordable key-date issues, especially ones like this with exceptional eye appeal and CAC approval. Not to mention the old green PCGS holder which is becoming harder and harder to find for key-date issues.
Value: Discounted this week from $4,350 to $3,850, brings this one down to auction level pricing that makes it hard to resist.
---
Why we love it: Only 25-Cent Classic Commem in affordable grade. Nice and original piece with CAC approval make this one a great piece for the 50-coin type set.
Value: While not an expensive piece, it's one that many silver commem collectors leave out of their set because it's not a half-dollar. At a discounted buy it now level of $320, it seems like a no brainer to finally add this early issue to your classic commemoratives.
---
Why we love it: One of the most beautiful designs ever created by the US Mint. Most examples are out of reach for collectors and many never get the chance to own one.
Value: Less than 40 exist in lower grades valued under $10,000. Here's an opportunity to own a High Relief at an affordable reserve of $9,550.
Why we love it: If you're looking for a slightly nicer High Relief, this PCGS MS 63 might be a better fit for you.
Value: Offered at a very special wholesale price this week of $22,000, these were bringing $24,000-$25,000 just a year ago. The values have adjusted to a much more reasonable level these days, and we see this as a much better opportunity for the value-conscious collection.
---
Until next time, thanks for stopping by and sharing some time with us to browse our Coins We Love.
Check out all of the available "Coins We Love" from past newsletters