Coins We Love - April 28th Edition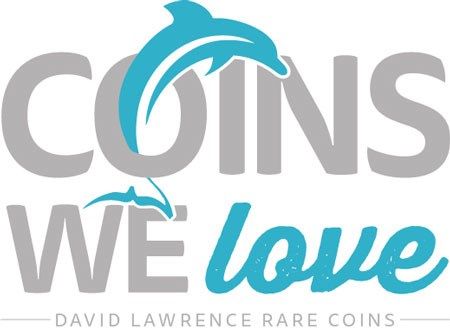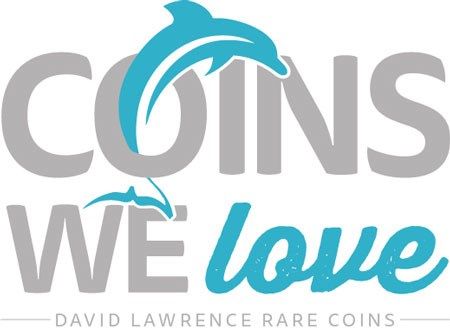 This week's CWL was brought to you from the Central States Numismatic Society hotel, where we've been scouring other dealer inventories for new jewels for the DLRC website, auction, and CWL newsletter. Ironically, we never made it to the bourse floor on the dealer set-up day as we were offered several large deals before the show. Due to the need for discretion, we extended our hotel stay and operated from our meeting room. In the end this was the right move as we acquired several large collections that we'll be offering in the next few weeks. One collection of Morgan Dollars was so exciting that we can't wait to present in the coming days. Overall, buying was incredibly easy for DLRC.
From the Office: There has definitely been an increase in activity in our weekly auctions; in the days between, sales keep the phone lines very active. In fact, we have sold everything from Modern Silver Commemoratives to some neat pieces of dated gold lately. The generic gold market has also been very active as gold floats in the $1200 to $1250 range. The coin market is definitely on the rise. The increase in activity is good for all of us and adds some excitement back into the hobby!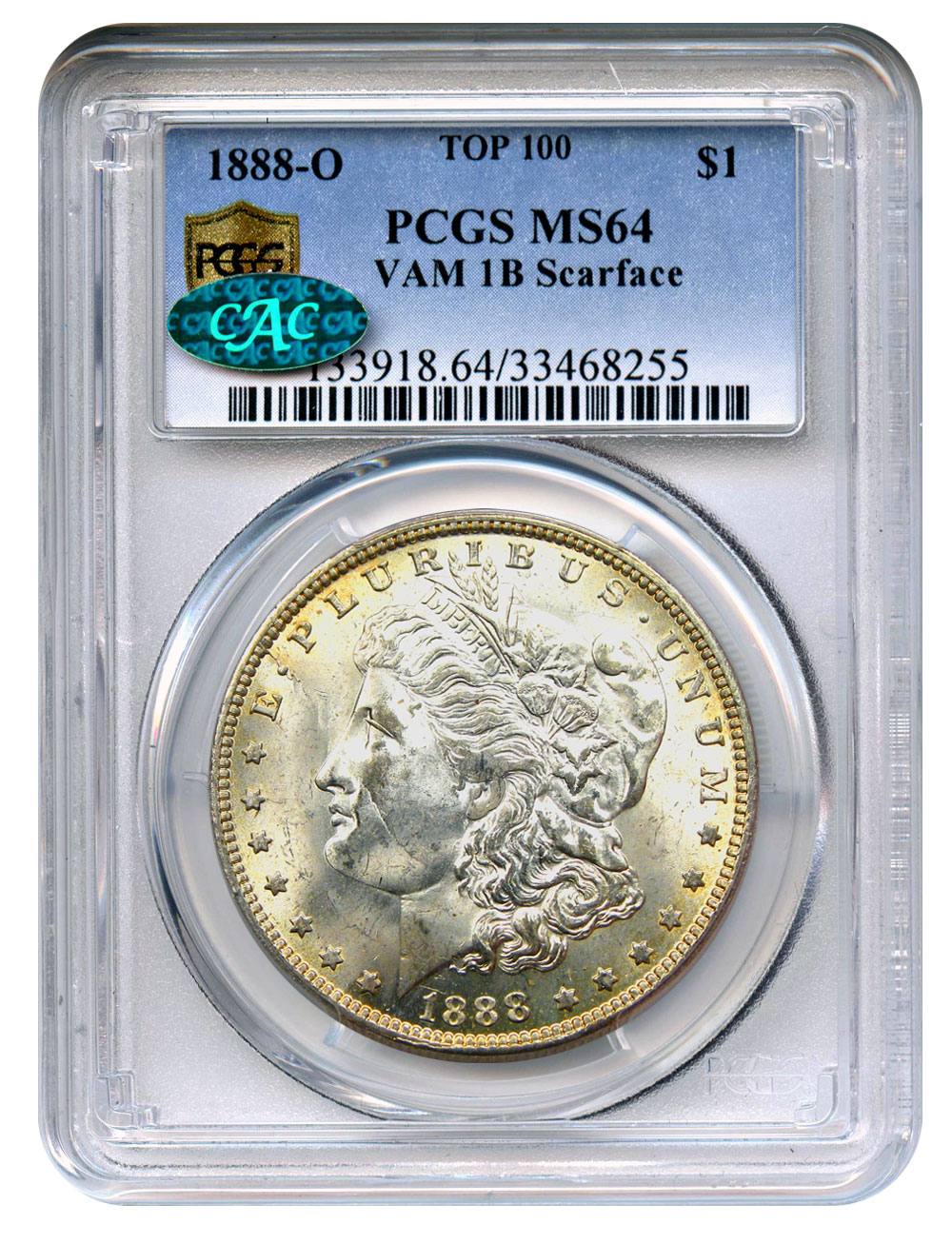 1888-O $1 PCGS Secure/CAC MS64 (Top 100 VAM 1B, Scarface)
Why we love it: There are three MS64 examples of this rare and popular VAM graded by PCGS, but this is one of two that have been stickered by CAC and the only one with beautiful eye-appeal. Ideal for the VAM or Morgan Dollar collector, this mainstream variety is an excellent opportunity to acquire a great conversation piece.
Value: This particular coin garnered $18,800 in a recent auction, but we're able to offer this rarity in auction with a reserve of just $15,250.
No longer available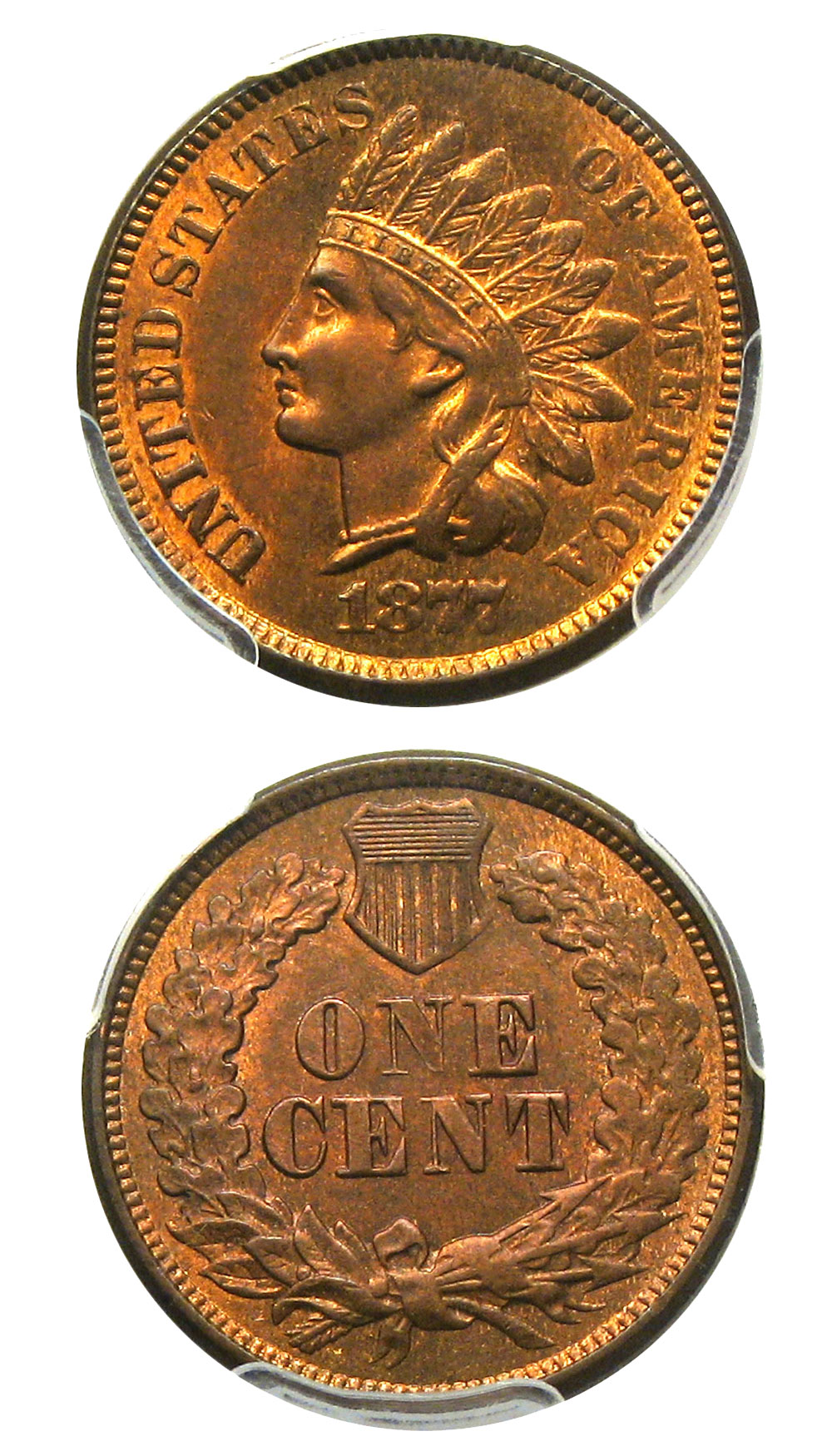 1877 1c PCGS MS65 RB
Why we love it: Indian Cents have long been a staple series for beginning collectors, and the legendary key date 1877 has long been impossible to locate. This particular piece came to us at the Baltimore show and has lovely light orange colors and great overall eye appeal. While the gem grades are elusive for many collectors due to scarcity, we're proud to offer this beautiful piece that will likely become the cornerstone of an impressive collection.
Value: The rarity of such a high-quality piece can be illustrated by the fact that we haven't handled a piece in a comparable grade in over three years. The PCGS Price Guide lists a value of $15k, but this piece is reserved for a conservative $12,975 in this week's auction.
No longer available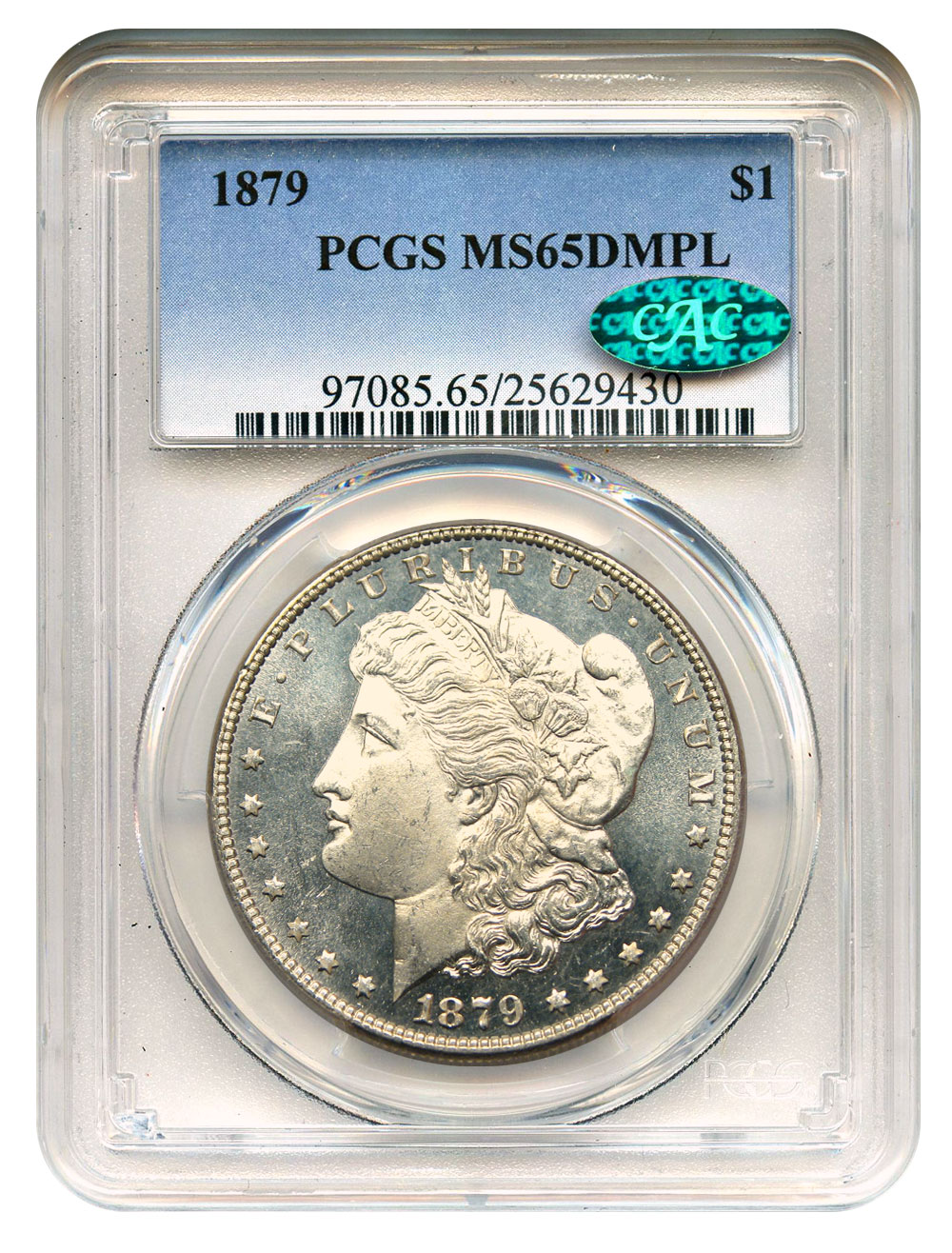 1879 $1 PCGS/CAC MS65 DMPL
Why we love it: Morgan Dollars from 1879 are scarce in gem grades, and exceptionally rare with DMPL surfaces. The mirrors on this piece are superb for the designation and helped us decide we had to have this coin. Ideal for the DMPL collector, the Morgan Dollar Collector, or just a collector who appreciates nice coins, this piece is a great addition to any assemblage.
Value: This coin is available for just $15,000 via Make Offer this week. A finer PCGS example has never been offered publicly and the potential investment value of this piece is quite impressive.
No longer available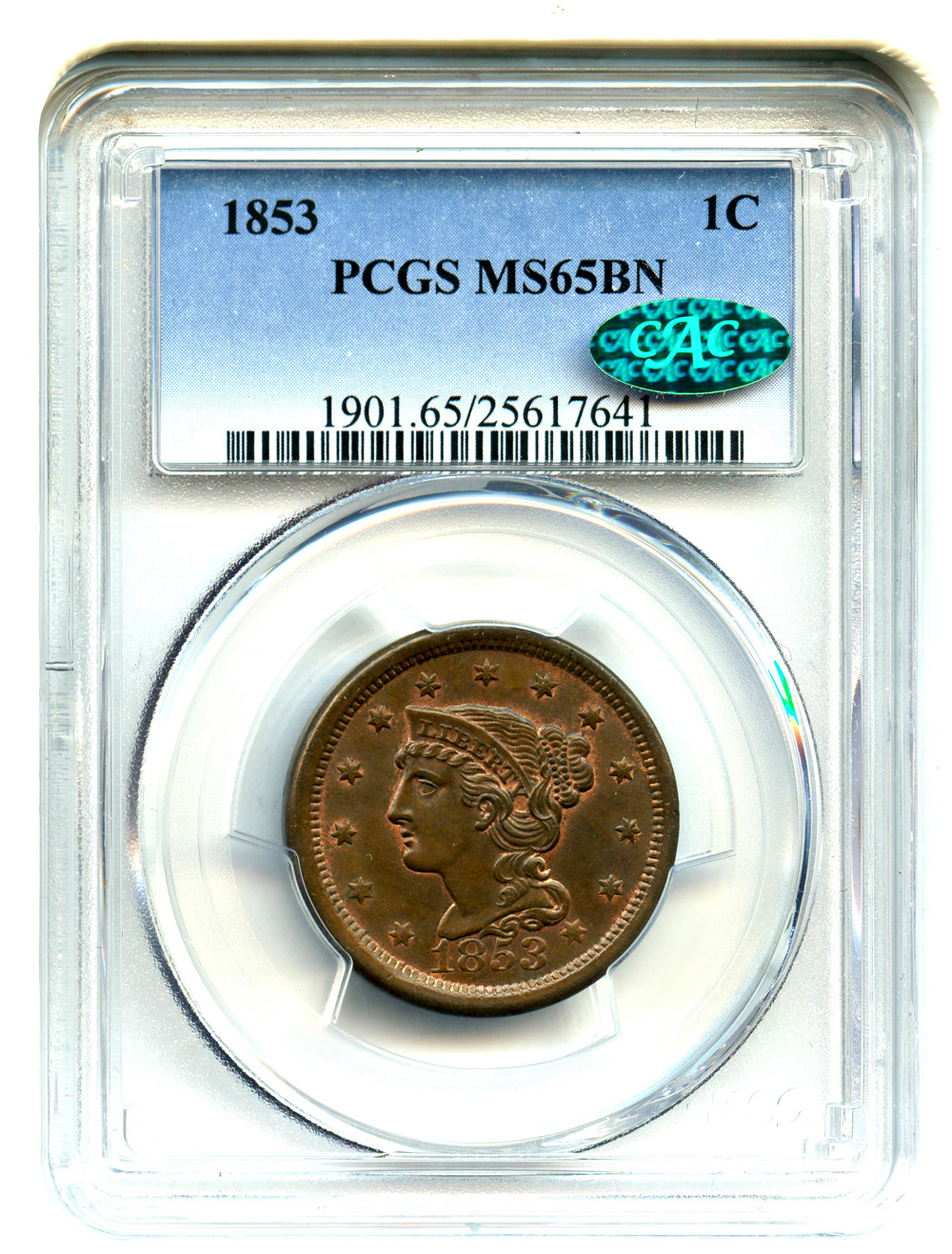 1853 1c PCGS/CAC MS65 BN
Why we love it: A large amount of Mint State early copper is known to have been "enhanced" over the many years of coin dealing, so we strive to find the choice, original coins to offer our customers. The present example has ample original mint red considering its "Brown" designation, and the CAC approval signals an agreement about this coin's above-average quality.
Value: Recent auction records have garnered aggressive results near the $1,300 level and the PCGS Price guide reflects a more conservative price of $1,000. Extending the value to you this week for $800 via Make Offer, we're proud to offer a nice specimen at a reasonable price.

1892-O $1 PCGS MS65+
Why we love it: 1892-O Morgans have classically been recognized as one of the poorer appearance dates of the entire series. This is due to the New Orleans mint's methods of lowering die striking pressures to extend the life of the dies. The resulting weakness in both strike and luster make this date particularly desirable in MS65, where both of those attributes are required to garner the grade. This coin is a notch above even those rare gems and has garnered the + designation. Considering there are only three coins certified in MS66 by PCGS for the date, this is the last available stop before reaching heavy five-figure prices for the next grade.
Value: PCGS records the value of this date and grade at $14,000 and recent auction records have garnered over $8,800 for equivalent PCGS examples. We were able to purchase this piece from a dealer for a far more reasonable price and are happy to pass the savings along. This coin is available for only $8,250 via Make Offer.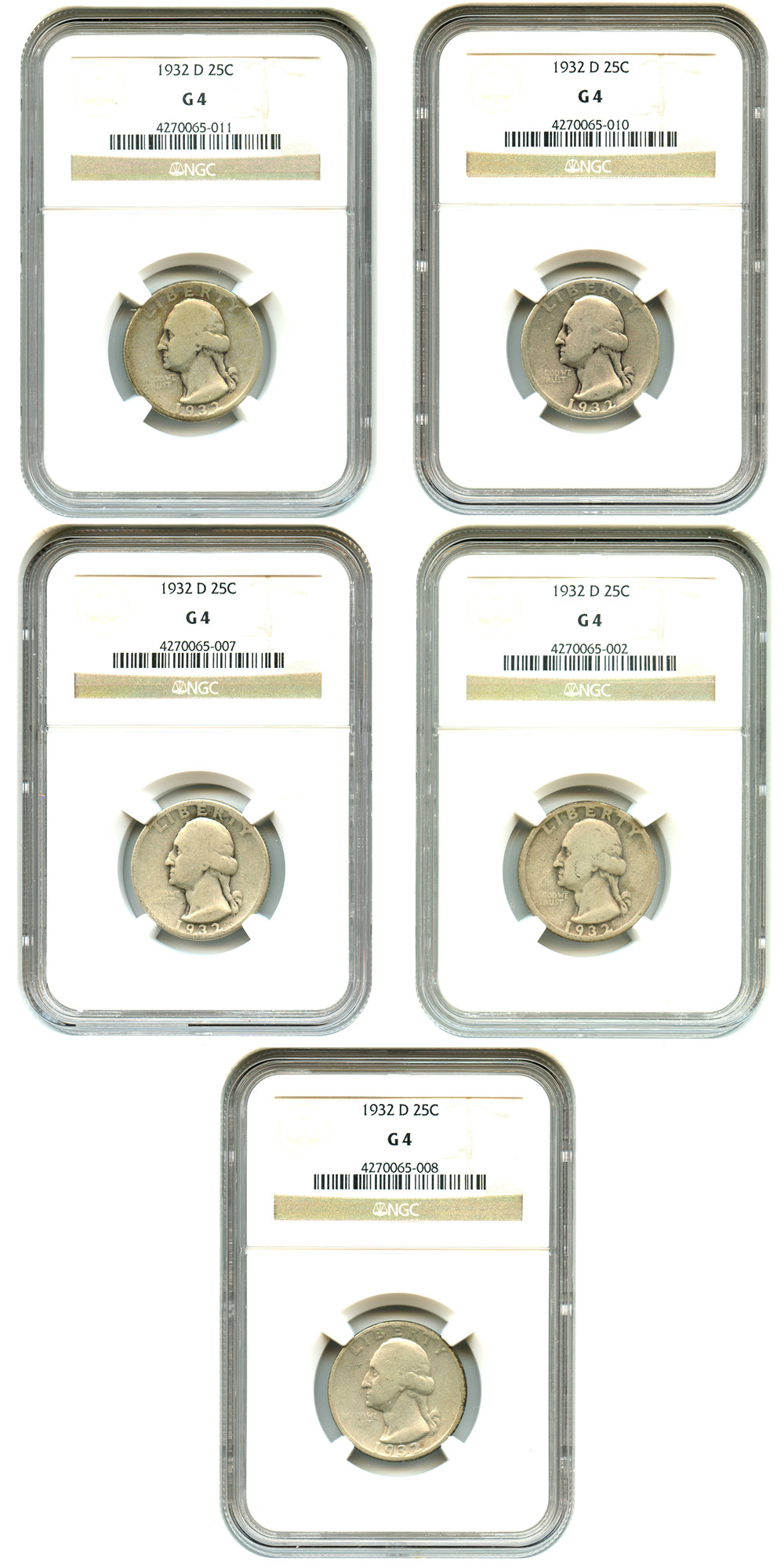 Investor Lot of 1932-D 25c: All NGC Good-04 (5 Coins)
Why we love it: 1932-D Washington quarters have long been an underappreciated 20th-century key date. With nearly half the mintage totals of the 09-S VDB, it can be had for a fraction of the price.
Value: Nearly two years ago, these coins were bringing well over double the current price and we thought they were great values then. Due to the collection we were able to purchase, we can offer this lot of five coins for just $400 ($80 per coin!) via Make Offer this week.
No longer available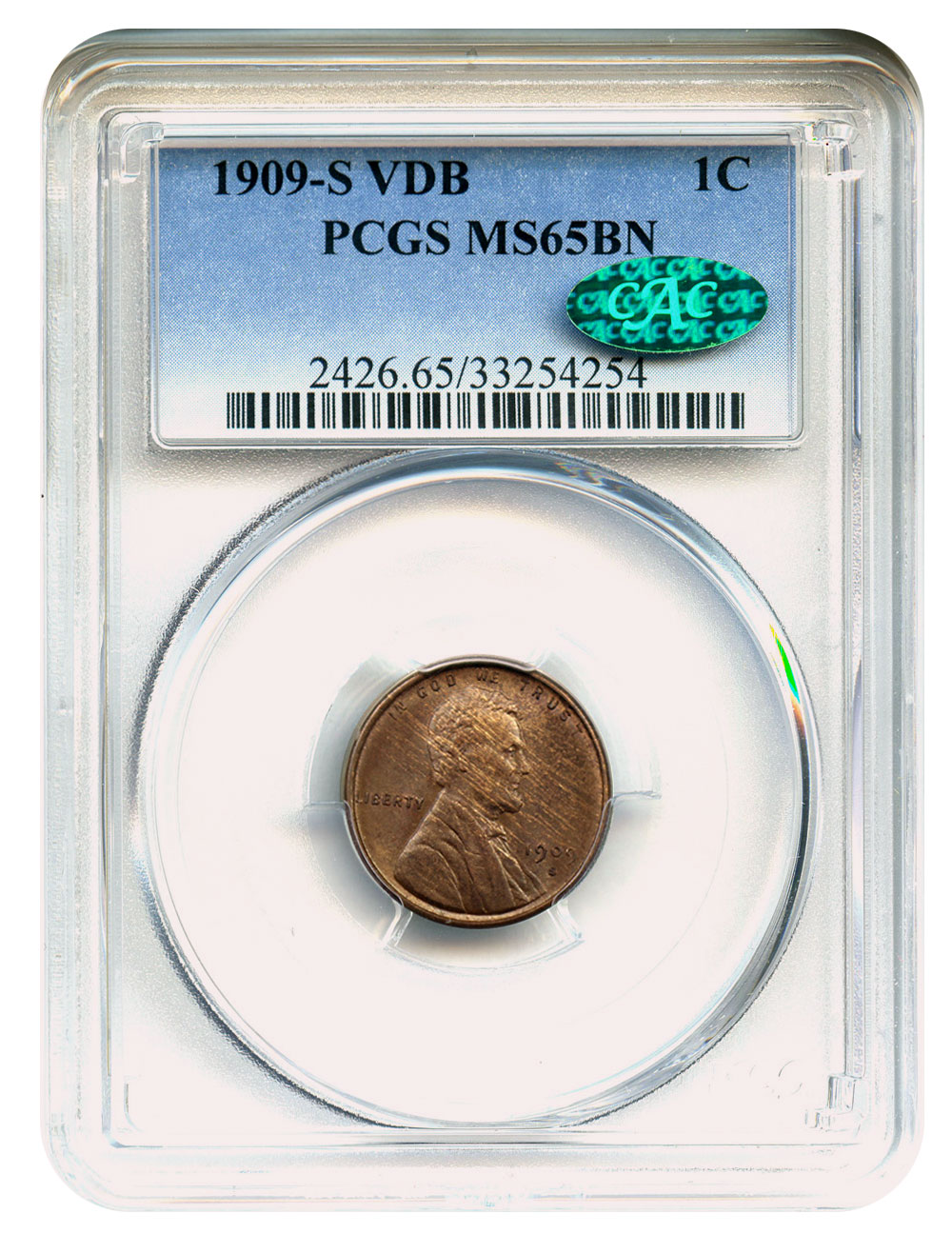 1909-S VDB 1c PCGS/CAC MS65 BN
Why we love it: Many collectors from the baby boom generation collected Lincoln Cent (or Wheat Cent) pieces from circulation, but the date that eluded most was the 1909-S VDB. While it's not an absolute rarity, it is probably the most popular key date in 20th century numismatics and will likely always carry a certain popularity and gravitas that can't be equaled by its contemporaries.
Value: While gem grades aren't exactly rare in this key date, we find that the Brown examples sometimes exhibit the prettiest outward appearance at a much more reasonable value. This CAC-stickered example can be purchased for just $2,400 this week via Make Offer, which is less than half of what a Red-designated piece would currently bring.
No longer available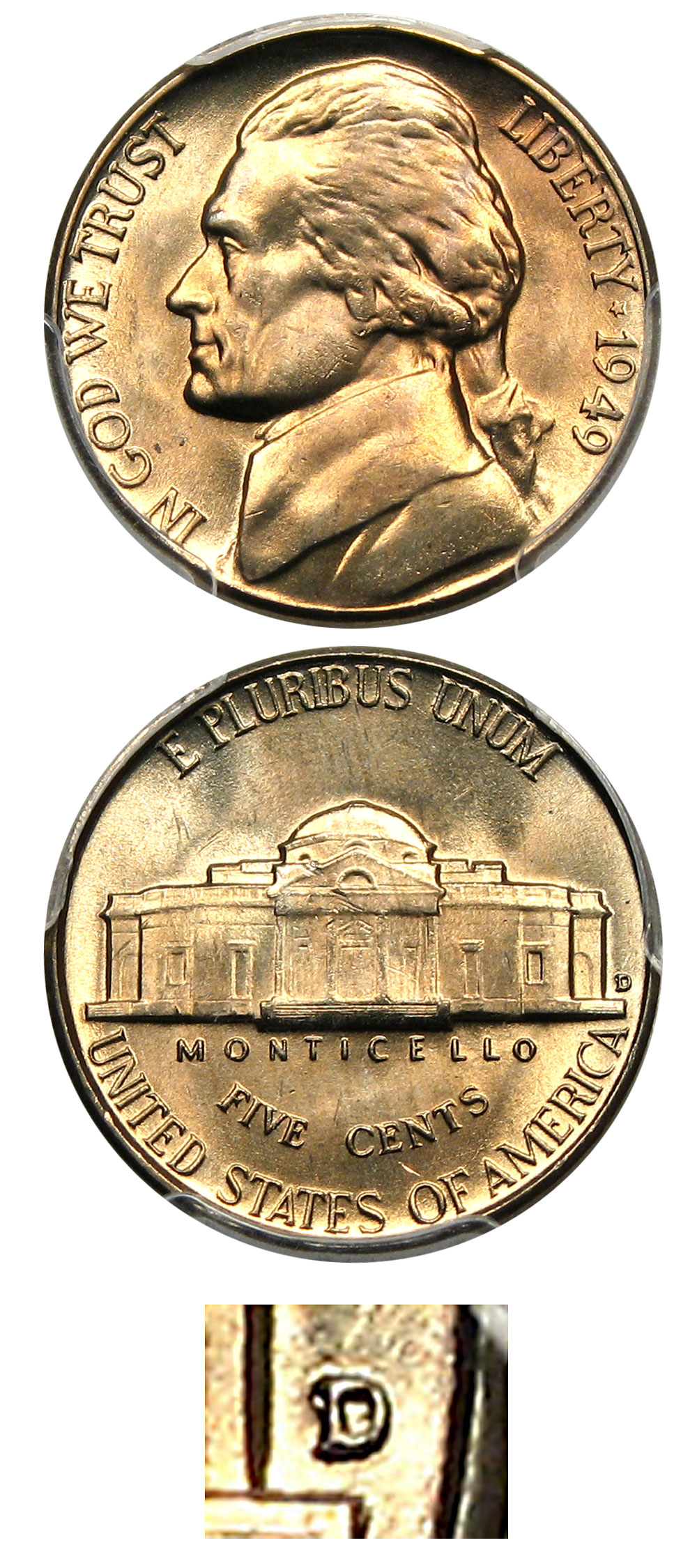 1949-D/S 5c PCGS MS66
DLRC Discount!
Why we love it: Over-mintmark varieties have been an exciting area of numismatics for the last decade with many new ones being discovered each year. This is a more classically recognized variety in this category that enjoys similar popularity to the 1954-S/D and 1955-D/S varieties. An examination with a loupe reveals the Mint's makeshift solution for its limited dies for the year, and collectors benefit from this!
Value: The PCGS Price Guide lists the value at $700, while the Greysheet reflects a wholesale value of $650. This coin is ready for a new home and can be had at a reasonable price of $625 this week via Make Offer.
No longer available
1884 5c PCGS/CAC Proof 65
Why we love it: This is absolutely one of the prettiest proof V Nickels we have offered in years. Gorgeous fluorescent rainbow toning and a nice strike make this an ideal example for a type set.
Value: Proof type coins certainly haven't been the hottest coins in recent months, but when a piece with this kind of eye appeal appears, it doesn't last long. Available for $600 this week via Make Offer, it will find a new home quickly.