Coins We Love - April 7th Edition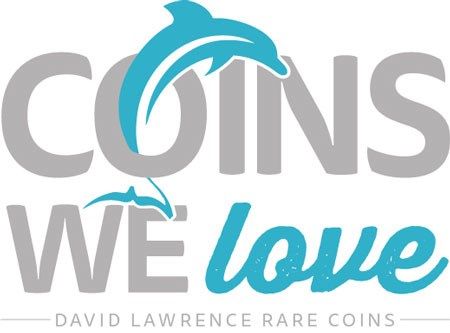 The Baltimore Whitman Expo has always been one of our favorite shows. The location, management, and business-focus of the show are top-notch and we enjoy attending, meeting our old friends, and making new ones. This particular show was one of the busiest from start to finish that we've ever encountered. It began Tuesday morning as we purchased a collection from a longtime customer in a suburb of the city. As the show eventually began on Wednesday in our pre-show trading room, we gradually realized it could be one of our best buying shows ever. In hindsight, this might have been the case. Oddly, most of the action came from just a handful of sources. While we typically buy a few coins from many different people, we ended up acquiring three large deals at the show, and some of the coins highlighted this week are a result of those deals. Suffice it to say, we were very pleased with the results and you will be as well!
As always, if there's anything of interest here, please don't hesitate to let us know. We're here to serve you and your collection and we look forward to speaking with you! Thanks, John Brush and Your Friends at DLRC!
---
1867 5c PCGS/CAC Proof 65 CAM (With Rays)


Why we love it: An extremely new coin for us, we acquired this at the Baltimore show last week. We've handled around 10 examples over the years, and this is certainly one of the nicest. Very difficult to locate with the CAC seal of approval, this lovely gem specimen with light, original toning is a great piece of historical and numismatic importance.
Value: The PCGS Price Guide lists this coin at $49,000, while the Greysheet for a non-CAC, non-Cameo example lists at $38,200. Due to the incredible deal we got on this coin, it's available for just $40,500 via Make Offer this week.
---
1794 50c PCGS VG-10 (Overton 101a)


Why we love it: Early American coinage has always been popular among collectors and quick to sell here at DLRC. This particular first year of issue Half Dollar is a wholesome example of a well-circulated piece, though not lacking in any major details.
Value: Recent sales records have generally been between $8,500 and $10,000, with a lone exception of a less-than-appealing example selling for $7,500. We're happy to offer this piece for $7,750 via Make Offer. It's an excellent opportunity to start a circulated type set or fill that hole with a date that has a substantial price difference compared to higher grades. Buy Now // Make an Offer
---
1921-S 50c PCGS MS63


Why we love it: One of our favorite dates in the Walking Liberty series, the 1921-S is an elusive piece rarely found in high grades. While not the lowest mintage in the series, it's highly sought-after in grades AU and higher. This quality example comes from one of our favorite wholesale sources and was picked from a group of Walkers that has not been on the market for years. In fact, the 1921-P and D will be coming soon as well, but this piece is our favorite of the group due to its rarity.
Value: It's been five years since we've handled an uncirculated 1921-S and we're proud to have acquired this piece. Reserved for $33,500 in auction this week, this lovely coin is likely to find a new home among a comparable collection of high-end Walkers.
---
1905-O 10c PCGS/CAC MS67+


Why we love it: This gorgeous, originally-toned piece is tied with one other example for being the finest known, but this particular coin is the only one that is CAC-approved. While our love for Barbers is widely known, this beautiful superb gem is a cut above the rest and an excellent opportunity to upgrade a collection.
Value: This exact piece sold for $8,800 in an auction last April. Fortunately, this is another example of why it helps to have a checkbook in-hand when you're walking around a coin show. We were able to get an outstanding deal on this piece and can pass the savings along to you by offering it for just $8,500 viaMake Offer. This is a rare value and the perfect storm of coin buying sometimes culminates in these kind of events, but it's certainly rare, even for us!
---
1893-CC $1 NGC MS64+


Why we love it: The Carson City mint produced a healthy group of 677,000 coins for the year. While many examples were released from bags in the 1950s, they received rather heavy bag-marks, leaving a number of lower uncirculated grade examples. This particular piece is the anomaly that survived, a beautiful piece with lovely mirrors and the slightest golden tint.
Value: PCGS lists this date and grade for a rather steep $27,500; recent sales of NGC-graded examples have been in the $23,000 range. We're able to offer a special deal on this lovely piece for just $21,000 via Make Offer. Once again, this is an excellent opportunity to buy a scarce date for quite a bit less than in previous years.
---
1936 Delaware 50c PCGS MS67 DLRC Discount!
Why we love it: This particular commemorative celebrates a rather untold story of the 300th anniversary of the arrival of the Swedes in Delaware. While the British rule and the Quaker proprietorship of William Penn may be more popular, it is indeed true that this original colony was first ruled by an unexpected nation. The church and ship commemorated on this lovely example are quite attractive and can spawn many different collector-based motifs among coinage.
Value: PCGS lists this date and grade at a robust $1,650. While about 16 coins are graded higher, to jump to even a plus grade would multiply the price at least fivefold. Therefore, we love the current value of this piece and we're happy to offer it this week for just $850 via Make Offer.
---
1957-D 1c PCGS MS67 RD


Why we love it: Lincolns Cents have long been a favorite at DLRC. In fact, we've handled several of the finest Lincoln Cent collections in our auctions in the past. This particular piece is an above-average gem with flashy, lustrous surfaces and great eye appeal. While many later dates aren't as popular among dealers, collectors still appreciate the lack of frequency that these low population coins appear.
Value: Available this week for just $500 via Make Offer, we actually have three in stock (which has never occurred before for us!). Although there is a single piece graded MS67+, it recently sold for nearly $4,000. For the registry collector or Lincoln fan, this is a much better value.
---
1892-S $20 PCGS MS63


Why we love it: We recently purchased a nice group of S-Mint Double Eagles from one of our favorite dealers. He passed along the collection from a customer of his and we were eager to acquire these beauties. While many of these coins boast of a mintage of nearly 1,000,000 coins, the overall popularity and availability is certainly not reflective of these high numbers. In fact, many of these dates are far tougher to find than the casual collector might expect, which accounts for the fact that we've only handled two examples of the 1892-S in the past five years.
Value: This is an earlier date among Type 3 Double Eagles that simply does not appear very frequently. In fact, Greysheet lists an average coin at $2,550, but it's nearly impossible for a dealer to find one at this price level regardless of quality. That being said, this piece is reserved for $2,900 and is well worth the consideration.
---
Until next time, thanks for stopping by and sharing some time with us to browse our Coins We Love.