Coins We Love - August 10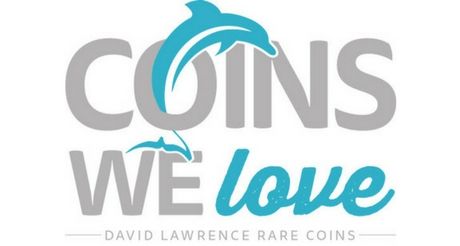 This year's ANA World's Fair of Money held in Denver has finally wrapped up, and we've been trying to tackle all the paperwork, coins, and loose ends from the show. While things went smoothly, it's never easy to be absent from the DLRC Headquarters for a week!
For those who were not able to attend, you were not in the minority. The actual turnout of collectors was rather poor this year. While the final statistics may show that there were more collectors than in recent shows, the actual activity was far less than the 2016 show in Anaheim, and even worse than the National Money Show in Orlando this past March. There are many theories as to why, but I would simply venture to say that Denver has historically not produced great turnouts for collectors. While it's certainly ideal for the ANA with the proximity to their headquarters in Colorado Springs, it's not the easiest place for collectors to reach. Is this an overall microcosm of the hobby? I would answer that with a resounding "No!" The activity that we've seen on our website and from collectors in general has been overwhelming recently. This is certainly a good thing from our standpoint, but it does go to show you that there's a strong possibility that show locations are missing the boat these days. With all that being said, we were still okay with the final results of the Denver show. We sold quite a few coins, took in a nice number of consignments, and really had our pick of what coins we wanted to buy as the overall activity was rather slow. As a result, we were strong buyers and broke a record by spending $2-$3 million dollars at the show. Of course, not all of these will be seeing the light of our website as we've placed a good number through Want Lists already, but suffice it to say that even when a show is slow, there is work to be done!
One of the highlights of these annual gatherings is seeing lots of old friends that we typically do not see on the show circuit. We spent some time chatting with these people and it was a treat to see them, whether they be collectors or dealers! In addition, I (John Brush) had an added responsibility this year as I was elected to the Board of Governors of the Professional Numismatists Guild. This involved a few meetings and such, but it was a real honor to be chosen to join this organization of leading coin dealers in the industry. Also, Gary Adkins has now started his term as the President of the American Numismatic Association. I have chatted with Gary about this several times and know that he is excited to serve the hobby in this way.
Of course, I could write (or talk!) for hours on the show, but I'll stop here for now and please feel free to email me directly at john.brush@davidlawrence.com if you'd like more information on the market, the coin show, or if you have a want list that we can personally service for you in the coming weeks. As always, thanks for reading, and we hope that you enjoy some of this week's selections!
Sincerely,
John Brush and Your Friends at DLRC
---
Why we love it: The 1924-S is the 2nd rarest Gem Red date in the Lincoln series. While there are less examples of the 1926-S in 65 Red, we view the 1924-S to be scarcer overall with the Red designation. The populations do not quite support this, but due to the number of resubmissions on the 1926-S issue to the grading services, we believe that there is strong evidence to support this as being the toughest Red Lincoln. All that aside, this is a true rarity as only ten grading events at PCGS have resulted in a 65 Red grade, with none finer. This is a date that rarely becomes available in such high grades and is a true treasure to find! This piece is fresh to the market, according to our source, and should garner much attention in this week's auction.
Value: The PCGS Price Guide of $27,500 may seem a tad over the current market, but with the most recent auction record from over three years ago reaching $23,500, we are confident that this piece will find a new home with an advanced collector with the very reasonable reserve of just $24,000. Don't miss out on this 20th century rarity!
---
Why we love it: The 1926-S SLQ is a truly rare coin in gem quality with the Full Head designation. We have seen nearly all the other examples in this grade and higher, and attractive, white pieces are certainly the exception to the rule as most pieces in this quality exhibit some type of usually unattractive toning. This blazing, white headlight is a gorgeous piece and is by far the nicest that we've ever offered when it comes to eye-appeal.
Value: While there are a few examples that may come at a slightly lower price, the luster and eye appeal on this beauty stand out and fully support the value in our opinion. The wholesale Greysheet bid sits at $26,000 with the CPG sitting at $30,700. With a reasonable reserve of just $25,000 in this week's auction, we're proud to offer this wonderful highlight which would be an amazing addition to any advanced Standing Liberty Quarter collection.
---
Why we love it: 20th Century $20 Liberty issues are often ignored due to the more popular Saint-Gaudens design, but there are still many "sleeper" dates in this series, among them this 1905-issue. From a mintage of just 58,910 pieces, this is a date that is rarely seen by dealers and collectors and can command quite a premium in the open market. A rare find with such nice luster, this underrated scarcity is an ideal acquisition for the advanced collector.
Value: The PCGS Price Guide rests at $15,500 with the CPG at a slightly more reasonable $13,600. Only two examples in this grade have sold publicly in the last five years, with results varying from $10,500 to over $15,000! This high-end example is offered in this week's auction with a reserve of $11,500, and we are confident that an astute collector will find the overall value and scarcity of this popular, underrated date as desirable as we did!
---
Why we love it: The 1793 issue of half cents is one of the true treasures of numismatics. A one-year type coin issue, it is a must have for any collector putting together an entire type set of U.S. coins. It is also a very popular issue amongst collectors, due to it being the first year of regular issue U.S. coins. This lovely, original chocolate brown example is a perfect piece for those who appreciate nice detail and eye appeal.
Value: The PCGS Price Guide boasts a value of $16,000 for this desirable date. While we have this piece listed for $15,750, we can further reduce it to $14,750 via Make Offer as our CWL special this week. It is a fantastic opportunity to obtain a coin that is not readily available in a grade before the price jumps to over $20,000 in XF!
---
---
Why we love it: The 1925-P Buffalo Nickel is a slightly better date in most grades, but truly jumps when the level of "gem" is reached at MS65. There are 17 other pieces graded as MS67, with a single MS67+ graded finer. The overall luster, strong strike, and light golden tones make this coin stand out to us as an ideal piece for this week's Coins We Love.
Value: The PCGS Price Guide of $5,500 and the CPG value of $6,000 support this registry-quality superb gem issue with a very reasonable reserve of just $5,000 in this week's auction. In fact, the wholesale Greysheet value also rests at $5,000, and we see this as being an excellent deal for the advanced Buffalo nickel collector.
---
Why we love it: The 1931 Mercury Dime issue isn't one that you would typically think of as "scarce", but it is certainly underappreciated in high grades. PCGS has graded 21 examples as MS67FB, while NGC has never stretched to that level, making this coin one of the finest known for the date. Based on the lack of offerings in the past several years of gem quality issues, it further shows that few pieces from the mintage of 3.15 million survived in such high grades.
Value: The CPG states a value of $7,800 with the PCGS Price Guide sitting at $8,250. The lack of range in these values show us that there's a concrete financial evaluation on for this particular date. We acquired this coin from a dealer-friend of ours at a very reasonable price and are happy to pass along the savings as this coin is available for just $6,500 via Make Offer this week. This is $500 less than the most recent public auction record and is as cheap as a similar example has sold. Make sure you jump quickly on this value as we couldn't replace it for that price for several years!
---
Why we love it: Over 3 million examples of this date and mintmark were produced, but the vast majority of this underrated, but popular date, were melted in the ensuing years. Now, the 1924-D has been discovered as one of the better dates in the $20 Saint-Gaudens series and is a piece that we don't often have the chance to sell. This lustrous example exhibits a light orange-gold tone and is an unusually nice for a MS63.
Value: The CPG lists this piece for $7,200 with the PCGS Price Guide at $6,750. While a CAC'd example would command well over $7,200, they are nearly impossible to find. This lovely, "affordable" piece can be purchased for just $6,350 via Make Offer, which is $100 less than the most recent public auction record, a decent value in our eyes.
---
Why we love it: The 1911-D $2 1/2 Indian is considered the key to the Indian Quarter Eagle collection. While they are not particularly scarce, it is unusual to find pieces with a well-struck mintmark and the coveted CAC seal of approval. This lovely slider is certainly an exception to what you normally find for the date and is ideal for the collector who desires such a key date.
Value: Indian Quarter Eagles have long been popular amongst telemarketer/investment types, likely due to the availability of complete sets at reasonable prices. This fact drove the prices of the individual coins up for many years before the drop-off that is noticeable around 3-4 years ago. As a result, the prices are much more affordable, and this example can be had for just $6,000 via Make Offer. While non-CAC examples are clearly available for less, we will never substitute price for quality, and we think that this piece is an excellent value at far less than what it would have cost you just a few years ago.
---
Why we love it: As many of you have seen in recent months, we've been honored to have been part of the disposal of the California Collection of Morgan Dollars. While there are over 12,000 coins in the entire collection, a large number are VAM-attributed pieces. We still have many coins left, despite selling a ton, and we're happy to do our best to work with you on these.
Value: Our prices are reflective of recent sales prices, PCGS Price Guide, etc…but, for this week, if you find a piece of interest, we'll offer a 10% discount off the list price. Just make an offer with the 10% (or shoot us an email on the coin in question) and we'll accept the offer!
---
Until next time, thanks for stopping by and sharing some time with us to browse our Coins We Love.
Check out all of the available "Coins We Love" from past newsletters