Coins We Love - August 23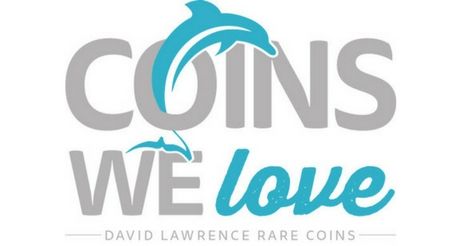 We've returned home from the ANA World's Fair of Money and have had a few days to get things sorted out. However, to say that it was one of our busiest and most successful shows in recent years would be an understatement. I thought about making this message a market report-style summary, but instead thought a journal-like entry might be more entertaining. If you have a few minutes, sit back and enjoy. If not, just skip the message until you get to the coins below!
Sincerely,
John Brush and Your Friends at DLRC
Sunday: Sunday morning my wife, kids, and in-laws toured the historic side of Philadelphia. A quick run through Independence Hall, the Liberty Bell, and the Museum of the American Revolution was a wonderful outing to start the week off right and to say goodbye to the family for a few days. The tours were fantastic and knowing that I'd be coming back to the museum in a few days made it "ok" to quickly read over the less-interesting displays. Sunday afternoon the work began. I had a PNG Board Meeting that lasted until 8pm and at the conclusion I ventured to a hotel near the convention center to view the coins of a dealer-friend. I walked out with a nice handful of coins before my 9:30pm appointment. Meeting with this client turned into quite a project. I perused 16 double row boxes of coins and selected 4-5 boxes of material to take home. I didn't finish until 1am, but this late night was to be the highlight of our buying at the show.
Monday: It started way too early. An 8am PNG Breakfast meeting followed by the PNG Day that precedes the ANA show. This day allows us to set up our booth briefly and get the earliest looks at several dealer inventories. We had purchased another box or two of new coins and started selling from the inventory we brought with us. Our first shot dealer, who always makes it worth our while, ended up spending well into six figures. Suffice it to say, the show started off with a bang. After lunch (with my first trip to the Reading Terminal Market for the Original Turkey Sandwich), things gradually slowed down from; however, there wasn't a dull moment the entire day. We received the last of our supplies that drove up from Virginia Beach and security reprimanded me for trying to get everything back to our table, but there was no stopping progress (or our ultimate safety).
As Monday concluded, we had to put on our Sunday best and head to the PNG Awards Banquet. Emily Bateman, Gary and Jeannie Adkins attended from the DLRC team, and I was honored to present a Significant Contribution Award to our friend, Kathy McFadden, for all of her work in recent year for ICTA (Industry Council on Tangible Assets). Thankfully the event ended around 9:30pm, and we were able to get back to our rooms at a reasonable hour. I, however, still had a few hundred auction bids to work on!
Tuesday: The real show set-up began. Dealers poured in from the streets running with their materials - as the loading dock areas weren't friendly to many (union issues). We threw our coins out into the cases and set up a display of some highlights from the D.L. Hansen Collection at an additional side booth. We have never occupied so much real estate at a show, but for this week, it was needed. We were fully-staffed but never overly-so. The place was just "hopping!" We were actively showing coins to the newly arriving dealers as well as viewing coins from other dealers who were selling. All in all, we probably added another two boxes of new coins on Tuesday that helped fill our safe! Lunch was once again from the Reading Terminal and was in the form of a Cheesesteak…I'm not a great local or a purist, but it was fantastic! The official opening of the show occurred immediately after lunch at 1pm and the floor certainly became much more crowded for the afternoon.
Tuesday night featured the ANA Kick-off event at the Museum of the American Revolution, of which we were a sponsor. This event consisted of a fantastic gathering of dealers and collectors and a night at the Museum to tour the exhibits. Unfortunately, dinner was of the late side this night…after the tour, the DLRC team grabbed dinner across the street from Independence Hall and had a coin-free evening of discussion. We walked home and enjoyed the brief exercise, though the humidity was thicker than one could imagine! After dinner and the walk, more auction bids had to be figured!
Wednesday: Wednesday was a day full of buying, trading, and selling…add in the fact that we got to see many old and new friends (collector and dealer), and it was an enjoyable day. Truthfully, we were busy the entire time, both showing and buying coins, and discussing our display. There truly was no downtime the entire day, but this was for the best. I was able to have lunch with my friend and mentor, Paul Nugget, who made the trip down from New York. We enjoyed some Mediterranean fare and a brief chat. We also discussed several rare gold coins appearing in auction that evening as Mr. Nugget has long been one of the foremost U.S. Gold experts for the last 50 years. His counsel was helpful, and he even brought us a few new items to offer.
Wednesday afternoon flew by as I had to finalize preparations for bidding in the evening's auction and to be frank, I didn't finish until I was sitting in the auction room figuring bids on the fly! I caught up around lot 200 and was able to take a breath. All in all, we made some fantastic buys on items that we thought slipped through the cracks and had to pay way too much for a few rare coins that we were surprised to see on the auction block. After three hours of live auction sitting, we grabbed a bite of dinner before heading home. However, the highlight of the evening's event was the auction of the 1913 V Nickel. We were actively pursuing it for the Hansen Collection, but it surpassed our limit and sold to our good friend, Laura Sperber. We congratulated her immediately after, and we are glad to see that the coin found a good home.
Thursday: Another day of coins…This day featured another auction in the evening, more new purchases at our table, and a fantastic lunch that I can't recall. Every afternoon in the Reading Terminal was a welcome respite from the show. It was not a quiet time, but it was a time that absolutely overwhelmed the olfactory senses, and we thoroughly enjoyed the variety. I'm not going to lie, I had one of the best cinnamon rolls ever concocted at the Amish kitchen for breakfast.
We tried to realize how many coins we had purchased by Thursday afternoon and lost count. Mike was begging me to stop, but when you're on a roll, what else can you do? You find the best coins that are presented to you and you try to buy them. So that's what I did. Immediately after the show, we had a brief reception with our friends from the National Numismatic Collection at the Smithsonian and then met with some friends at Fogo de Chao for dinner at 7pm. After a few visits from the servers, I enjoyed the pineapple for dessert before having to run back to the evening's auction.
Our partner, Dell Loy Hansen, and several of our friends from his office joined the auction festivities this night. We acquired a few pieces for his collection during this evening as well as the highlight of the night, the 1854-S $5 NGC XF45. You can read about it here. Yes, this was an amazing find and a coin that we had followed since it's discovery. In fact, we had made an offer to purchase it several months before, and we were able to capture it in the auction for a few bucks less! All in all, we thought that the piece was fascinating historically, and it fell into our laps. In the end, before we could even place it into our inventory, we received an offer to buy it. It wasn't the intention, but it was one that we couldn't refuse, so we sold it within 30 minutes of the purchase. Talk about unintended consequences! Anyhow, we owned a legendary numismatic rarity for less than a day and I wish we had taken more pictures of the coin!
Friday: By Friday, I was dragging. I made time for breakfast with our friends from Utah at the Dutch Eating Place, a fantastic breakfast counter in the-you guessed it-Reading Terminal. You'd think that the chickens were laying eggs in the kitchen. The food was fresh and fantastic. We knew that the day would be a short but wild one. Mr. Hansen would be joining us for a few hours behind our display and to know him is to love him. Dell Loy is a gatherer of friends, and his enthusiasm for people and coins is infectious. After a week of coin-dealering, it was encouraging to see such excitement, but exhausting as well. We wrapped up some transactions that morning before the PCGS Luncheon where Mr. Hansen's complete U.S. coin Collection (Eliasberg Set) was inducted into the PCGS Hall of Fame. It was a fantastic honor and to have been so active in helping him to put it together, it had special meaning to the DLRC crew.
After the PCGS event, we lingered for a few minutes, but the writing was on the wall. I'm wasn't sure I could buy another coin. I did, but only three more. An 1800 $1 PCGS MS64 was one of our last purchases and it was worth mentioning as it was just amazing. That and the 1835 25c PCGS Proof 66 Cameo were two of our favorite purchases the entire show. Unfortunately, they won't appear in this week's CWL as they sold IMMEDIATELY, but they were an interesting pair. That afternoon concluded my stay at the show. Jason, Julia, Mike, and Alan pulled the weight for the rest of the weekend, but we were worn out! All in all, it was certainly one of the most successful shows we've ever been a part of and even though some say that the market isn't what it was a few years ago, it was pretty darn good to us.
The fact is, the ANA belongs in major east coast cities on a regular basis. While it's a far less profitable venue for the organization, and there were some security issues that had to be addressed, it's simply better for the health of the hobby and for the diversity of the attendees. We're off to Rosemont, IL next summer, and I'm sure that the event will be fine. However, it's hard to measure up to these events when they are held in Boston, Philly, or Baltimore. It was simply one of the best ANA shows in recent memory that would have been only better if the market was the same as it was a decade ago. Alas, some would rate it a 7 or 8, I'd be hard pressed to not give it at least a 9 on a 1-10 scale as the activity was non-stop all across the board.
---
Why we love it: A scarce and desirable Charlotte Mint Liberty Quarter Eagle with beautifully original surfaces and an attractive orange tint. The slightest amount of wear that is noticeable just above the ear, in which it otherwise displays the appearance of an uncirculated coin. The significant remaining luster along with its nearly Mint State level eye appeal highlight this fantastic piece that is more attractive than even a few mint state examples. This rare C-Mint issue Quarter Eagle comes from a low mintage of just 10,220 coins struck in which only two are graded finer by PCGS.
Value: The PCGS Price Guide has this coin valued at $14,500 in MS60, with a conservative $10,500 in AU58. With the scarcity of high-end CAC coins on the market today, the reserve of just $11,750 is a fantastic start and an ideal price level for a desirable coin.
---
Why we love it: A historic medal designed by Herman A. MacNeil, the designer of the Standing Liberty Quarter, which was produced in 1901 to celebrate the World's Fair in Buffalo, NY. This gold example is one of just two known pieces, in which the other is damaged. The exposition is most remembered as the location where President William McKinley was assassinated on September 6, 1901. From the family of Jay Cline, this piece is a fantastic example of numismatic history.
Value: This extremely rare and beautiful medal is available for purchase via Make Offer at the reasonable price of just $65,000. This is an incredible opportunity to acquire a truly wonderful piece of numismatic history for what we believe to be an exceptional value based on its unique story and rarity. The only other example was graded by NGC as AU Details with Damage and sold in a public auction in excess of $46,000 last year, making this finest known historical piece an intriguing item.
---
Why we love it: A lovely, fresh gem example of this popular, scarce Half Dime that is especially desirable and rare in this nice condition. An intriguing item as a high-end type coin with light toning and otherwise bright white, well-struck surfaces that feature strong luster for the issue. This piece comes from low mintage of just 40,000 coins struck in which only five pieces are graded finer across both grading services.
Value: The CPG Value for this coin is set at $46,000 with the PCGS Price Guide Value much higher at nearly $60,000. It is available for purchase via Make Offer for only $35,000. That is a generous discount off both price guides, especially PCGS, for this scarce, early gem Half Dime!
---
Why we love it: The 1895 is famously considered the set-stopping date to a complete Morgan Dollar set in which this lightly cleaned example is going to be the most affordable piece you'll find. We find it difficult to fathom the "Cleaned" designation on this coin as it is imperceptible and far poorer coins exist in a plethora of grading service holders. However, we've priced it right and with a mintage of only 880 coins and no business strikes issued of this date, this piece is perfect as the Morgan Dollar set hole-filler!
Value: This extremely rare and desirable famous key date Morgan Dollar is available for purchase via Make Offer at the low price of just $32,500. With a CPG value in Fine of $33,900, and no recent sales of any condition of an 1895 $1 appearing below this price level, we think that this is an excellent opportunity to acquire this numismatic rarity for a "reasonable" price.
---
---
Why we love it: A scarce and desirable Civil War Era Quarter Eagle graded at MS63 with gorgeous eye appeal and fantastically choice surfaces. This Liberty Quarter Eagle issue comes from quite a small mintage of just 98,508 coins struck in which only three are graded finer by PCGS. As mentioned previously, CAC'd gold coins of lower mintages are nearly impossible to locate in the current market, making this piece an easy inclusion in our Coins We Love this week!
Value: Reserved at just $11,500, the CPG value of $10,600 and a huge jump to $33,900 in MS64, we think that this is a very fair opportunity for the educated buyer to jump on a scarce but popular Quarter Eagle issue.
---
Why we love it: This coin came to us from a local collector who recently had the coin graded. Not being numismatists, this find by the couple was an intriguing one as the "O" on the back clearly marked something better than normal. In fact, it's a rare and popular early Double Eagle from the New Orleans Mint. This example displays light, even wear and original yellow-gold color across its surfaces giving it the ideal look and characteristics for its XF grade that only few exist finer. This Liberty Double Eagle comes from an extremely low mintage of just 9,100 coins struck, in which barely 100 are thought to have survived.
Value: The CPG value for this coin is set at $30,200 with the PCGS Price Guide comparable at an even $30,000. It is available in this week's auction reserved far below both price guides at only $23,530. That is an incredible price for this extremely rare O-Mint Double Eagle!
---
Why we love it: The Half Dollars that were recovered from the SS Republic Shipwreck have long been the most affordable items that are available in the after-market from this popular shipwreck. This particular piece, a popular Civil War date numismatic treasure from the New Orleans mint. This Liberty Seated Half Dollar was struck by the state of Louisiana after their secession from the United States.
Value: This popular Civil War Era O-Mint issue Liberty Seated Half Dollar from the famed SS Republic Shipwreck is available for purchase at the reasonable price of just $500 via Make Offer! This is quite an exciting opportunity to own a true numismatic shipwreck treasure for a great price!
---
Why we love it: The absolute most beautiful example of this Final Year D-Mint Liberty Double Eagle that we have ever seen. The eye appeal is simply mesmerizing with this incredibly unique bright orange color and excessive luster. This stunning gem is truly one of a kind. This Liberty Double Eagle comes from a much lower mintage for the series of just 842,250 coins struck and only one graded finer at PCGS.
Value: With a PCGS Price Guide Value of $20,000 and a sale of a much less exciting example last December in a Heritage Auction of $15,600, we find our unique, gorgeous piece reserved at just $16,000 to be fair, if not too cheap. That is an entire $4,000 below the PCGS Price Guide for this lovely gem Double Eagle with captivating coloring.
---
---
Why we love it: Our favorite date in one of our favorite series, the 1901-S is by far the most famous, rare and desirable key date among all Barber Quarters. It's so popular as a date that this issue transcends the series and key date collectors specifically seek this coin out. This more affordable example has light, even color and wear along with attractive, original surfaces for the grade.
Value: The PCGS Price Guide sits at $4,750, but it is available for purchase at the low price of just $3,850 via Make Offer! That is a sizable discount of $900 off the PCGS Price Guide value for this incredible, rare key date Barber Quarter that is famously known and sought-after across the numismatic world!
---
Why we love it: A popular type coin from the Walking Liberty Quarter series. This example is a gorgeous gem with pristine, blast white surfaces that are covered in blazing luster, which gives it perfect eye appeal.
Value: The PCGS Price Guide Value for this coin is set at $240 with the CPG Value a good bit higher at $325. It is available for purchase via Make Offer for just $250. That is a fair price for this extremely lustrous gem example of this popular Walker type coin!
---
Why we love it: A beautiful gem example of this popular New Orleans Mint Morgan Dollar type coin. This coin displays pristine, blast white surfaces with no notable marks and a strong strike for an O-Mint. These ideal characteristics combined with its fully original, gorgeous and premium eye appeal make it seem high-end for its assigned grade.
Value: This popular and always desirable O-Mint Morgan type coin is available for purchase via Make Offer at the fair price of just $450. This is an affordable method of filling in a space in your Morgan Dollar type set with a truly stunning, lustrous gem.
---
Why we love it: A stunning gem example of this early issue proof Franklin Half Dollar with subtle toning visible at the rim. The eye appeal of this coin is of high-quality as its proof surfaces are nearly completely blemish-free. From a mintage of only 128,800 coins originally struck this date is that much more desirable and tough to locate in gem condition.
Value: Offered via Make Offer for $185, this piece has a CPG Value of $214. It's an excellent price for this super flashy, lightly toned gem example of this early proof Franklin Half Dollar!
---
Why we love it: A gorgeous, lustrous example of this Franklin Half Dollar that is especially scarce in gem condition. This lovely gem displays strong luster and pristine, well-struck surfaces. Between the lack of blemishes and incredible luster and eye appeal, this coin truly represents the grade well. Tied for the finest known graded by PCGS without Full Bell Lines!
Value: The PCGS Price Guide has this coin valued at $650. It is available for purchase at the reasonable price of just $550 via Make Offer! That is a solid $100 discount off the PCGS Price Guide value for this beautiful gem example of this better date Franklin Half Dollar which is tied for the finest graded by PCGS!
---
Until next time, thanks for stopping by and sharing some time with us to browse our Coins We Love.
Check out all of the available "Coins We Love" from past newsletters