Coins We Love - August 25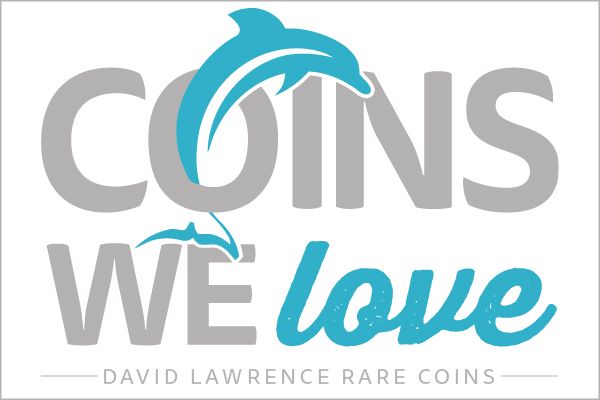 As summer winds down in Virginia Beach, we're preparing for a slight break in the heat wave and for the schools to open back up. While we've seen the typical post-ANA adjustments for many collectors, we've been very encouraged with the recent results of the Carolina Creek Collection and are excited to have listed Part 2 on our website this week. We will have more in next week's CWL with those highlights, but this week we had a wide variety of issues that we wanted to mention. From coins under $100 to over $35k, there's a little something for everyone and we hope that you enjoy the listings!
We also had a few comments this week regarding our ANA show report, and we're glad that some of you enjoyed our recap of the festivities. While we won't manufacture news to report every week, we'll certainly do our best to keep you apprised of what's going on in the marketplace. Of course, if you have any questions you'd like to throw at us, we're always happy to answer, so please keep that in mind if you would like us to address any particular topic! Thanks for reading once again and we hope to hear from you soon!
Best Regards,
John Brush and Your Friends at DLRC
---
Why we love it: Minted during World War I, many examples of this date surprisingly survived the trip to Europe before the melting of US gold in the 1930s. While many of these have been repatriated to their home country, an extreme few gem examples survived the transatlantic travel. This particular gem example is an absolute stunner and a great opportunity for the advanced collector.
Value: There are 6 pieces graded at this level by PCGS (none at NGC) with only 3 graded finer, with no examples hitting the market since 2013. This exact coin from the famous collection of John Katasi was the last offering to appear in auction and it commanded over $41k in 2013. Now reserved for only $39,500 in this week's auction, we see it as an excellent value for an extremely rare and popular coin.
---
Why we love it: The most common date amongst Buffalo nickels, there are several mintmark varieties that were created due to some lack of attention by mint employees. While the 1938-D/S is more plentiful, the D/D variety is underrated due to the lack of frequency that these are found. We've always appreciated the variety and are pleased to offer a small quantity of these in this week's CWL.
Value: We were able to obtain a small quantity of this popular variety and are pleased to offer a special deal on the remaining examples. This week we can offer individual examples for $400 or if you'd like 2 or more, we can do a little better at $375 each.
---
Why we love it: The Bay Bridge exhibits one of our favorite designs amongst classic silver commemoratives. This particular example showcases several beautiful aspects, but is particularly highlighted by the gorgeous rainbow tones around the rim and the lovely original skin that is evident throughout the surfaces.
Value: The PCGS Price Guide values this particular grade at $3,500, but we're happy to offer what we think is an excellent deal on this collectible issue at $2,400 this week via Make Offer.
---
Why we love it: This was one of our favorite purchases from the ANA and is a real cherry. Such gorgeous surfaces and fantastic luster, and the preservation is simply unseen by most collectors and dealers. There is a single finer-graded piece by PCGS, but the eye appeal of this particular piece is simply impossible to find any nicer.
Value: What is likely this exact piece, sold in auction in 2013 for $16,450. Now available in auction with a reserve of just $15,000, this is an excellent opportunity to snag a fantastic piece for a price below recent auction records!
---
Why we love it: Chain cents have long been nearly unobtainable for many collectors due to the miniscule survival rate and the large premiums that Chain cents have long commanded. This particular piece is the most affordable that we've ever offered and is the ultimate hole-filler for the type cent collector.
Value: An old friend of DLRC's, it's time for this piece to find a new home. Available for just $2,750, it's below our cost and a great opportunity to acquire an important piece of American numismatics.
---
Why we love it: Rolls of this date were popular, and prices were driven extremely high in the early 1980s based on the scarcity of the date. As a result, many gem examples survived and have entered the market with the onset of the popularity of grading modern coins. Still considered the key to the Jefferson set, it's one of the few modern issues that truly deserve the popularity that they have commanded.
Value: A MS67 example commands a price in excess of $1,000. This beautiful gem is available for a fraction of that at only $275 via Make Offer this week.
---
Why we love it: Many collectors value the Old Green Holders from the earlier generation of PCGS grading, as the grading standards were quite a bit more conservative during this period in the early 90's. We were able to purchase a large collection of these from a long time customer and have several different dates available, all in MS64 condition.
Value: Perfect for the investor that appreciates quality, we can offer these dates in quantities of 1 or 100 at $75 each this week via Make Offer. If you buy 100, we'll even include PCGS boxes for your order! Email us at coins@davidlawrence.com for that special!
---
Why we love it: A limited edition silver coin, the 2014 Niue Donald Duck coin celebrated the 80th Anniversary of Donald Duck's birth at the hands of the Walt Disney Studio. One of the most beloved Disney characters, we jumped on the opportunity to offer these special coins and have several in stock that are graded by NGC.
Value: The Proof 69 examples are available for $75 via Make Offer and the Proof 70s can be acquired for just $130.
---
Until next time, thanks for stopping by and sharing some time with us to browse our Coins We Love.