Coins We Love - December 1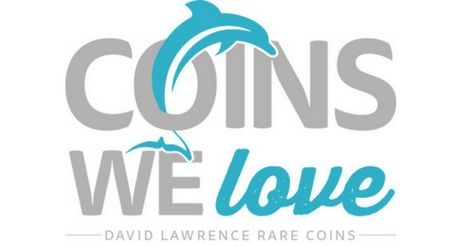 DLRC's theme of this week is simply "catching up." We made the ultimate decision to skip the Houston Money Show as we have had plenty of coins to process and prepare for sale in the coming weeks. While we still certainly need coins, catching up and preparing for our last show of the year (the PCGS Invitational in Las Vegas) and the 2017 FUN Show in Fort Lauderdale are our larger focus. We're continuing to receive hundreds of coins on a daily basis, and while not all get to the website due to various quality reasons, we continue to keep our hands busy in all parts of the US coin market. We'll keep offering new coins on a regular basis to our customers here at the CWL, but we'd also encourage you to reach out to us via phone or email us at coins@davidlawrence.com. We always enjoy hearing from you, and if you have any questions you'd like us to respond to in a future CWL please let us know!
Sincerely,
John Brush and Your Friends at DLRC
---
Why we love it: This is a perfectly wholesome, choice XF example of an early branch-mint gold issue with the Classic Head motif. The obverse mintmark placement has always made these early quarter eagles a popular choice amongst collectors, and this example is a perfect piece for the discriminating collector.
Value: The PCGS price guide value of $7,150 is below the most recent sales price of a similar date and grade, but we consider it to be a fair estimate on their part. Available in auction this week, it has already met reserve and would be a great piece for a beginning or experienced collector.
---
Why we love it: The 1914-S is a common date in MS64 grades and lower, but few gem examples survived the train rides of the early 20th Century and only a single piece has ever graded higher by PCGS. The surfaces are fantastic, and the quality is on-par with what you'd expect of a MS66. A great opportunity for an unusual grade rarity in one of the most popular series among collectors.
Value: PCGS lists this coin for $16,500 but recent sales have been in the mid $5,000's-$6,000s. Reserved for a very reasonable price of $5,250, we love the value on these as it is simply all but impossible to improve on the grade for this particular date.
---
Why we love it: The 1879 Three Cent Nickel comes from a limited mintage of just 38,000 pieces. There are none graded higher than this superb gem by either service. Lovely original golden surface with a silky-smooth finish, this is the perfect coin for a better type set.
Value: The PCGS Price Guide is quite lofty at $5,250 for this date and grade. We've only handled a single other example of this date and grade in nearly ten years, and we think that the value of such a rarity is certainly underrated in comparison to other higher mintage and population pieces. However, we're offering it this week via Make Offer for just $2,950.
---
Why we love it: Proof Morgans and Early Bust Dollars are two of our most favorite coins to find with the CAC seal of approval. In fact, Proof 67 Morgans with attractive surfaces are a rarity in their own right, let alone with the coveted sticker. This nice original piece with great surfaces and above average eye appeal is a perfect Superb Gem example for a high end type set, including proof issues.
Value: The PCGS Price Guide reflects a value of $21,000 for this piece, but a similar PCGS-graded example has not been on the market in several years. This week we're offering this high-end opportunity for our wholesale price of just $14,000 via Make Offer.
---
Why we love it: The Redfield Hoard has long been spoken of in numismatic circles as probably the largest collection of coins, especially Morgan dollars, in the history of coin collecting. Found upon the death of LeVere Redfield behind a false wall, over 400 bags (400,000 coins!) were sold and distributed in the late 1970s. The holders are now very collectible as well as few pieces survived intact into the 2000s due to the onslaught of 3rd party grading. Thankfully NGC preserves these holders, and this coin is not just a great example of a Redfield piece, but it's a great date in the Morgan series, which is not often found in these special holders
Value: Available for just $2,700 via Make Offer, this is an excellent opportunity to own a legitimately scarce date in a historic holder for a small premium.
---
Why we love it: This is one of our favorite designs of 19th Century US Coinage, and this is a lovely high-end coin with striking originality. Incredibly close to gem state, we think that this coin could easily grade as a 65 on another day.
Value: The PCGs Price Guide for a non-plus MS64 is $4,500 with the wholesale Greysheet level sitting at $3,800. Extremely nice for the grade, we can offer this CAC-stickered example for just $4,350 via Make Offer.
---
Why we love it: 1861 was an incredibly eventful year in our nation's history, and the Indian cents from that period are the most affordable type coin from the Civil War era. One of the few remaining lots that we have from the 57th Street Collection, this group is an affordable treasure trove of history and a neat group of coins that are perfect for the investor, collector, or gift giver!
Value: The Greysheet bid for a VF20 is $50, and we're offering this group below the actual wholesale value for a higher VF. In fact, you can have the lot for $50 per coin ($900) via Make Offer.
---
Why we love it: Circulation strike bust type coins simply do not come with surfaces as reflective as these. This pretty and original piece exhibits fantastic mirrors and is strongly Prooflike. It is the first Prooflike Bust Half that we can recall handling, and we hope that it goes to an appreciative collector that will consider us in offering the coin again someday.
Value: PCGS does not recognize Prooflike type coins, but lists regular Bust Halves in gem grades at $13,500. The Greysheet sits at $8,100 for a non-PL grade as well, but this rare Prooflike example is available for just $9,500 via Make Offer.
---
Why we love it: Probably the most popular classic gold commemorative, the Panama-Pacific $2 ½ has long been popular amongst collectors and dealers. A super gem with a plus, this piece is all that a collector could ask for on such a piece.
Value: Classic Gold Commemoratives can be purchased for a fraction of the price from a decade ago. As the levels have settled in recent years, we love the long-term value play on scarce grades, and this is our favorite design of all. Reserved in auction this week for just $6,750, we think that this piece is a great value play with certain improvement potential over the long term.
---
Until next time, thanks for stopping by and sharing some time with us to browse our Coins We Love.