Coins We Love - December 21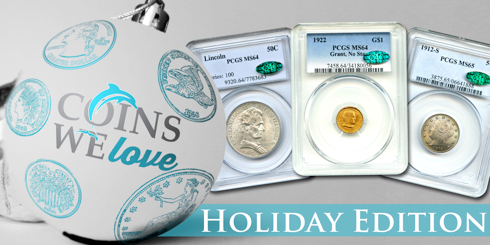 This is a shortened week at the office as we decided to close on Friday to allow our employees to spend an extra day with their families over the holidays. If you would like to contact us, feel free to email at coins@davidlawrence.com as we'll be monitoring messages throughout the weekend. We will be operating next week at a reduced capacity, but orders will be shipping, boxes will be getting packed for the FUN Show, and we'll be a beehive of activity. Thankfully we concluded our year end activities earlier in the month, which has let us prepare for the upcoming months in a more methodical manner than usual. In fact, this change in preparations allowed us to work out the deal for the Champagne Gold Collection that we're offering in auction next weekend!
I'll also use this space to mention that if there are any coins you'd like to see in Tampa at the FUN Show the first week of January, please email us today at coins@davidlawrence.com. We'll be packing inventory next week and would love to bring something for you. We'll be set up at table #721, at our largest FUN Show setup ever! We're excited about the expanded space and look forward to an active beginning of 2018! Thanks again for reading and Happy Holidays!
Sincerely,
John Brush and Your Friends at DLRC
---
Why we love it: A nicely struck obverse is evident on this gem type coin. While there are four other examples graded by NGC, most exhibit a rather high level of toning. The light gray surfaces with ample luster is one of the more eye appealing examples of this unusual type.
Value: The last coin sold in public auction for $55,000 in 2014. Most pieces have sold in the $35,000-$40,000 range, save for an outlier or two due to horrible market conditions. With the PCGS Price Guide of $56,500 and a CPG Price of nearly $45,000, the reserve of just $36,500 in this week's auction is a relative bargain for a piece that hasn't been offered in quite some time.
---
Why we love it: Only two Mint State examples have been graded by PCGS (MS61 and MS62) on this incredibly scarce S-mint. A PCGS AU58 example (of which there are two) has not auctioned since 2006 with the only finer one selling in 2009! A very rare opportunity to add this underrated grade rarity to your set, we expect to see spirited bidding on this piece.
Value: PCGS reflects a value of $11,000 on this coin with a large absence of relative sales records. Offered with a reserve of $10,000, this is a great opportunity to own one of the five nicest examples in existence for a fantastic price.
---
Why we love it: Registry Fever! Only a single piece (MS68) is graded finer by PCGS. Perfect for the advanced registry collector at a much smaller premium than most pieces in similar conditions
Value: The last CAC'd example brought $7,050 in auction. Non-CAC examples have typically brought at least the mid $3,000s with our most recent sales bringing between $4,000-$4,600. Offered in auction this week with a reserve of $3,750, the eventual owner will absolutely love the coin in-hand.
---
Why we love it: Carson City Double Eagles have long been a popular coin amongst collectors and investors. The lore of the Carson City mint and the Wild West that surrounded it is alluring to collectors and those that enjoyed the Western television appearances of John Wayne, Little Joe, and Hoss. It is easy to imagine Ben Cartwright throwing one of these coins down in Virginia City. While the Carson City mint is one of the more famous branch mints, most of its products show rather heavy circulation. This lightly circulated example exhibits nice originality and is a perfect piece for the collector.
Value: PCGS reflects a value of $5,750 with the CPG coming in at $6,000. We're offering this coin for outright sale for a very reasonable $5,450. At that price, the green sticker is nearly free!
---
---
Why we love it: A tough date to find in uncirculated condition and downright rare in gem grades, this high quality MS63 has garnered the coveted green sticker from CAC. A select piece with fine eye appeal.
Value: CAC'd examples command quite a premium, with the wholesale price level in this grade in the high $4,000s. This coin is offered via Make Offer this week for just $4,875, which is a bargain for such a high end piece.
---
Why we love it: Such an amazingly pristine survivor is seldom seen. An ideal type coin for the advanced collector, only two other pieces are graded as such, with only fifteen examples in this grade for the entire type!
Value: The PCGS Price Guide sits at $9,000 with the NGC Value for a MS66RB at $5,250! Only a single example has entered the market in the past eight years, with the coin looking quite a bit browner than this piece. Reasonably reserved for $5,000, this issue is to be treasured and appreciated as truly one of the finest Large Cents available.
---
Why we love it: The only classic silver commemorative quarter, the Isabella is a popular coin for even non-commemorative collectors. An affordable example is fairly scarce, but this piece is perfect for the hole-filler or collector with reasonable-sized pockets.
Value: The cheapest you typically see these is in the $300 level. This piece is available for just $265 via Make Offer, making it more than 10% below the MS60 wholesale price level!
---
Why we love it: The Force was Awakened last Friday, and our office took a trip after our holiday party to enjoy The Last Jedi. While not all of us are Star Wars fans, it was a welcome break from the office. It might be a little late for the holiday season, but if you have a delayed gift-giving event, these are excellent for the Jedi in your family.
Value: Available via Make Offer at our special CWL price of $55, these are neat silver commemoratives produced by the Niue mint.
---
Until next time, thanks for stopping by and sharing some time with us to browse our Coins We Love.
Check out all of the available "Coins We Love" from past newsletters