Coins We Love - December 22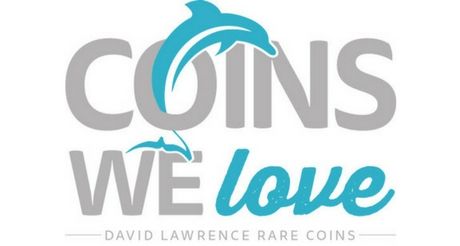 As we prepare for the holidays in our office, we will be closed after 12 noon on Friday and all-day on Monday to allow our fellow team members to spend time with their families. We will be answering emails at coins@davidlawrence.com for immediate questions throughout the long weekend, so if you're in need of assistance, please don't hesitate to let us know. We hope that you're able to spend some time with those that you love and that the New Year brings you excitement and good health. As for us, we'll be preparing for the upcoming FUN Show the first week of January, and we'd like to remind you that if you'd like to see anything in particular at the show to please let us know!
We certainly appreciate your business throughout 2016, and we hope to get the opportunity to work with you once again, if not before January 1st, then in the new year!
Sincerely,
John Brush and Your Friends at DLRC

2016 is winding down and we are busy gearing up now for the first show of the New Year! The FUN Show is set for Jan. 4-7 in Fort Lauderdale, Florida. If you are planning on attending and would like us to bring any specific items from inventory, please contact us at 800-776-0560. We look forward to seeing many of our friends and colleagues visit us at booth #1425!
---
The final release from the US Mint celebrating the centennial of the change in U.S. coinage in 1916 has just been received from grading at PCGS, and we're happy to have limited quantities available!
Value: PCGS SP70 pieces are available for just $995, and SP69s are at a reasonable $950. These prices should match or beat the prices available on the market. Keep in mind we have a very limited quantity available. If you miss out, just email us at coins@davidlawrence.com and we'll do our best to fill your order!
---
Why we love it: One of the most interesting segments of the coin market continues to be in CAC-stickered better gold. While the coins are bringing a lot of money, it's justified as we simply can't buy the coins elsewhere. This absolutely gem better date $10 Indian is a stunning example of these hard-to-find issues. In fact, it's the finest that we've offered in years and is sure to please even the most discriminating collector.
Value: Most recently, another example brought over $13,500 in auction. This example is reserved for a bit less at $13,000 in this week's auction, and it seems like an excellent value as only a single finer example has auctioned in the last four years.
---
Why we love it: This week we're proud to offer another spectacular group of coins from the legendary California Collection. These key date issues are fantastic highlights that aren't offered frequently, especially this nice. Of particular interest in this week's sale are the 1893-S PCGS AU50, 1884-S PCGS MS62, 1893-CC PCGS MS64, and the 1894-O PCGS MS64. All four pieces are of the utmost quality for the grade and are eye-appealing in their own way.
Value: All four pieces are being offered with very conservative reserves in this week's auction at the following values:
1884-S PCGS MS62: $17,000
1893-CC PCGS MS64: $13,000
1893-S PCGS AU50: $21,500
1894-O PCGS MS64: $8,875
We suggest placing bids early on these key date rarities. Special payment terms are also available for these issues if requested.
---
Why we love it: This Superb Gem Proof is a rarity as only a single piece is graded finer. Frosty, original surfaces with a light honey-golden toning highlight the spectacular, nearly mark-free fields. This is truly a special piece for the advanced Proof Morgan collector, and we expect serious interest in this coin.
Value: PCGS reflects a non-CAC quality piece to be valued at $22,000, but a similarly-graded piece or finer coin has not been offered publicly since 2011. The reasonable reserve of $23,500 on this coin is below the actual market value that similar items of comparable rarity have been bringing in auction and via private treaty. It is the perfect piece for when only the finest should be considered!
---
Why we love it: The 1804 $5 is a highly sought-after date in the Draped Bust Half Eagle series. While the surfaces display the slightest friction on the high points, the beautiful orange-gold surfaces throughout the coin really catch the naked eye. Such a well-struck offering is not typical for the date, but we particularly enjoy the allure of the 1804 issue and hope that someone else can appreciate the rarity as much as ourselves!
Value: PCGS reflects a value of $14,000 on this popular date, with the wholesale Greysheet sitting at $11,500. We are proud to offer this nearly uncirculated early gold issue for just $11,000 via Make Offer this week!
---
Why we love it: This popular Civil War dated seated dollar is an absolutely eye-appealing stunner with beautiful, original rainbow tones on the lower obverse. A fully struck example from a low mintage of 11,540, it is the lowest mintage date of the issues struck during the Civil War. Few mint state example remain from this mintage as most were sent to Europe for trade immediately after production.
Value: The Greysheet value for a non-plus MS63 sits at $8,000. The plus comes as a nearly free extra for a very reasonable price of just $9,250 via Make Offer. Don't miss this opportunity for such a gorgeous Civil War issue example!
---
Why we love it: The SS Republic shipwreck brought forth a veritable treasure of popular issue seated halves from the Civil War period. These sets encompass each of the mintage options produced in 1861 New Orleans. A trio of historical proportions, these sets are perfect for the historian in your family.
Value: Available via Make Offer for just $2,050, this is a fraction of the original issue price of these sets that was well above $3,500. At $2,050, we think that it's an excellent value for the historian or someone who just enjoys having a set of historical and numismatic interest.
---
Why we love it: This coin comes to us fresh from a long-time customer, and it truly thrills us to be able to offer it. The super-fresh surfaces and satiny luster highlight this superb gem rarity that is perfect for the advanced Registry Collector.
Value: It is available via Make offer this week for just $3,600. The wholesale Greysheet value sits at a robust $5,650 with the PCGS Price Guide at $6,500. This coin is an absolute gem and certainly deserves to be in the finest of Washington Quarter sets.
---
Why we love it: Due to the recent popularity of these offerings, we wanted to mention them once again. The wholesale prices on these have actually gone up in the last three weeks, but we've left the price the same for now. We have always been shy to offer quantities of items that we haven't individually offered; however, in our recent purchases, we've run into several really interesting deals that involved a large quantity of certified Morgan dollars. We sold off the unappealing pieces in recent days and have kept the nicer coins and decided to offer them to our customers at what we think are great values. We have MS63, 64, and 65 Morgan Dollars available, graded by both PCGS and NGC. Although the pictures are stock images, we've hand-selected each of these pieces for grade and eye appeal and are pricing them at our wholesale price levels!
Value: Generic or common date Morgan dollars sell frequently in dealer to dealer wholesale transactions in large quantities. It's unusual for collectors to get the same pricing as it's difficult to justify selling them individually. However, with the larger quantities that we have accumulated, we just wanted to focus on our customers and offer these at the absolute best pricing that we can. MS65s were selling in the $200 range just a few years ago, but have settled in the $120-$140 range recently. Our pricing of $125 each is about as cheap as you're going to find elsewhere. If you're looking for something slightly more affordable, our MS63 and MS64 issues are priced at $55 and $65 respectively. We can't offer huge quantity discounts due to our pricing, but if you'd like multiples, just let us know!
---
Why we love it: We were optimistic with the purchase of a small hoard of these directly from the Niue mint upon release. Unfortunately, the proliferation of the Disney issues has continued and the excitement behind the Donald Duck issue lagged. However, we still have a large quantity of these in stock and are offering them well below our cost to move them to a new home.
Value: Recently reduced, we're offering an even better price of $90 via Make Offer this week. If you buy 10 or more, we'll knock off an extra $5 per coin as well. For the Disney fan in your life, we hope that Donald Duck can bring some joy and zaniness to your coin collection!
---
Until next time, thanks for stopping by and sharing some time with us to browse our Coins We Love.