Coins We Love - December 28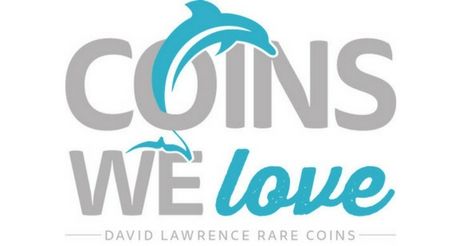 This has been a busy December for us at DLRC as we have added thousands of new coins to our offerings as well as closing up our books on one of our most enjoyable years in recent memory. The addition of Gary Adkins representing DLRC at more shows and in his office in Minnesota, the addition of large quantities of collector coins and currency to our offerings, as well as several monstrous deals that came our way in 2017, all added up to a lively year. In addition, we had the privilege of handling more numismatic rarities than in previous years, topped off by the 1879 Stella that we were able to place with a client this past month. We also had the honor of placing several other rarities that we will be broadcasting in the next few weeks as details are completed.
All in all, 2017 was an exciting year for us at DLRC, and we hope to carry this enthusiasm into the 2018 FUN Show as we depart this week. If you're planning on attending, please don't hesitate to stop by Table #721. If there's something that you'd like us to bring to the show for you to view or consider, please email us at coins@davidlawrence.com this week and we'll try to get it out there! Thanks again for your business, friendship, and reading in 2017, and we look forward to even more in 2018!
Sincerely,
John Brush and Your Friends at DLRC
---
Why we love it: This coin is one of our favorite pieces that we've ever had the privilege of offering. A survivor from the early 19th Century, this coin is tied with one other coin as the finest certified example of the entire design type. In other words, you'll not find a nicer Capped Head Left Half Eagle. The words sound special, but when the coin is examined in hand, it takes on a new meaning.
Value: This coin was previously offered as part of the D. Brent Pogue Collection, but has changed hands several times since the auction occurrence. Offered with a list price today of $795,000, this piece is unmatched. Combined with the rarity of the date, this coin would be the crown jewel of any numismatic cabinet.
---
Why we love it: Proof Gold Double Eagles are unusual pieces that rarely come available. This amazing deeply-mirrored example has been off the market for over a decade and is an ideal example of a rare piece from a mintage of just 20 coins.
Value: The PCGS Price Guide for the type in this grade sits at $67,500. With no examples having entered the market in nearly 15 years, the comparable prices are basically non-existent. Only two pieces graded finer by either service and this underrated date is an amazing opportunity for the advanced collector/investor as it has already met and exceeded the reserve of $55,000.
---
Why we love it: A fantastic earlier Large Cent from the 1810s, the 1814 is an underappreciated, slightly better date. Faint reddish-brown tints are evident near the rims of this high-quality earlier Large Cent.
Value: CPG reflects a value of $14,200 with the PCGS Price Guide at $16,000. The most recent auction appearance garnered $12,338 in February. This piece, while just as nice, is available via Make Offer for our wholesale price of just $12,000!
---
Why we love it: S.S. Central America Shipwreck Double Eagles are fairly common in MS63 and MS64 grades and are very popular with collectors. MS65 pieces come to market less frequently with MS66 examples being basically unheard of with the original gold foil labels. This pristine gem comes to us as part of the Champagne Gold Collection this week and is fresh to the market after many years.
Value: The gold foil labels confirm that the coin has not been doctored or cracked from its original holder since the shipwreck recovery. The last two PCGS examples of similar pieces sold in auction in 2015 for around $33,000 each. This piece is reserved for a tad less at $32,500 in this week's auction and is sure to please the advanced collector.
---
Why we love it: Tied for the finest graded by PCGS, this scarce Carson City issue boasts a mintage of just 18,402 coins. Boldly struck with gorgeous orange-peel toning and fantastic eye appeal. A gorgeous example of this final year of issue from the Carson City mint.
Value: The CPG lists a value of $53,100 with the PCGS Price Guide at $52,500. The most recent example sold in 2014 for nearly $53,000, thus the price guides seem a bit conservative based on the latest sales. This piece is reserved for just $51,000 in this week's auction and is sure to capture the eye of serious bidders.
---
Why we love it: Fiery red Indian cents of any date are eye-catching and desirable. This slightly better date gem is one of the nicest we've seen of this date.
Value: PCGS boasts a value of $3,750 but we procured this piece at a much better value, and we're proud to make it available via Make Offer this week for just $2,850!
---
Why we love it: A gorgeous type coin with beautiful, Cameo mirrors, this piece is sure to please all types of collectors. Flashy, blazing white, with cameo fields, this example boasts an enviable trifecta of eye appeal!
Value: PCGS reflects a value of $6,850 for this piece, with our regular list price coming in at $6,250. This nice, eye-appealing issue is available this week for a further discount of just $5,750 via Make Offer!
---
---
Why we love it: An under-appreciated date in the Gold Liberty Half Eagle series, PCGS has only graded four pieces higher and none of those examples have sold publicly since 2001! A rare, fresh to the market example of this lower mintage issue of which finer survivors are rare. The rarity is easy to love, but the fact that it's an under-appreciated piece makes it an excellent value in our opinion.
Value: The PCGS Price Guide lists this piece for just $12,000 but it would be impossible to find an example in that price range, no matter the quality. This frosty, original piece is an ideal example for the true connoisseur with a reserve of just $14,000 in this week's auction.
---
Why we love it: From a mintage of just 48 pieces, this Deep Cameo Half Eagle is a gorgeously attractive piece with the elusive CAC seal of approval. With an estimate of only 30 or so other examples extant, this date is an underrated and underappreciated issue as it is a lower mintage than most of its counterparts. The quality of this piece is a ten and the eye appeal is unmatched for the grade.
Value: The PCGS Price Guide rests at $26,000 with no comparison sales in any grade, save for the NGC Proof 65 Deep Cameo in 2015 for nearly $50,000! Part of the Champagne Gold Collection, this piece has been off the market for quite some time and has met the reserve of just $23,000 in this week's auction. In our eyes, the value is clearly there, and the scarcity adds to the appeal!
---
Why we love it: A choice VF example of this popular, early type coin. Housed in a collectible Old Green Label Holder, it's sure to please the eye of the collector as much as it did ours.
Value: The PCGS Price Guide of $6,000 reflects an accurate value of this mid-grade collectible. With a higher grade jumping by 50% in value, this piece is available for direct sale via Make Offer for just $5,750.
---
Why we love it: One of my earliest coin collecting memories comes from the gift of a No Cents nickel from my parents when I was seven or eight. The legend of Josh Tatum gold-plating many of these and passing them off as Gold $5 pieces was one of the draws that brought me to numismatics. For those of you who don't know, it is also where the term "Josh-ing" came from in the popular vernacular.
Value: Flashy and eye appealing, the CPG and PCGS Price Guide reflect a value of $400, with the wholesale Greysheet levels coming in at $325. As a Deal of the Week, we are offering this piece for just $325 via Make Offer.
---
Why we love it: An unusual find in grades less than MS63, this affordable example is a perfect addition for the collector. Housed in a collectible Old Green Label Holder by PCGS, we love the design-type and value that a popular classic commemorative such as this Vancouver brings!
Value: PG reflects a value of $385 with PCGS at $340. Available via Make Offer for just $325, this is the best value of this type that we have seen in quite a few years!
---
Why we love it: A popular key date, the 1932-S 25c is a modern rarity that is familiar to even the most laid-back collectors. An affordable piece in a reasonably priced set, this issue is popular amongst all collector-types.
Value: PCGS lists this date and grade for $225 with the CPG coming in at $192. Offered via Make Offer this week for just $180, it's a reasonable price for any key date!
---
Until next time, thanks for stopping by and sharing some time with us to browse our Coins We Love.
Check out all of the available "Coins We Love" from past newsletters