Coins We Love - December 6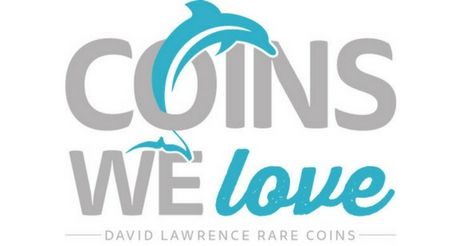 This week at DLRC, we have been doing some house-cleaning. It's been a rather adventurous year overall for us, and we've been looking to December to give us some time to get a handle on the projects that have gone by the wayside during the year. As we slowly catch up on these endeavors, we're highlighting a few items across the spectrum that might work well for stocking stuffers (Who wouldn't want Gold Dust???) as well as making space for new acquisitions as the month of January approaches with the FUN Show.
Another highlight for us this month is our second installment of the Numismatic Masters Auction Series, featuring duplicates (or triplicates) from the collection of D.L. Hansen. You can see those coins listed here on our website as they end on Sunday December 16th starting at 8pm EST. There are over 300 coins listed in that sale, with coins of all types and denominations. We hope that you'll find something interesting from this amazing collection that we have the privilege of working with. Do keep in mind that extended payment terms are available for these special offerings as well!
That's all for now. We hope that you enjoy this week's installment. One note is that our office will be closed at 3pm on Friday as we're going to enjoy an evening together at our annual holiday party. If you need immediate attention, just shoot us an email at coins@davidlawrence.com. We're always looking at that, even during the weekends!
Thanks and Happy Holidays,
John Brush and Your Friends at David Lawrence
---
Why we love it: The key date to the Indian Head Quarter Eagle Series that comes from a low mintage of just 55,680. This is a gorgeous example of this popular, scarce issue as it displays ideal, rich yellow-gold coloring and much fewer blemishes than would be expected from an MS63. The eye appeal is pleasing, and the CAC approval is certainly well-deserved.
Value: The PCGS Price Guide and the CPG Value are comparable on their respective estimates of $13,000 and $13,300 for this coin. Even with the CAC Sticker, this super desirable key date Quarter Eagle is being offered in this week's auction a few hundred dollars below the price guides at just $12,750. For reference, a recent piece garnered $12,960 in a recent auction with the coveted CAC seal of approval.
---
Why we love it: This is the perfect coin for the advanced collector who has studied the popular California Gold Rush. A historical item that's always of interest, this piece is one of our offerings from the D.L. Hansen Collection. An evenly worn, but still highly collectible example of this famous gold coin -- generally called the first of the California Gold pieces. This problem-free example is evenly worn and displays plenty of luster throughout the entire coin. On January 24, 1848, James Wilson Marshall noticed some small flakes of yellow metal near the Sutter's Mill project outside Coloma, California. Marshall's discovery turned out to be gold, starting off one of the largest voluntary migration of humans the world has ever known -- the California Gold Rush. In December 1848, the Military Governor of California, Col. R.B. Mason, sent 228 ounces of newly mined gold to the Secretary of War, William L. Marcy. Marcy forwarded the gold to the Philadelphia Mint, with instructions to use the gold for Congressional Medals for Generals Zachary Taylor and Winfield Scott. Any leftover gold was to be turned into specially marked Quarter Eagles. 1,389 1848-dated Quarter Eagles were struck from the California gold shipment, each one stamped with a small CAL. in the upper reverse field. The stamping appears to have been done while the coins were still in the press, as none of the obverse features appear to have been flattened.
Value: Offered with a starting bid of $62,250, this popular piece is one that is not offered frequently as the last auction record for this grade was way back in 2011! The Hansen Collection upgraded to an amazing MS63 example in January bringing this coin to market for us, and we hope that it finds a new home in this auction. We preserved the Old Green Holder for this piece, but if the buyer prefers the D.L. Hansen label for the pedigree, we're happy to do this free of charge for the winner.
---
Why we love it: A rare proof Half Cent issue with stunningly captivating color and eye appeal. The quality of this coin's surfaces is advanced for the grade, making the CAC approval not surprising at all. The toning on this incredible golden copper colored gem is beautiful with prevalent light greens and some subtle signs of magenta.
Value: This gorgeous proof Half Cent defines the term "one of a kind" perfectly as it offers pretty toning, extreme rarity and shares the title of the finest graded example. These qualities along with its CAC approval make it incomparable to any price guide. This stunning, rare gem is available for sale via Make Offer at a fair price of just $21,000.
---
Why we love it: The 1928 is our favorite Peace Dollar issue as it is the lowest original mintage in the entire series with just 360,649 coins struck. This is the absolute ideal example of this incredibly popular key date from its beauty to its value. It is a truly high-quality gem with pristine, lustrous surfaces that possess subtle yet pretty color that compliments the eye appeal beautifully.
Value: We had another example of the same date and grade combination including the plus grade and CAC Sticker realize $8,750 in a past weekly auction from 2017. That same $8,750 is the PCGS Price Guide Value yet this piece available now is reserved at $550 less for just $8,200. At MS65+, this is the "sweet spot" grade since no 67s exist and any 66 would cost an additional $20,000.
---
Why we love it: A gorgeous near-gem Large Cent that only has three other pieces graded finer for the issue. These lustrous surfaces are bright red complimented by lovely, frosty reddish-pink tints. This immaculate coin is boldly struck with amazing overall eye appeal that makes it hard to believe that it is not in a 65 holder.
Value: The PCGS Price Guide has this pinkish-red stunner valued at $18,500 in its MS64 grade. This coin that is on the brink of true gem territory is available for purchase via Make Offer for only $14,500. This is an incredible value at a sizable $4,000 discount off the price guide for such a lovely Large Cent.
---
Why we love it: An underrated, early Denver Mint Mercury Dime that becomes scarce and greatly desired with Full Bands in gem condition. It possesses satiny surfaces covered in luster with light golden tints. There is only a single example graded finer by NGC and five at PCGS, making this piece that lacks in notable blemishes and matches its grade perfectly even more desirable.
Value: This is truly the "sweet spot" grade for this scarce Full Bands Mercury Dime jumps in value by nearly $40,000 in the next grade if one were to even come available. That and taking the generous value of $18,500 given by the PCGS Price Guide into consideration makes the Make Offer price of $10,500 look shockingly intriguing. The CPG is far more accurate with the pricing level at $12,400.
---
Why we love it: The 1900-O/CC is a popular mintmark variety in the Morgan Dollar series. This CAC approved gem comes as close as it gets to an MS67 between its nearly perfectly pristine surfaces that present zero notable marks. The surfaces are blazing white and excessively lustrous making for stunning, spotless eye appeal. There are just two others in existence that PCGS graded finer.
Value: The PCGS Price Guide comes in at $18,000 on this coin with the most recent sale of this date and grade combination coming in at $14,100 from an auction in 2017. Our example can be purchase for thousands less at just $11,000 via the Make Offer function, making it in our eyes an excellent value for a truly great coin.
---
---
Why we love it: A popular first year of issue Morgan Dollar from the San Francisco Mint. This ultra-gem features mostly all bright white surfaces with a subtle golden tint and plenty of luster. The eye appeal is indicative of the grade as it is of the highest expected quality. There are just three PCGS-graded examples graded finer, two MS67+ and a single MS68, with no finer NGC-graded examples.
Value: The PCGS Price Guide and the CPG Value estimate this coin's worth at $10,000 and $10,600 respectively. Those number are a bit high as a comparable NGC graded example sold in February for $6,000. This piece offered here can be purchased via Make Offer fairly for that same $6,000. With the wholesale Greysheet level of $8,500 and the Bluesheet at $5,400, this seems like a bargain value to us.
---
Why we love it: This coin comes from the second recovery from the famous S.S. Central America Shipwreck making it a truly historic piece of numismatic treasure. Only 105,100 coins were struck of this scarce date S-Mint Half Eagle, in which just five in existence are graded finer by PCGS. This high-end AU example exhibits pretty coloring and strong luster that along with the absence of wear makes it deserving of its CAC approval.
Value: This lovely, historic Half Eagle offers tons of remaining luster, incredible rarity and most importantly sets itself apart from most of its issue by being from this shipwreck. These qualities along with its CAC approval make it incomparable to any price guide. It is available for sale via Make Offer at an excellent value of just $7,000.
---
Why we love it: A gorgeous gem example of this rare proof Half Cent whose surfaces are pristine and coated in toning. The fields on this piece feature vibrant rainbows in the right angle and light highlighted by blue, magenta, lavender, yellow and green. From a microscopic mintage of just 20 coins originally struck, there are just two graded finer at PCGS with the Brown Color Designation.
Value: The PCGS Price Guide values this colorful gem at $15,000 in PR65 BN. However, via the Make Offer Function on our website, this rare, stunning proof Half Cent can be purchased at a $2,500 discount for just $12,500. We find this to be an excessively fair value for a coin with this level of scarcity and beauty.
---
Why we love it: A desirable and scarce variety from the Shield Nickel Series in which only a single piece is graded finer. This lightly circulated example of this popular variety displays smooth, lovely surfaces with nice originality.
Value: The lone higher graded example has brought over $13,800 at auction making a PCGS Price Guide Value of $8,500 seem intriguing and reasonable. Additionally, our best price via Make Offer is another $1,000 off the price guide at just $7,500.
---
Why we love it: This Proof Barber Dime is a popular date as business strikes are quite scarce for 1895. It comes from a low proof mintage of just 880 coins struck and is tied for the finest known piece graded by PCGS. Beautiful rainbow obverse tones with blazing lavender and turquoise highlights give this ultra-gem amazing eye appeal.
Value: The PCGS Price Guide has this coin valued at $5,500. It is available for purchase at just $5,000 via Make Offer. That is a solid $500 discount off the PCGS Price Guide value for this gorgeously toned ultra-gem example of this Proof Barber Dime even with CAC approval!
---
---
Why we love it: A perfect, bright red ultra-gem Lincoln Cent with incredibly strong, fully original luster. The eye appeal is stunning as this coin is simply blemish-free. There are no MS69 examples of this Modern Lincoln Cent in existence leaving just six plus graded 68s finer at PCGS.
Value: The PCGS Price Guide has this coin valued at $775. It is available for purchase at the reasonable price of just $625 via Make Offer. That is $150 below the PCGS Price Guide value for this immaculate, blazing red ultra-gem Lincoln Cent!
---
Why we love it: An immaculate, blazing red Lincoln Cent from two decades ago that possesses simply perfect cartwheel luster. The eye appeal is gorgeous as this coin is clearly free of basically all blemishes. There are no MS69 examples of this Modern Lincoln Cent issue, leaving just three plus graded 68s finer at PCGS.
Value: The PCGS Price Guide places this coin at $775; however, it is available for purchase via Make Offer at just $625. That is $150 below the PCGS Price Guide value for this blemish free, stunning ultra-gem Lincoln Cent!
---
Why we love it: A lightly toned, satiny near-gem example of this affordable earlier issue Shield Nickel type coin. This coin features subtle golden tints throughout with solid luster and well-struck devices that are nearly completely blemish-free making for nice eye appeal.
Value: Available via Make Offer for $275, this example has a PCGS Price Guide of $375 and a CPG Price of $390. This pretty, toned example of this popular Shield Nickel type coin can be yours at a fair and low price!
---
Why we love it: A lovely gem Jefferson Nickel Full Steps type coin that displays excessive amounts of stunning luster. It also features mostly white, pristine surfaces with a light tint of color. This high-grade example of this Jefferson Nickel Issue is "out-graded" by only three others at NGC.
Value: The PCGS Price Guide has this coin valued at $525 with the CPG Value a little bit higher at $552. This gem Jefferson Nickel is available for purchase via Make Offer for just $350, which is a generous price point as it comes in at around $200 below the price guides.
---
Why we love it: Enough has been said about the sinking of the SS Central America ship in the past year that there's no need to elaborate. However, these collectible items are a way to own a piece of the shipwreck and the California Gold Rush at only a fraction of the price of a coin. Perfect for stocking stuffers during the holiday season, these items are the ideal gift for the collector!
Value: Offered in most locales north of $300, we bought a small group of these at a bulk discount and can offer them for just $275 via the DLRC website.
---
Why we love it: A popular Hawaiian issue that displays pretty rose-gold rim toning and flashy surfaces that are, as MS61s go, pleasing to the eye. The lustrous reverse specifically is what really gives this coin ideal eye appeal for the grade. This Hawaiian Half Dollar comes from a moderately low mintage of just 700,000 coins originally struck.
Value: The PCGS Price Guide has this coin valued at $1,050. It is available for purchase at just $1,000 even via Make Offer. That is a fair $50 discount off the PCGS Price Guide value for this lustrous, lightly toned example of this popular Hawaiian Half Dollar!
---
Until next time, thanks for stopping by and sharing some time with us to browse our Coins We Love.
Check out all of the available "Coins We Love" from past newsletters