Coins We Love - December 7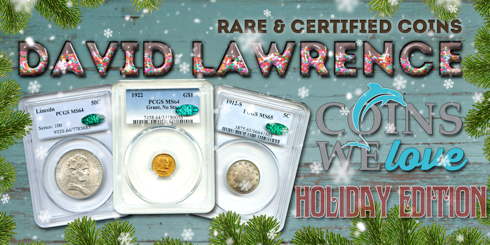 Things have slowed down a little at the office this week, so much so that we have been able to decorate for the holidays. Don't let that fool you though, we are already preparing for the FUN Show the first week of January and for some great auctions to round out the year! We've got a unique selection in this week's CWL, with some potential stocking stuffers as well as some coins for your own collection. Please reach out to us at coins@davidlawrence.com if anything peaks your interest!
Sincerely,
John Brush and Your Friends at DLRC
---
Why we love it: Flashy surfaces with fantastic eye appeal. A popular early $5 that rarely enters the market, especially with the CAC seal of approval. Very close to reserve already in this week's auction.
Value: PCGS reflects a value of $35,000 for this scarcer variety, but CAC'd examples seldom enter the market. In fact, only two pieces have been stickered in this grade. Reserved for just $35,500, this coin is sure to capture a lot of attention in Sunday's auction.
---
Why we love it: Fantastic registry quality piece. A very scarce date that you never see in high grades. In fact, only two pieces are graded finer by PCGS. Looks very close to MS63 to us.
Value: A rare type one Double Eagle that is virtually impossible to locate in higher grades. With the most recent auction record of $23,500 for an NGC-certified piece, this example is could receive spirited bidding action with the very reasonable reserve of $23,750. Another PCGS example in this grade (or finer) has not been offered in auction since 2006!
---
Why we love it: A gorgeous type coin. Wonderful luster and pearl beads illuminate this high-quality piece. Already at reserve level, you'll have some competition if you want to acquire this lovely gem.
Value: Very unusual this nice, this piece has already met the reserve in this week's auction. With a PCGS Price Guide value of $7,500 and a CPG level of $7,800, these issues have become far scarcer in recent years.
---
Why we love it: Some key dates never seem to make it into the collection. The 1916 Standing Liberty quarter is one of those that eludes collectors for value and scarcity reasons. This nice and original piece is one of the most attainable examples you'll come across.
Value: This is as "blue chip" as they come. The 1916 quarter is a solid acquisition in any grade, but this Good example is available via Make Offer for just $2,700. With a CPG value of $2,880 and a PCGS Price Guide of $3250, this is a solid acquisition for any value-conscious collector.
---
---
Why we love it: Nice and original example with light golden toning a solid underlying luster. Only 16 graded higher at PCGS. Perfect collector grade just before the big value jump to MS65 which more than triples in price!
Value: CPG Prices this key date in high grades at $15,000 with a PCGS Price Guide at $16,000! While a similar PCGS example just auctioned for $14,100, we're bringing a much better value to the table this week as it is available via Make Offer for just $12,750!
---
Why we love it: The Half Cents of the mid-19th century have typically been well-preserved, and gem issues do exist and can be located quite frequently. When they reach higher than MS65, they become quite a bit more difficult to locate, but this coin is lovely and an excellent opportunity to add a high-quality piece to a type set.
Value: The PCGS Price Guide rests at $1,650, but this piece is available via Make Offer at a strong discount for just $1,100 this week!
---
Why we love it: Popular silver commem issue. Only 4,256 coins of the with-star variety were issued making it one of the more desirable designs in the classic commemorative series. Bright white example with some light cleaning lines evident in the fields, but a pleasing overall example.
Value: necessary addition to the Classic Silver Commemorative set, the Grant with Star issue is an elusive piece and one of the handful of coins that are just not available under $1,000. This lightly cleaned (but decent) piece is one of the few affordable examples as we are reducing the price to $850 via Make Offer!
---
Why we love it: Karatbars are an exciting new way to gift and invest in smaller amounts of gold than ever before possible. Perfect for stocking stuffers or an exotic small gift, each card contains 1 Gram of 999.9% pure gold and has its' own unique serial number and signature hologram. The cards are the size of a typical gift card or credit card, making it easy to give and send as a present.
Value: These list for around $65 including shipping at most bullion dealers. We have a very limited supply available for $55 including shipping!
---
Until next time, thanks for stopping by and sharing some time with us to browse our Coins We Love.
Check out all of the available "Coins We Love" from past newsletters