Coins We Love - February 16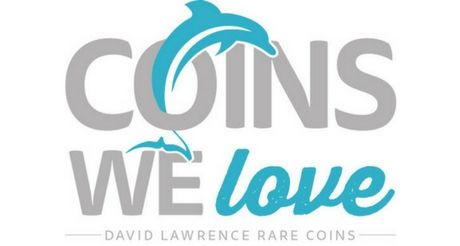 It feels that more often than not we are sending our CWL message from places other than our home of Virginia Beach. This week I'm writing from about 25,000 feet above the state of Mississippi. While we debated attending this week's Long Beach Coin Show, we ended up heading to California for a pair of deals and a meeting. While we did not attend the actual show, we did end up doing business with a few of our suppliers that were in town and returned with a pair of deals and an incredibly wide array of coins. Unfortunately, due to the unanticipated rush and shortened time frame we spent there, we still haven't been able to tally a total of how much we spent or carried back with us on consignment. Despite not having a total, it was the best buying/consignment trip that we've had in several years.
While we were surprised by the results of the trip, we look at it as seeing that others are realizing what most of our readers already know: DLRC's service, selection, and value are one of the best in the hobby, and we will always strive to makes things as easy as possible. Having a check book that is good for seven figure deals helps as well! Needless to say, we'll have quite a few highlights in the upcoming weeks, and we hope that there's something for you. While we'll be at home until March, we'll be busy imaging, processing, shipping, and building collections.
Without further ado, we hope that you enjoy this week's CWL, and please don't hesitate to contact us if we can be of assistance!
Sincerely,
John Brush and Your Friends at DLRC
---
Why we love it: Rarity + Beauty = Coin We Love! Beautiful full red example with amazing luster. One of ten finest graded by either service.
Value: Over the last seven years, auction records range from $9,987 to $13,512 for MS66 examples. This coin is reserved at a very reasonable $7,750 and will probably be scooped up by a registry collector to be tucked away for a long time.
---
Why we love it: We've stated many times how we feel about high quality proof type coins. This Cameo example of the last year of issue for the Seated Liberty Series is a fantastic specimen of a coin that we truly feel should command a larger following.
Value: With a mintage of just 975 pieces, and eye appeal that is simply fantastic, what more can you ask for? A better price? Okay, we will offer this beauty for just $3,250 this week via our Make Offer function. Now that is an absolute bargain!
---
Why we love it: Lincolns have always been one of our most popular series at DLRC, and Gem Red issues can be very difficult to locate, especially in the earlier dates. This gorgeous D-Mint is bested by only three coins at PCGS (all MS66+ examples) and is a date that we don't often see.
Value: PCGS Price Guide reflects a value of $7,000, and while auction records of nice-looking coins have typically been north of $5,500, we're able to offer this piece for a discounted price of just $5,250 via Make Offer!
---
Why we love it: A low mintage of just 5,569 coins struck and "sweet spot" grade of 66RD make this one easy to love.
Value: Although there are over 50 graded in 66RD at PCGS, the opportunity to ever find one higher is very tough (Only six exist in 66+ to 67 grade at PCGS). In 2016, auction records ranged between $3,055 and $3,760. This example is currently listed with a reserve of $3,300 in this Sunday's auction.
---
---
Why we love it: You know we love Key Date coins, and here's one that eludes most Morgan Dollar collections. Natural un-dipped surfaces with light rose tones rims make this a very pleasing example.
Value: AU58's trade between $15,000 and $18,000 and go for roughly half of what MS examples bring. This one is reserved in auction at $15,500 and should make a perfect addition to any distinguished Morgan Dollar collection.
---
Why we love it: Early Copper has long been popular amongst novice and advanced collectors. While the dates from the 1810s often get ignored for the earlier pieces, it can be very difficult to find high quality coins with superior eye appeal. This lustrous milk-chocolate brown coin is a fantastic example that deserves to be a part of a high-end collection.
Value: The Greysheet prices this date and grade with a wholesale value of $2,500, which makes this piece seem like a bargain at just $2,750 this week via Make Offer.
---
Why we love it: Being located in Virginia, we hold Civil War dated coinage dear to our heart. The coins minted in this pivotal time frame in American history are increasingly popular among collectors. This lustrous example is so very close to uncirculated and is the only plus graded example at PCGS.
Value: It's always nice to be the only kid on the block with a unique toy… With the PCGS/CAC AU58 sales record of $5,300, and MS61's selling between $6,450 and $7,600, the only AU58+ grade example with CAC approval is a unique opportunity at $6,000.
---
Why we love it: One of the shortest design runs for the U.S. Mint, the Flying Eagle cent has consistently been a popular issue. While not every collector would be interested in such a large quantity, this group is perfect for the investor/gift giver!
Value: The Greysheet individually lists these for $110 each. While it's super-cheap, we're happy to offer these for just $80 each ($1,600 total!) via Make Offer this week.
---
Until next time, thanks for stopping by and sharing some time with us to browse our Coins We Love.
Check out all of the available "Coins We Love" from past newsletters