Coins We Love - February 23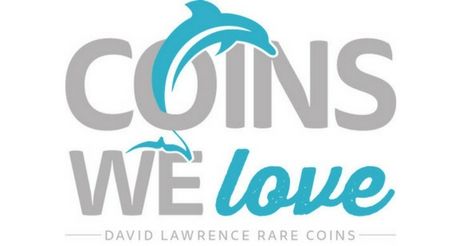 This week has been a whirlwind, and while it's been incredibly productive, we see coins starting to pile up and wonder how on earth we're going to sort them all! This is a wonderful problem and one in which we feel like Uncle Scrooge, wanting to jump into a vault of coins. Unfortunately, instead of gold coins, this week's hoard…err collection that we've come across is Morgan dollars. We acquired several thousand uncirculated Morgans recently while purchasing the inventory of a local coin shop, and we had to get the vast majority graded. As a result, we have over 1,000 coins sitting on carts that just arrived back at our office. Therefore, we're offering even better deals on generic Morgan Dollars this week before we take the lesser quality pieces and wholesale them to other dealers. Keep in mind, the more you buy, the more we can save you!</P
The big news for us locally is that Virginia is now the 34th state to pass a sales tax exemption on rare coins. As you may know, DLRC has led the charge in the state of Virginia with the help of lobbyist, Steve Haner and after months of meetings, phone calls, and trips to Richmond, we have found the promised land. The exemption is still being hashed out by the tax department, but starting in January of 2018, Virginia residents will no longer be required to pay sales tax on purchases over $1,000. While DLRC has a very small imprint within the state of Virginia, we hope that this bolsters our presence locally and throughout the state, so that we can be an option for those that are physically closest to us.
Lastly, we are once again offering our special layaway plan for the month of March. If you need a little extra time for payment on purchases over $1,000, we can help! For all purchases (even auction wins) we are extending our standard interest-free layaway to 120 days. If you need some help with the down payment, let us know as well, and we'll be happy to work with you!
Now without further ado, we hope that you enjoy these offerings this week, highlighted by a few brand new purchases from Long Beach and some incredible deals on common date Morgan dollars for the investor.
Sincerely,
John Brush and Your Friends at DLRC
---
Why we love it: The historic context alone make the Continental Dollar issues one of our favorite U.S. coins. We rarely have the opportunity to purchase examples due to the cost factors, but we were fortunate enough to take this coin home from Long Beach and wanted to make it available this week via our CWL. While we typically run coins through the auction process first, this piece is special and ties together with the history of our Commonwealth of Virginia so well that we couldn't resist. The frosty surfaces with fantastic luster highlight this legendary historic first dollar of the fledgling United States.
Value: The CPG Guide sits at $153,400, with the PCGS Price Guide at $155,000. Few examples of any varieties ever hit the market, especially with the CAC sticker. As a result, the pricing information isn't as clear as one would typically like. However, we are proud to offer this amazingly historic issue for just $145,000 via Make Offer this week. Our long-term layaway plan is an option if it's of interest, but we encourage you to give us a call on this piece if we can help you.
---
Deal of the Week: When we're able to offer a better deal to our customers, we certainly will try to do what we can. While the wholesale prices haven't dropped since our last offerings, the sheer quantity that we have in stock allow us to dig a bit deeper. This week MS63 examples can be purchased for just $52, MS64s at $62, and MS65s at $122…and if you buy 10 or more, we'll knock off another $2 per coin! Just let us know if you want a larger quantity, either PCGS or NGC, and we'll certainly be able to help!
---
Why we love it: The 1890-P Morgan is readily available in MS64 grades, but becomes difficult in gem (MS65) grades, and virtually impossible in the superb gem category of MS66. In fact, this piece is tied with four others as the finest known for the date. The image of this piece highlights all of the beautiful aspects of this coin and would make it a highlight for even the most discriminating of Morgan Dollar collectors.
Value: We previously handled this coin before and placed it in a larger Morgan Dollar set where it resided for a few years. This time around, it is being offered with a reserve of $12,775 in this week's auction. Reflecting on other recent sales of less attractive pieces, this seems to be a very reasonable level, especially when compared to the CPG Price Guide of $17,500 and the wholesale Greysheet bid price of $14,000!
---
Why we love it: The 1874 with Arrows Half is a fascinating issue as it is only a two-year type issue. The light golden tones with the light rose rim tone on the reverse highlight beautiful, original surfaces. It's a great addition for the advanced type collector and a truly lovely coin.
Value: Offered in auction this week with a reserve of just $12,250, this seems to be a bargain offering based on the Greysheet bid value of $13,000 and the recent auction records over $14,000.
---
---
Why we love it: Steel Cents have become one of our favorite modern issues. While continuously popular amongst collectors and hoarders, this special steel issue from the World War II era is unusual to find in such high grades, and we jump at the chance to acquire these in all grades, especially when the coins come this nice!
Value: The PCGS Price Guide sits at $3,750 on this date and grade, and all of our sales in the past decade have been north of $3,500. However, we got a fantastic deal on this piece from one of our wholesale suppliers, and we're proud to offer it in this week's auction with a reserve of just $3,150!
---
Why we love it: The 1919-D Half is one of our favorite issues in the Walking Liberty Half Dollar series. While typically very weakly struck and often unattractive, this example is highlight lustrous with beautiful light golden toning. One of the nicest examples that we've handled in years, we are sure that this piece is destined for the advanced collector's Half Dollar set.
Value: Average quality specimens have all sold for well over $20,000 in recent years, with a pair of examples reaching over $30,000 each. The eye appeal of the present offering is on par with the highest realized prices, but we're happy to offer it with a reserve of just $20,250 in this week's auction. With the PCGS Price Guide at $27,500 and the CPG at $28,800, we view this as an excellent opportunity to acquire a truly eye-appealing coin.
---
Why we love it: The Oak Tree 2 Pence was the first silver coin issue struck in the American Colonies and was very important to the economy as these were widely circulated. Most issues come rather crude in appearance, but this piece is rather well-centered, especially on the reverse. While clearly circulated, the stories that this piece could tell would be fascinating and any collector of early Colonial pieces would surely prize this issue.
Value: The Collector's Price Guide list this coin at $3,240, but there have been no auction results in the past seven years for even a similarly graded piece. We are making it available this week for a 6% discount from the CPG price in honor of our Virginia Tax victory, and it can be purchased for just $3,050 via Make Offer.
---
Why we love it: The SS Central America Kellogg Restrike issues have been incredibly popular with collectors since the original issuing of these in September 2011. While most are struck with Proof Dies, the uncirculated mint state example is quite a bit tougher to acquire and are often under-appreciated.
Value: Recent auction records reflect values in the $4,250 range, but we have had the opportunity to acquire quite a few of these in recent weeks. We can make this example available for just $4,150 via Make Offer, a $100 savings from other competing auction events.
---
Why we love it: While it's clearly not the most expensive or eye appealing offering this week, we reflect on our roots as true collectors and often think back to the days where we truly just wanted an example of a coin from every mint. This issue cuts to the chase for Carson City issues, but not only does it have the CC mintmark on the reverse, it is a very tough date from a mintage of under 100,000 pieces.
Value: Available in auction this week with a reserve of $3,375, this coin allows the prospective owner to look past a human error of cleaning, with the upside that it is a fantastic opportunity to acquire a piece far below the Greysheet value of $4,000 on an AU-graded coin.
---
Until next time, thanks for stopping by and sharing some time with us to browse our Coins We Love.
Check out all of the available "Coins We Love" from past newsletters