Coins We Love: Greatest Hits Vol 2 - November 3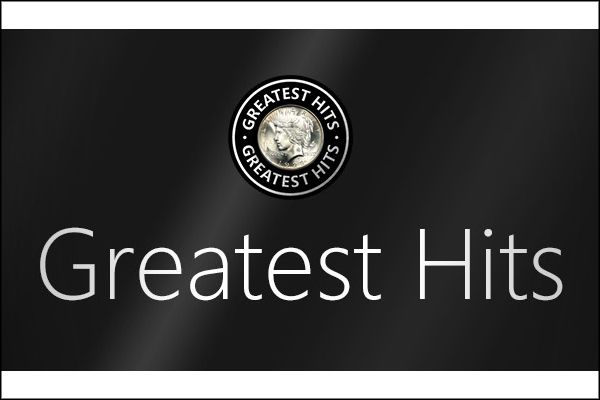 This week's CWL comes live from table 540 at the Whitman Baltimore Expo!
DLRC is out in full force with coins on display, actively buying and selling coins all day. We arrived Tuesday evening and have been fully occupied with multiple deals, offerings, and customers. While we can't say that the market is incredible, we've been pleasantly surprised with the activity and have been very pleased with the buying opportunities and the overall sales at the show. Overall, there's a definite gradual strengthening of the market, as long as you're discerning of the quality and value. While we've been able to procure a wide variety of new coins, we've been a bit disappointed in the lack of high quality coins and rare, early gold. However, as an overall view, we've been very pleased with the activity.
In light of the show and its goings-on, we haven't been able to highlight any brand new coins, but we've done our best to pick out a few of our recent favorites and have discounted them accordingly. We hope that there's something here for you, and if you have any questions, please don't hesitate to contact us!
We'll fill in more holes in the coming week once we've had a chance to catch a breath from the show, but we appreciate your reading and hope that you'll com back for next week's all new offerings!
Sincerely,
John Brush and Your Friends at DLRC
---
Why we love it: This rare key date proof issue has long been popular amongst collectors. In lower grades this date typically comes rather unattractive and dark, but this pretty specimen exhibits beautiful fields and gorgeous reddish-orange tints. A lovely example of one of our favorite key dates in a popular, yet short-lived series.
Value: The PCGS Price Guide lists this piece at $32,500. All of the recent sales from the past two years for PCGS-graded pieces have been between $29,000-$42,000. Available for a discounted price of $27,000 via Make Offer, this is a very good value for even the most discerning of collectors.
---
Why we love it: We had the opportunity to re-acquire this gem key date at the ANA show in Anaheim and jumped at the opportunity. A more original, lustrous example is difficult to find and combined with the fact that we hadn't offered an example this nice in quite a while, it was an easy decision. Surprisingly, only five pieces are graded finer by PCGS (and only a single by NGC), making the D-mint much rarer than the S-mint, despite similar mintages. Overall, it is simply a quality key-date issue from a very popular 20th Century series.
Value: Previously reserved for $9,950, this piece is now available via Make Offer for just $9,500. Just 10 years ago, a similar piece would garner north of $15,000, but as the value has settled around this level in recent years, we think that this is an excellent purchase at a near market-low price.
---
Why we love it: This coin is nothing less than a sparkling golden little jewel! The first year of issuance was 1856 for the Type 3 gold dollar type for the Philadelphia and Dahlonega mints, while San Francisco continued to use the Type 2 obverse for the year. The Upright 5 feature is scarcer than its Slanted 5 sister from the same year, and there is only a single coin certified finer. Rich satin luster envelops both obverse and reverse, and the coin has the perfect "skin" for what you expect to find in this grade. Only one or two inconsequential contact marks on the reverse are what keep this coin from an MS66 designation. CAC agrees with our opinion that this coin is absolutely top end for the grade! Perfect for the Type 3 gold dollar specialist.
Value: Very underrated and nearly impossible to find with a CAC sticker, this lovely gem can be purchased for the discounted price of $8,850 via Make Offer.
---
Why we love it: The key date of the series along with the 1909-S, the 1877 enjoys popularity in every grade. We see collectors chasing any examples between About Good and About Uncirculated, and certain awe is expressed by those same collectors when we are able to offer a gem like this. Our PCGS/CAC example here is a delightful specimen with ample luster and rich mint red color presiding over most of the surfaces. As readers will note, this has long been a favorite date of ours to offer!
Value: One of our favorite key dates that is underappreciated compared to the 09-S VDB and 16-D Mercury. We've had the pleasure of listing several in this grade recently and can offer this lovely piece for $13,750 via Make Offer, which is slightly cheaper than the recent auction sales of $14,100.
---
Why we love it: The 1896-S Morgan S$1 is one of those issues that many people do not realize is scarce until trying to find an example in About Uncirculated or finer. Uncirculated examples are much scarcer than the casual collector would hope, and a true gem like our present coin is a flat out rarity. Thankfully, when these coins are found they exhibit a nearly full strike and pleasing satin luster. This very clean and bright white coin is sure to fill the hole in the advanced Morgan collector's set with great satisfaction from the buyer.
Value: The Greysheet bid price reflects a value of $14,100, and we're able to offer a further discount to below the current wholesale level in this week's CWL. Available for just $13,000 via Make Offer, this is an excellent deal for a nice coin, below almost all of the recent sales records!
---
Why we love it: The 1911-S Gold Half Eagle is relatively common in circulated grades but becomes increasingly difficult to locate as the grades rise. In fact, it is downright scarce in MS63 and higher grades. This piece was acquired from a long-time collector and displays the quality that even the most particular collector would appreciate.
Value: PCGS lists the date and grade with a value of $5,750 and recent auction records have settled more in the $4,200 range. Considering these price points, we're happy to offer this lovely piece for a discounted price of $3,750 via Make Offer, a 35% discount from the prevailing price guide values!
---
Why we love it: The 1950 Franklin proofs have appeared a few times in the CWL because of their scarcity in higher grades and desirability with cameo contrast. This Proof 67+ Cameo coin has almost no peers in this condition and is matched by only two other examples with none finer at PCGS. The CAC seal of approval gives yet another nod to its superior status. This is a 20th century condition rarity that is already proving itself to be a classic!
Value: The only recent auction records reflect a final price of $18,800 within the last year. While we believe our coin to be more eye-appealing than the recent record, we are offering this piece at a discounted price of just $17,500 via Make Offer
---
Why we love it: A slightly better than common date issue, the 1959 Franklin Half commands large premiums in gem grades and higher, especially with the Full Bell designation.
Value: Large quantities of this date aren't something that we are often able to offer, but we recently acquired this set as part of a larger group of Franklins. Available for just $26 per coin ($520) via Make Offer, this is 10% less than the Greysheet "bid" price and is a fantastic value for a collector or dealer.
---
Why we love it: This is a solid example of this post-Civil War issue. The obverse surfaces are incredibly close to a prooflike finish and the luster is simply booming. A more brilliant example will not be found, and that is reason alone for us to love this piece – and we think that you will too!
Value: Formerly reserved for just $11,750, this piece carries a PCGS price guide value of $15,000 and there are only 5 pieces graded finer by PCGS. It is available for an excellent value of just $11,350 via Make Offer this week
---
Until next time, thanks for stopping by and sharing some time with us to browse our Coins We Love.