Coins We Love - January 11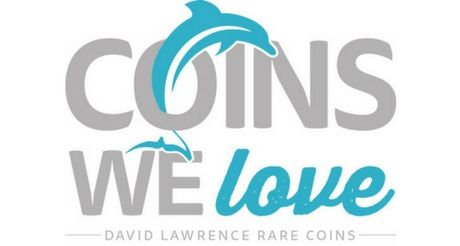 The curse of the FUN show...with such an ominous beginning, you'd think that there was something negative about the show. Honestly, the only negative from the show was trying to get our badges to get in! The attendance was booming, and it caused an unexpected rush of humanity at the registration desk, creating a slight delay for us.
No, the curse was the annual snow storm that attacked Hampton Roads as we attempted to return once again. Our returns were slightly hampered, but it forced me to spend another day in chilly Tampa, and it was not a bad thing. The mood of the show was intense, and the market is hopping and more active than it has been in 7-8 years. We've been preaching about the price drops and how coins are a better value, but that is likely to change in 2018. The market was far more active than we expected and our results, both buying and selling, reflect that. In fact, we had a record show as far as "retail" sales and spent more than we have at any previous show that we can remember. While several of these purchases were coins that we already had sold, many of the items were purely for stock and our new listings this week will show some of these new offerings.
It's difficult to explain the activity of one of these shows, but the brief synopsis of our activity last week started on Monday night: We arrived early to gain early access into four wholesale customer's inventories. As a result, we spent well over $350,000 in our first evening in Tampa! The next day consisted of a pre-organized trading room with ten of the other top numismatic dealers in the country. Many would not be recognizable as they are wholesale-only outfits, but these trading rooms open up a plethora of doors, and the overall activity here is mind-boggling. We started at 8am and didn't close until 7pm when it was time to grab dinner with some of these guys and close some of the deals we didn't finish. As for me, I had to sprint off to a PNG Board Meeting dinner that lasted late into the evening. Wednesday morning started off the same, and I actually had two breakfast meetings. While I can't quite handle second breakfast like a hobbit, I enjoyed an extra jolt of coffee. At that point it was 8:30am and it was off to the trading room again. We ended up departing around one as the bourse opened at two in the Convention Center. We expected a slight lull as everyone set up, but the activity only increased. The floor was open from 2-8pm and 8am-7pm the following three days and business never slowed.
While we love coin shows more than most, the result of this show was pure exhaustion. It's taken most of our attending staff four to five days to catch up mentally and physically. Thankfully our staff back home was well-rested as we experienced 12 inches of snow on Wednesday night, forcing our office to close for two days. We were certainly swamped on the return as the office re-opened Monday, but it was well worth it. A phenomenal show in a good market will get your internal juices pumping, and as a result, we're thrilled to enter 2018 with this momentum. We hope that you'll enjoy some of our newest offerings in this week's CWL!
Sincerely,
John Brush and Your Friends at DLRC
---
Why we love it: This gem Capped Bust Quarter type coin displays pristine, nearly prooflike surfaces. Combined with the beautiful dark blue color throughout with some green and pink, this early quarter has a very unique and captivating look. An incredibly fresh coin being offered for the first time in years, it was put away by the discerning collector of the Champagne Gold Collection with an impeccable eye.
Value: The PCGS Price Guide has this coin valued at $30,000 and the CPG Value is at $26,600. We have this lovely example with very unique, gorgeous surfaces offered for less than the Greysheet price at just $20,000 via Make Offer this week!
---
Why we love it: A very attractive example of this very rare Draped Bust Half Dollar. This desirable, high-end type coin survived its very low mintage of just 3,918 coins very nicely. The wear on this piece is even throughout with a pretty, grayish-brown, original surface. The obverse is especially attractive with light colors and even wear. 1797 Halves are offered very rarely, and this piece is one of the nicer more "affordable" examples that you'll see.
Value: The PCGS Price Guide has this coin valued at $120,000 and the CPG Value is at $127,000. This extremely rare and desirable Half Dollar is offered this week for less than six figures at just $99,750 via Make Offer!
---
Why we love it: A real sleeper in the $10 Liberty set, the 1838 is an underappreciated date from a mintage of just 7,200 pieces. Unusually lustrous with fantastic eye appeal, this piece is perfect for the collector who appreciates long-term value and scarcity.
Value: The PCGS Price Guide sits at $21,000 with the CPG at nearly $24,000. We approach it cautiously with a very reasonable reserve of just $19,250 in this week's auction and expect it to receive much attention!
---
Why we love it: A beautifully toned gem example of this popular overdate Barber Dime. The exquisite hues of gold, magenta and green, especially on the reverse, add up to an overall outstanding eye appeal. This specific example is tied for the finest known graded by PCGS!
Value: The PCGS Price Guide rests at $7,500 with the CPG Value coming in at $7,000. Even with the stunning, colorful toning of this eye appealing coin, we have it offered at a great discount of just $6,500 via Make Offer!
---
Why we love it: This gem, prooflike example of a scarce, popular overdate radiates beautiful, blazing white surfaces. This overdate is very desirable and especially difficult to come by in gem, prooflike condition. The eye appeal is amazing with limited blemishes and stunning surfaces. This piece is tied for the finest known graded by PCGS with the PL designation.
Value: The PCGS Price Guide values this coin at $16,500. The only comparable auction record comes from over a decade ago in 2002 where another example fetched $13,225. This stunning example of this scarce overdate with gorgeous prooflike surfaces is offered at a significant discount for just $13,500 via Make Offer as part of our CWL special.
---
---
Why we love it: This high-grade gem example displays some of the most elegant, deep-mirrored surfaces you'll see on any Proof Barber Quarter. Flashy, bright white, Ultra-Cameo mirrors combined with the nearly blemish-free, perfect surfaces gives this coin limitless eye appeal.
Value: The PCGS Price Guide has this issue valued at $18,000! We have this nearly perfect example with amazing, deep, flashy mirrors available for direct purchase this week for a fantastic value of just $9,000 via Make Offer!
---
Why we love it: An attractive gem example of this scarce Civil War Era Gold Dollar with nearly prooflike fields. The surfaces are very intriguing and make for great eye appeal with fantastic contrasts and bright yellow color, especially on the reverse. The tremendous appearance of this coin was recognized by CAC as they approved it as a very high-end example of the MS65 grade it earned from PCGS.
Value: The CPG value accurately reflects a price of $13,000. There are ten total examples in the MS65 grade at PCGS and NGC combined. Of those ten, the is one of just two with CAC stickers. That makes ours one of the top two of ten MS65 examples of this coin. These facts presented here justify our asking price of $13,500, but we'll further sweeten it to $12,750 via Make Offer this week!
---
Why we love it: This is a very pretty, lustrous example of a popular first year of issue Liberty Head Half Eagle. This coin displays great luster and attractive golden color which add up to very nice eye appeal. There are only seven examples of this early Half Eagle graded finer by PCGS.
Value: The PCGS Price Guide has this coin valued at $16,000 and doubles in value in the next grade up, with the CPG more conservatively at $13,900. This lustrous piece is being offered at a discounted $13,750 via Make Offer!
---
Why we love it: This gorgeous coin, known as America's Most Beautiful Coin is very popular and greatly desired among all collectors. This near-gem example has very attractive surfaces and color that, combined with its fantastic design, make for stunning eye appeal. The tremendous eye appeal of this coin was recognized by CAC as they approved it as a very high-end example of the MS64 grade it earned from NGC.
Value: The PCGS Price Guide for this coin is at $28,500 in MS64 and at $49,500 in MS65 with the CPG at $27,800. There are 1,461 total examples in the MS64 grade at PCGS and NGC combined. Of those 1,461, this piece is one of 136 with CAC stickers, making ours part of the top 10% of all MS64 issues. Offered for just $29,750 via Make Offer, this near-gem double eagle is destined for a high-end collection.
---
Why we love it: One early lesson I learned at DLRC was that key dates of all types and denominations will almost always remain key dates. In fact, they are the best value holders in many ways as there is always demand. The 93-S Morgan fits the key date bill well as it may be part of the most collected series in U.S. numismatics, but it's also the hardest or most expensive hole to fill. A choice VF example, this piece is sure to please all varieties of collectors.
Value: Offered with a reserve of $5,250 in this week's auction, it's one of the nicer pieces you'll encounter in this grade range.
---
Until next time, thanks for stopping by and sharing some time with us to browse our Coins We Love.
Check out all of the available "Coins We Love" from past newsletters