Coins We Love - January 12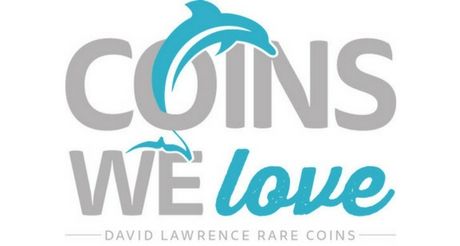 The past week has been one that we will not soon forget at DLRC. The FUN show started off with a flourish of activity, and we were certainly pleased with the final results despite the activities that surrounded the event. On our return, we had to deal with our first snow storm (blizzard as the meteorologists called it!), so we've not only had a major show to recover from, but we are also still processing coins and paperwork!
This week's Coins We Love features a wide variety of items, both old and new, with some fantastic values. We have a plethora of popular high-grade Morgan Dollars in this week's auction that are highlighted below, and some neat gold issues. We hope that you'll find something of interest, and if we can answer any questions, please let us know! Also, be on the look-out for our newsletter tomorrow. We haven't done one of these in quite some time, and we simply wanted to share a bit about our upcoming prognosis for 2017 and highlight a few of the opportunities we have at DLRC!
Sincerely,
John Brush and Your Friends at DLRC
---
Why we love it: The 1895 $1 is a legendary issue amongst dollar collectors. Due to a likely error (or calculation) in mint records, it was long reported that 12,000 circulation strike issues were delivered by the mint in 1895. These were either likely melted or simply were a bookkeeping adjustment accounting for coins minted late in 1894. Whatever the reason, the 1895 became extremely popular amongst collectors as it is a necessary addition for anyone completing a date set of Morgan Dollars. While most survivors of the 880 proof issues typically do not come attractive, this lovely, white gem is a stunning headlight and is perfect for the advanced collector.
Value: The NGC Price Guide reflects a value of $125,000 for this lovely Cameo example. Recent auction records have rested between $97,000-$106,000, and this piece is available via Make Offer this week for just $96,500.
---
Why we love it: The 1909-O is the lowest mintage issue of the $5 Indian series. While not as rare as the 1929, this was the last year of production for the New Orleans mint as it closed in April of 1909. The rather paltry mintage of just 34,200 secured this issue as one of the two most difficult dates to acquire for the set. A lovely piece with light, even wear, we find it very difficult to locate examples with the coveted CAC sticker.
Value: CAC-stickered gold coins are always in high demand and when a key date such as the 09-O comes available, it's an opportunity that can't be missed. Reserved in this week's auction for just $14,750, it is a significant savings over the NGC Price Guide value of $19,000.
---
Why we love it: Virtually pristine surfaces with radiant luster, this Morgan is one of the nicest available. Housed in a 30th Anniversary PCGS Holder, this frosty, white gem is a glory to behold and belongs in the finest of Morgan Dollar sets.
Value: Reserved for $18,000 in this week's auction, comparable CAC-stickered pieces have brought over $21,000. A few outliers have sold for around $16,000 as well with various distractions that are not present on this fantastic coin.
---
Why we love it: Proof type issues have been declining in value in recent years until the past few months. Lately we've had several collectors/investors who have decided to add a few of these to their holdings and lo and behold, we've finally seen a small resurgence in these series. We've always loved these issues, especially when attractive, and we view this as an opportunity to acquire high quality pieces before the price levels increase.
Value: As a contrarian buyer, proof type issues are an ideal place to participate in the current market. Available for just $2,000 via Make Offer, the same as the wholesale Greysheet price, this is an excellent place to start.
---
Why we love it: The 1897 isn't typically a scarce date, but when it reaches the superb gem category of MS67, it becomes increasingly difficult to find. Only a single example has been graded finer by either service. This silky gem has a light touch of gray on the reverse and is otherwise a beautiful blazing, white gem.
Value: The NGC Price Guide sits at $9,600 on this piece, and only ten other pieces are graded by NGC in this condition. Very reasonably reserved at $4,750, we think that this coin would be a pleasurable addition to any discriminating collector's collection.
---
Why we love it: Once again, one of the hottest items in numismatics now is CAC-stickered early gold. Prices from recent auctions reflect the increase in popularity amongst this small sub-type and the lack of availability on the bourse floor show us that while prices are increasing, availability is certainly decreasing. Unfortunately, new examples simply are not entering the market, and we think that the lack of availability for similar coins is a harbinger for times to come.
Value: The PCGS Price Guide sits at $12,500 for similar items without the CAC sticker. This coin is available for just $13,250 via Make Offer, and it is one of the last examples of early gold that we currently have in stock.
---
Why we love it: Smooth, attractive half cents in near-gem condition are very difficult to locate, and this lovely early example from the early 19th century is perfect for even the nicest collection. Only six pieces of this particular variety have been graded finer and far less have been stickered by CAC.
Value: The Greysheet lists this date and grade at a wholesale value of $5,500 for a comparable piece. Available for just $5,750, this lovely type coin can be had for just a touch over the current wholesale levels.
---
Why we love it: 1877 was certainly not a banner year for mint production at any of the United States production facilities. Only 26,700 pieces were produced in San Francisco, but because even fewer examples were struck by the competing Philadelphia and Carson City mints, the 1877-S is often under-appreciated. Only three mint state examples are graded finer than this coin, and it is a necessity for anyone putting together a set of Liberty Half Eagles.
Value: A finer example has not auctioned since 2004, and though PCGS reflects only a value of $7,500, this is a poorly estimated value due to the lack of available data for comparable pieces. In this week's CWL we are offering this condition rarity for just $8,000 via Make Offer.
---
Why we love it: Despite the rather large mintage of Columbian Half Dollars from 1892 and 1893, few have survived with such a high standard of preservation. This MS67 issue is lightly toned with very few marks. An excellent piece for the Registry-minded collector, this coin displays beautiful rim tones, surrounding a beautiful mark-free obverse.
Value: The PCGS Price Guide sits at $5,000, down from $5,250 in recent weeks, and the Greysheet reflects a value of $6,000 for comparable examples. Fortunately, we are able to offer significant savings from both, and this coin is available for just $4,250 via Make Offer.
---
Why we love it: Flying Eagle cents have long been popular to collectors as a short-lived design type. Large quantities are rarely offered and as one of the final offerings from a large collection, we're prepared to offer an incredible deal on these!
Value: The Greysheet lists these at $110 individually, but we are prepared to offer these at a loss for just $1,900 ($95 per coin!) via Make Offer in this week's CWL.
---
Until next time, thanks for stopping by and sharing some time with us to browse our Coins We Love.