July 11th Coins We Love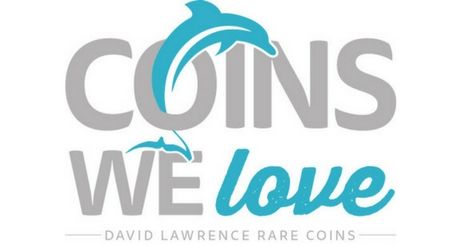 I've had a brief hiatus from writing messages for the CWL in recent weeks…From a quick trip to Utah, the end of the school year, a family vacation, and general catching up at the office and the July 4th Holiday, it's been a busy month! But, on my commute to work over the past few days, I've realized how much I've missed sharing recent thoughts here, and I'm glad to be back in a position. All in all, it's been a good month, and we've been able to catch up with the typical new coins, new weekly auctions, preparing for the massive event that is the World's Fair of Money, etc. We did not attend the recent PCGS Invitational or the Summer FUN show, but we have been preparing ourselves for August and will be ready to run the bourse when it arrives next month. However, we have a month to prepare for the marathon, so like any other runner, we're training ourselves with gradual incremental adjustments. Though, we wouldn't mind carb-loading on the front end just for fun!
In recent news, we've closed out the Hansen Registry sets for the year as PCGS concludes the annual Registry Set contests at the end of June. While we had a flurry of activity to close the month, that was a fun week of chaos while also trying to enjoy a few days of vacation with the family. Next week's CWL write-up will include some comments and thoughts about that task and what it entailed.
One of the tasks that I've been noodling about in my head is some small adjustments to the website and thoughts about DLRC in general. I was asked to review the Mission Statement and while I haven't even gotten out the paper to start, it's been an interesting thing to consider. I only mention it as it brings be to my final interesting thought of the week (at least it was to a few of us)!
Interesting Thought of the Week: We had a call with a somewhat new customer this week that stated something that was really meaningful to us. I can't quote him, but he stated that he had done business with almost all of the major coin companies and internet auction companies in the hobby. However, he told Matthew, "I feel like you're the only one who really cares about my interests and protecting me as a collector…". I can't tell him that he's correct as I hope there are others out there that do the same, but this meant the world to me. That's exactly what we're here to do at DLRC: Help you build a collection that you can be proud of and enjoy and then when the time comes to sell it, we'll help you get the most out of your investment in the hobby. We certainly do view it as our goal to protect the collector. Without you, the collector, we wouldn't be able to do this. Anyhow, I just appreciated the comment and wanted to share as it defines our mission far better than I could ever put into words myself.
Sincerely,
John Brush and Your Friends at DLRC
---
Why we love it: A popular Civil War date, this coin was recovered from the famous S.S. Republic shipwreck and is one of the rarest coins to have been located there. Only seven pieces of this date were recovered from the wreckage, with this example tied with two others as the finest graded from the recovery. Only a single coin, an NGC MS63, is graded finer from the limited mintage of 10,960. A fantastic, flashy piece that is perfect for the history buff!
Value: This coin, being one of the finest known examples for the issue from the shipwreck and only bested by one piece from its entire original mintage, defines the phrase "nearly unique" and is incomparable to any price guide. In fact, the CPG nor PCGS currently record a value on the item. However, our reserve is set at $31,500 for this finest known scarce shipwreck coin, which we feel creates an excellent value for the person who enjoys scarce items.
---
Why we love it: A popular Morgan Dollar issue that is a sought-after key date, especially in uncirculated grades. This CAC-approved gem example is simply soaking in luster with gorgeous golden-orange rim tints surrounding satiny central devices. Nearly perfect in every way with outstanding eye appeal, it is of true registry quality with just six graded finer at PCGS.
Value: The PCGS Price Guide values this coin at $27,500 in MS66+ and at a staggering $85,00 in full MS67, although they do not factor in a premium for CAC approval. Even with a CAC Sticker and an incredible price jump ahead, we are proudly offering this rare stunner in this week's auction reserved at just $27,500.
---
Why we love it: The 1895 Morgan Dollar is famously known as a proof-only rarity and more specifically as the set-stopper to the entire series. Because there were no business strikes produced and the mintage was limited to 880 coins, this coin is found desirable by any advanced numismatic enthusiast and of course, especially by collectors of the series. This wholesome yet flashy AU level example exhibits unique, attractive eye appeal with wear and marks that are fair to the grade.
Value: The PCGS Price Guide value sits at $41,000 with the CPG at $45,400 and is available for the lower of the two estimates in auction reserved at $41,000. 1895 Dollars have long been a staple coin for DLRC, and this affordable AU example is ideal for the collector as far as quality and value as no price guide can rightfully depict the prestige that the 1895 Morgan beholds.
---
Why we love it: An incredibly popular Morgan Dollar issue from the famous Carson City Mint. This CAC approved near-gem example is out of the well-known GSA Hoard and is graded in its original holder. A rare date to find in a GSA holder, especially in this grade, that displays frosty, lustrous surfaces with stunning overall eye appeal. The GSA distribution of Morgan Dollars was a fascinating sale that still resonates with today's collector due to the large black cases that the coins were housed in. While many dates were incredibly well-represented in quantities, the 1890 issues were of very limited numbers, thus the premium and scarcity of the date.
Value: The Price guides for the 1890 GSA issues are rather irrelevant as they do not capture the premium that the GSA-holdered pieces still carry amongst collectors. This gorgeous near-gem example is not just high-end for the grade and CAC-approved; it is also a famous piece from what was likely the most famous hoard of U.S. coins that were issued by the Government Services Agency in the 1970s. These incredible attributes hold a strong, justified premium making our reserve at $13,250 fair and exciting.
---
Why we love it: A scarce and desirable two-year type coin Flowing Hair Half Dollar approved by CAC for its quality for the grade. This wholesome choice XF example displays light, even wear that barely hinders the devices of this historic design. Those solid remaining details and pretty, original surfaces and lovely coloring make for nice eye appeal.
Value: Truly a high-end XF with the approval of CAC boasting an AU PCGS Price Value starting at $14,000. One of the nicest XF examples of this desirable issue you'll find based on color, luster and surface quality. With the premium of a CAC sticker, we still find our reserve amount in this week's auction of $12,000 to be fair.
---
---
Why we love it: A popular and rare historic two-year type coin of the Flowing Hair Dollar. At the early U.S. Mint, silver dollar planchets had to fall within a narrow weight standard. Because the weights on the silver planchets varied, various silver plugs would be needed to insert into the face of Liberty to adjust the weights to the correct levels. Noticeable on the central reverse of the eagle, this piece received such a plug and is perfect for the advanced type collector. Fairly graded VF with originality and surface quality that match the assigned grade.
Value: The CPG Value sits at $16,900, and the PCGS Price Guide comes in much stronger at $19,000, but it is available in this week's auction with reserve set at just $16,000 even. Beating out even the CPG Value, that is an excellent potential value set for bidders for this incredible, famous type coin.
---
Why we love it: The 1796 is the first year of type and is scarcer than the 1797s and more desirable based on the rarity. Desirable in all grades, this piece is often featured in the Top 100 U.S. Coins reference book. Totally choice for the grade, with light grayish-brown surfaces, this example is a fantastic survivor from a mintage of just 934 coins.
Value: There are only two comparable auction records of this rarity in the same grade, which brought $99,875 in 2015 and $82,250 in 2016. Along with Price Guides from PCGS and CPG at $100,000 and $96,800, we have ours reserved quite reasonably compared to the above four figures at just $82,500 in this week's auction.
---
Why we love it: Another popular, much better date Carson City Mint Morgan Dollar that is especially rare in high-end gem condition. This stunning gem example features blast white surfaces on both sides with pristine original luster. That along with a crisp strike and few marks give the coin eye appeal that is overly pleasing for the assigned grade.
Value: he PCGS Price Guide comes in at $6,000 with the CPG more aggressively at $6,560 and the most recent auction record from April showing $6,900. This gem example of this popular, better date Morgan Dollar is available via Make Offer for just $5,750, which is fair as compared to the numbers above.
---
Why we love it: The 1893 is a fantastic scarcer date in the series that is completely overlooked as its mintmarked counterparts steal the limelight. This much better Morgan's immaculate gem surfaces add to the scarcity and eye appeal tremendously. The coin also comes with brilliant, frosty luster and simply no detracting marks. Registry quality in every sense as it is also tied for the finest known graded at PCGS along with five others.
Value: The PCGS Price Guide and CPG Value are extremely comparable with respective estimates of $50,000 and $53,200, but it is available for outright purchase at just $45,000 via Make Offer. That gives both the advanced registry set collector and advanced Morgan Dollar enthusiast an incredible starting point to acquire this scarce finest known gem.
---
Why we love it: A rare, early issue Liberty Half Eagle from the popular Charlotte Mint. This choice AU example possesses subtle remaining luster along with yellow-gold coloring and light even wear. Those characteristics, combined with the strong strike and incredibly crisp details in the devices, make for nice eye appeal for the grade. From a low mintage of just 21,467 coins struck.
Value: The PCGS Price Guide Value of this relatively more affordable early C-Mint gold piece is set at $5,750. Ours is available via the Make Offer function on the website at a best price of just $5,500, giving potential buyers a fair amount of room to work with under the price guide.
---
Why we love it: A gorgeous ultra-gem example of this slightly better date Saint Gaudens Double Eagle that becomes even more difficult in high grades. Beautiful luster and minimal number of blemishes give this high-end Saint type coin premium eye appeal. There is only one grade level known finer at PCGS making this piece that much more desirable and relatively more affordable.
Value: The PCGS Price Guide reflects a value of $5,500 with a plus grade; however, it is available for outright purchase with the best price set at the far lower amount of just $4,500 via Make Offer. Quite an exciting offering at one thousand dollars off the price guide for this absolute stunner.
---
Why we love it: A scarce overdate from the Braided Hair Cent Series. This lovely near-gem Large Cent displays lustrous brown surfaces with few blemishes which makes for premium eye appeal. This issue is difficult to find in higher grades as this 64 is only bested by three other pieces at PCGS with the same color designation.
Value: The PCGS Price Guide reflects a value of $4,500, but we have a best price set for this coin at just $4,000 via Make Offer. This is a great opportunity to all Large Cent enthusiasts to own a scarce near-gem example of this popular overdate variety in the Braided Hair Cent Series.
---
Why we love it: The key to the Indian Cent set that transcends the series in such a way that all collectors of U.S. coins find this date incredibly desirable. This example, as it is low grade, is a fantastic opportunity to acquire this popular key date for an affordable price. This famous Indian Cent issue comes from a much lower mintage for the series of just 852,500 coins struck.
Value: The PCGS Price Guide has this famous key date Indian Head Cent valued at $375 in AG-03. It is available for purchase at the low price of just $350 via Make Offer making an already affordable key date an even better deal.
---
---
Why we love it: The 1923-S is a popular and desirable semi-key date Buffalo Nickel from the San Francisco Mint that is tough to find with a strong strike like this example. This lovely near-gem features faint yet lovely pinkish-blue and gold tints throughout both sides. Along with its blazing underlying luster, the eye appeal is simply booming.
Value: The PCGS Price Guide and CPG values are set respectively at $1,450 and $1,750, with the ultra-conservative Bluesheet for sight-unseen pricing at $1,200! Our last auction record of a 64 graded example sold for $1,325. With these numbers, we find our best price of $1,200 via Make Offer to be reasonable for such a gorgeous example of this underrated date.
---
Why we love it: A famous, highly desired key date whose rarity and popularity transcends the Mercury Dime series. This example is high-end for the assigned grade and features evenly worn and completely original surfaces. This incredibly popular and rare issue comes from a smaller, original mintage of just 264,000 coins struck making it the lowest in the entire series.
Value: This example that is high-end for its assigned grade as shown by its CAC approval, is available for purchase at the reasonable price of just $3,600 via Make Offer. Undercutting the CPG Value of $3,940 by a few hundred dollars even with the CAC approval.
---
Why we love it: A popular and desirable Key Date Barber Quarter from the San Francisco Mint that is famously known as being part of the "Big 3" along with the 1901-S and 1913-S This fully original low-grade example provides a great method for acquiring this scarce date for an affordable price. This Barber Quarter comes from a low, original mintage of just 188,039 coins struck.
Value: Valued at $525 by the PCGS Price Guide, this famous key date Barber Quarter is available for $495 via Make Offer and is ready to be added to mostly any numismatic collection in this price range.
---
Why we love it: The key date to the Indian Head Quarter Eagle Series that comes from a low mintage of just 55,680. This is a gorgeous example of this popular, scarce issue as it displays ideal, rich yellow-gold coloring and much fewer blemishes than would be expected from an MS63. The eye appeal is pleasing, and the CAC approval is certainly well-deserved.
Value: The PCGS Price Guide and the CPG Value are comparable on their respective estimates of $13,000 and $13,300 for this coin. Even with the CAC Sticker, this super desirable key date Quarter Eagle is being offered a few hundred dollars below the price guides (and barely above our cost!) at just $12,500 via Make Offer.
---
Why we love it: A stunning gem example of this popular Liberty Gold Eagle type coin. This coin features ideal, completely original yellow-gold coloring with plenty of blazing luster and light intriguing tones covering both sides. These beautiful characteristics along with its lack of marks gives this high-end MS66 example eye appeal that would please even the most particular collector.
Value: The PCGS Price Guide has this coin valued generously at $4,750, but we are gladly sticking to recent trends when pricing our gorgeous gem. Available for just $3,600 via Make Offer this week, we love this gem example of the popular generic Liberty Gold Eagle type coin.
---
Why we love it: This lightly toned ultra-gem is one of the most popular Classic Commemorative issues. It has a lower mintage of just 100,058 coins commemorating the 100th anniversary of Illinois joining the Union. This single year of issue piece has lovely rim toning mostly on the obverse with bright white luster shining through giving fantastic eye appeal.
Value: The CPG Value for this coin is set at $2,060 while the PCGS Price Guide Value we feel is a bit more realistic at $1,850. Our gorgeous ultra-gem example of this popular commemorative is available for purchase at a reasonable best price of just $1,700 via our Make Offer function.
---
Check out all of the available "Coins We Love" from past newsletters