Coins We Love - July 20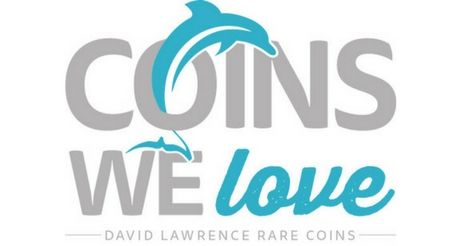 This week's CWL comes amidst a chaos of office rearranging. While we have desks and ladders floating around the office and Gem BU rolls of Lincoln Cents moving around on carts, we've also sorted through a ton of collectible numismatic books that have begged for some attention in recent weeks. Why all of the commotion? It's simply due to the fact that we needed to optimize our space and continue to grow our offerings and support at DLRC. It's a fantastic change, but one that does involve a lot of dust. At some point in the next few months we'll have finished our new visitor's lobby as well, so if you have a collection to drop off, we'll certainly greet you in the new space!
In other news at DLRC, we are preparing our coins, displays, and meetings for our trip to the annual ANA World's Fair of Money in Denver, Colorado. While we are still a week away from departure, we have to plan significantly in advance to prepare and have already started packing for this week long event. If you're planning on being in attendance to celebrate the largest annual coin show, we encourage you to drop by our table at 819-821.You can see John Brush, Gary Adkins, Jason Smith, Michael Coari, Julia Smith, or Chris Maisano (our newest intern!) manning the table.
In addition, if there area any items that you'd like us to bring with us, please don't hesitate to let us know! Send us an email at coins@davidlawrence.com and we'll be sure to pack it. The unfortunate part of offering over 5,000 coins every day is that we can't bring them all until the ANA comes to Virginia Beach…but, if you have particular items you'd like to see, let us know! We hope to see you there!
With that, I'll conclude this week's CWL message and we'll look forward to hearing from you or seeing you in Denver!
Numismatically Yours,
John Brush and Your Friends at DLRC
---
Why we love it: This early Half Eagle gold coin is absolutely everything one could desire for such a piece. Beautiful surfaces, great luster, and phenomenal eye appeal. A fresh, new purchase to us, we are sure that this coin will excite any seasoned numismatist as it surely is a treasured piece for us at DLRC.
Value: The CPG rests at $50,200 with a PCGS Price Guide value of $65,000! In fact, the wholesale CDN bid price is $42,500. Available in this week's auction with a reserve at the conservative wholesale level of $42,500, we know that any prospective buyer would be "wow'd" by this magnificent piece.
---
<a href=https://www.davidlawrence.com/product/1291774">
Why we love it: Walking Liberty Half Dollars were an incredibly hot series just a year or two ago. Since then, the values have settled to a far more reasonable level and have thus become, in our opinion, an excellent value for 20th Century numismatics. It's a no-brainer to consider a gem 1919-S 50c over any modern issue of similar price levels. Beautiful and lustrous, the S-mints from this period typically come with incredibly weak strikes, but this coin displays a nice appearance and is a fantastic option for the serious numismatist.
Value: The CPG sits at $30,000, while the PCGS Price Guide seems incredibly inaccurate for this date at $21,000. Offered this week via Make Offer for just $25,500, this is a far rarer piece than one might expect from a mintage of 1.5M.
---
Why we love it: This is a really neat opportunity for the advanced Buffalo Nickel collector as only a single piece is graded finer by NGC. Gems in this time-frame are incredibly unusual, though 17 grading events by NGC are likely exaggerated due to re-submissions over time. Lovely golden surfaces with light pink hues around the rim, the eye appeal on this piece is fantastic.
Value: The CPG sits at $14,200 with a PCGS Price Guide at $16,000. This piece is a highlight in this week's auction with a very conservative reserve of just $12,500.
---
Why we love it: One of the most popular sub-sets amongst Morgan Dollar collectors is the Carson City set. This first year of issue with the famous CC mintmark is a beautiful gem and is as nice as they come.
Value: A non-CAC example with a similar look sold for $15,000 in a recent DLRC auction, with CAC examples selling for similar amounts. Available via outright sale this week for just $14,500, it is directly in-line with the PCGS Price Guide, whereas a finer example graded by PCGS has not sold in nearly a decade!
---
---
Why we love it: During the midst of the Civil War, many numismatic issues were produced, including many pattern issues that were never intended to circulate. There were also some modifications made to the obverse design of the Indian Cent, resulting in the addition of the designer's initials behind the neck of the Indian. By far, the scarcer variety of this date was with the added initial and thus it became a popular numismatic item over time. This particular example is a lovely gem with fantastic luster and nice color. An absolutely beautiful coin that is very scarce in such high grades.
Value: The PCGS Price Guide rests at $7,850, but very few have ever sold. This lovely piece is typically offered for $7,750, but the special CWL level is set at a very reasonable $7250 via Make Offer. With just a tad more red, this coin would sell for in advance of $30k!
---
Why we love it: Karatbars are an exciting new way to gift and invest in smaller amounts of gold than ever before possible. Each card contains 1gram of 999.9% pure gold and has its' own unique serial number and signature hologram. The cards are the size of a typical gift card or credit card, making it easy to give and send as a present. Karatbars International believes that the popularity of their gold cards will catch on worldwide and become an internationally recognized form of currency, accepted and traded based on spot gold prices each day.
Value: These list for around $65 including shipping at most bullion dealers. We have a very limited supply available for $55 including shipping! Available on a first come, first serve basis.
---
Why we love it: The 1911-D/D issue is popular amongst $20 Saint-Gaudens collectors as one of the few mint variety/errors that are known. This particular example is actually the finest ever graded by PCGS. In fact, only 7 non-D/D varieties are graded finer, making this MS66+ rare on its own account without.
Value: As the coin is a fresh piece that was recently graded by PCGS, there have been no previous sales of such a piece. The PCGS Price Guide now sits at $17,500 for this discovery piece and we consider that to be a token value that is inaccurate. As a finest known example in the series, it would typically bring well into the 5 or 6 figures, but it is available for just $20,000 via Make Offer this week.
---
Why we love it: onsidered America's most beautiful coin, the High Relief is a piece that stands on its own. This particular piece comes as part of the Summertime Blues Gold Type Collection and is a fantastic opportunity to jump on a CAC-approved piece in a reasonable price range.
Value: Reserved for just $18,000 in this week's auction, we love the value in this grade before it jumps $6-$7k for just a single point graded finer.
---
Until next time, thanks for stopping by and sharing some time with us to browse our Coins We Love.
Check out all of the available "Coins We Love" from past newsletters