Coins We Love - July 27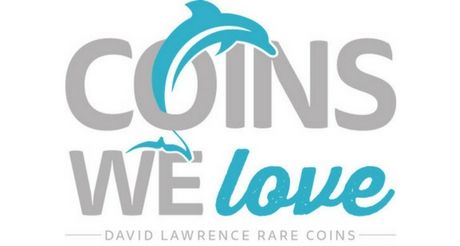 This week has been a week of catching up and preparing for the marathon of the upcoming Denver ANA show. It's always a great week of meeting old friends, collectors and dealers, and a chance to catch up on what's new in the hobby. This year we also have the added responsibility of supporting Gary Adkins as the newly-elected President of the ANA, and I have the added honor of just having been elected to the Board of Governors of the Professional Numismatists Guild. While we are only pieces of both puzzles, we both have lofty goals for the pair of organizations, and if you have ideas that you'd like us to support, please don't hesitate to let us know.
While we're keeping it short this week, please remember to email us at coins@davidlawrence.com if there are any items in our current inventory that you'd like us to bring with us to the show. While we are trying to bring a wide array of offerings, we only have so much room, so any special requests will certainly be considered, and we'll bring whatever we can. Thanks again for reading, and we hope to see you in the Mile High City.
Sincerely,
John Brush and Your Friends at DLRC
---
Why we love it: Wow!!! This coin is absolutely amazing and is the most fully struck 1919-D Buffalo that we have ever seen. Absolutely gorgeous fields with amazing eye appeal, this piece belongs in the finest of Registry sets. While another piece is equal to this coin in grade, it did not garner the coveted CAC sticker, making this the finest known graded by either service.
Value: The CPG for a non-plus issue sits at $14,200, but comparable finest known issues typically bring far higher values in auction. Compared to the 1919-S, this coin is an absolute steal as there are only three pieces of that date graded as a MS66, and they regularly command over $80,000. This example is reserved in this week's auction for $26,000 and is a fantastic opportunity for the finest of collections.
---
Why we love it: This coin is an absolute 10! Gorgeous red and gold tones with amazing eye appeal. This coin is amongst the nicest of Barber Quarters in regards to eye-appeal that we've handled in quite some time.
Value: While two pieces are graded finer as MS67s, we would choose this piece any day, as this example is truly a beautiful coin. It has already met a very reasonable reserve and should command a lot of attention on Sunday night.
---
Why we love it: Proof Franklins have long been a popular series for collectors, due to the brief span of production. They have also been readily available, with high grades not being too unaffordable. The 1950 issue is the first proof issue in the series and the toughest to find in gem grades. This gorgeous Proof 67 example is as nice as they come with amazing eye appeal.
Value: The PCGS Price Guide is set at $3,000 with the most recent CAC'd example selling for just over that at $3,050. This piece is available via Make Offer for $2,800 and would be an excellent starting place for a Franklin Proof collection.
---
Why we love it: While Liberty Half Eagle Gold pieces aren't especially rare in gem grades, it's unusual that we find an example that is exactly right for the grade with the eye appeal that we truly want to offer. This piece fits the bill and is a certain highlight in almost any collection. An excellent opportunity for an ideal gem issue.
Value: The PCGS Price Guide reflects a value of $4,500. While it's difficult to price due to the absence of other guides in this grade range, the last two auction appearances of this date have brought between $3,500 and $5,250! This coin is available via Make Offer for just $3,600 this week as an excellent opportunity for the gold bug.
---
---
Why we love it: This is a highly controversial overdate issue as it has been in the center of arguments as to its very existence. We are believers in the variety, though it is very difficult to see. While high-end examples are extremely difficult to locate, there are seven pieces graded finer by PCGS, a few most likely being resubmissions. That being said, we view this as an extremely rare variety that belongs with the 1918/7-D and the 3-Legged Buffalo as one of the triumvirate of Buffalo varieties.
Value: The last CAC'd example brought $12,000 in a DLRC auction. With the CPG set at $12,400 and the CDN Bid at $10,500, the very reasonable reserve set at $10,500 makes this a fine value for the advanced Buffalo collector.
---
Why we love it: An extremely elusive date in mint state, the 1844-O is an underrated date because most examples entered commerce due to a dime shortage during the pre-Civil War period in the South. Only five pieces are graded finer by PCGS, thus the opportunities to purchase mint state examples are extremely rare.
Value: The last auction appearance in a similar grade goes all the way back to 2012. The PCGS Price Guide sits at $8,000, thus with a reserve of $7,750 in this week's auction, we think that it's a neat opportunity for those who appreciate rarity but don't want to have to pay a huge premium for it.
---
Why we love it: The overdate Buffalo Nickel is often the empty hole in many collectors' Whitman albums. In fact, it is still the lone remaining hole in my personal set that I put together over many years. Very rarely offered in uncirculated grades, this lovely, original piece exhibits nice luster and a very strong overdate. It is truly the nicest example that we've offered in well over a decade.
Value: We've highlighted this coin previously, but we're still shocked that we still have it in stock. With the PCGS Price Guide set at $46,000, this is a date that just doesn't come available in normal circumstances, let alone in such high grades. Offered at $38,500 via Make Offer in this week's CWL, we'd be surprised if it returned from the ANA show.
---
Why we love it: These were so popular last week, we were shocked at how many ran out the door! Oddly enough, we acquired another 40 just this week, so here we go again. It's a great way to own a small piece of gold and a great gift item for those special to you.
Value: These list for around $65 including shipping at most bullion dealers. We have a very limited supply available for $55 including shipping! Available on a first come, first serve basis.
---
Until next time, thanks for stopping by and sharing some time with us to browse our Coins We Love.
Check out all of the available "Coins We Love" from past newsletters