Coins We Love - June 21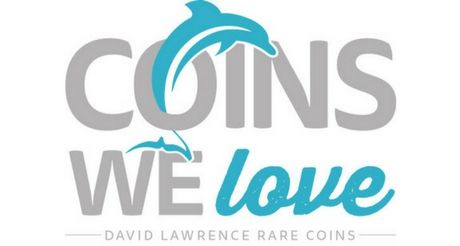 We've been missing our target release date on the CWL the last few weeks and it's fallen over into a Friday morning event. It's not how we like to do things, but it happens on occasion. This week the blame falls squarely on me (as it typically should). I find it's easier to convey thoughts and events in the evening away from the office as it gives me a time to reflect on what's really going on and what to focus on for the coming week. Well, our focus the past three weeks has been on processing everything that's been coming through our hands! We've finally reached a week where I think that we caught up…so now we can finish catching up on Friday and await the typical craziness that is a Monday, where it all starts over. But, as Jason and I discussed today, it's a pleasure when you enjoy the people you work with, both in the office and you, the customer! All of that being said, thanks for your patience!
Another conversation I had this week struck a chord with me. I would consider John Albanese, the President of CAC, a friend of mine. While we don't talk on a weekly basis, I tend to lean on him as an adviser of sorts, and I value his opinion. This week, we've had a few brief conversations and the one that really stuck with me was the one that involved consumer protection. John heads an organization called the Numismatic Consumer Alliance (www.stopcoinfraud.com). The work of this organization is fantastic and is not well-known; however, it's a great service that deserves our support. I was raised in a house that taught that you treat others fairly. As my Dad told me countless times "Be good to people, in the end it pays…" Well, he was correct. While we can't protect everyone, it's our duty to support the hobby and the collector. And in doing so, it is not only the "right" thing to do, it's good for the long-term health of the hobby. Look for us to say more in the future regarding these protections. It's the right thing to do.
Sincerely,
John Brush and Your Friends at DLRC
---
Why we love it: A lovely choice example of this coveted one-year type coin from the first year of issue of Half Cents by the U.S. Mint. An unusually nice example of this scarce and popular issue, it displays incredibly well-preserved surfaces that feature smooth, dark brown color and a strong strike with limited wear. A beautifully designed piece that is quite high-end for the grade, adding even more to its rarity and desirability, making it ideal for the advanced collector.
Value: This exact coin last sold in auction just this past November for $41,125. The PCGS Price Guide is comparable at $41,500. Even with this coin being CAC approved and so nice for its choice AU grade, we gladly offer the chance to beat out both above figures with a reserve set at just $41,000 even.
---
Why we love it: A scarce registry quality gem example of this already desirable and simply ideal type coin issue for the Capped Bust Dime Series. Pristine, crisply struck surfaces that display beautiful reddish-orange and blue rim highlights with frosty golden centers. Between the originality, surface quality, eye appeal and CAC sticker, we can confidently claim this is a high-end example of the grade.
Value: The PCGS Price Guide values this coin at $8,500, although they include no premium for a CAC sticker, which cannot be ignored as the price doubles in the next grade. Even with CAC approval our gorgeously toned gem Bust Dime type coin is reserved lower at just $8,050.
---
Why we love it: A popular and scarce variety in the Lincoln Cent Series that is particularly rare in AU58 grades with the coveted CAC sticker. This lovely slider displays such sharp detail and so little visible wear that it almost looks like it could pass as Mint State. It also displays pretty navy highlights over top a light reddish-orange flash covering these incredible lustrous chocolate brown surfaces.
Value: An incredible Lincoln cent that is rare in this AU58 grade especially with CAC approval. This is shown by one that sold in March for $9,600 even with the PCGS Price Guide and CPG as low as $7,500 and $7,250 respectively. Our reserve of $6,900 in this week's auction provides bidders with an extremely exciting opportunity.
---
Why we love it: A scarce and quite desirable San Francisco Minted Walking Liberty Half Dollar. A lustrous, choice Mint State example of this key date that fits the assigned grade perfectly. The surfaces feature pale greenish-gold toning, great luster and no marks that are detracting to the overall eye appeal.
Value: The PCGS Price Guide value for this scarce walker is set at $3,250 with the CPG Value just a bit higher at $3,440. We are offering our choice mint state example for outright purchase below both price guides for just $2,900 via the Make Offer function.
---
Why we love it: The 1873-78 Trade dollar proofs are much scarcer than the 1880-83 (proof only) issues and are much harder to find. This scarce issue has a low, original mintage of only 510 coins struck. The coin's choice, flashy proof surfaces along with its light golden toning, make for stunning eye appeal. This Old Green Label Holdered example truly appears to be high-end for the grade.
Value: The PCGS Price Guide values this coin at $3,250. It is an incredible example of the grade and completely fresh and original in its Old Green Label Holder, which we can offer for cheaper than the price guide. At just $2,900 via Make Offer, this lovely proof trade dollar could be yours beating the above estimate by $350.
---
---
Why we love it: This historic Shipwreck piece from the famous "Ship of Gold", the S.S. Central America, displays lustrous near-gem surfaces with gorgeous yellow-gold coloring and other unique tones throughout. This coin is of the Narrow Serif variety and provides collectors with great beauty and a priceless backstory for certainly a more reasonable price than gem examples.
Value: In 2016, another example from the shipwreck with the same date and grade brought $7,638 through auction. Although with an unrealistically high PCGS Price Guide value of $11,500, we are offering our historic piece for the excellent value of just $7,500 via Make Offer. Just five years ago, these pieces commanded north of $10,000 on an individual basis. At the lower levels, we think that these are fair values and continue to be fascinating historical objects for even the non-numismatist.
---
Why we love it: A CAC approved registry quality example of what is a popular date in the Barber Dime series out of Philly. This ultra-gem is head-turning in every sense of the term with its lustrous mark-free surfaces that display beautiful golden-lime rim tones with frosty, satiny centers. No other examples are graded as such or finer by PCGS or NGC making it perfect for a registry set.
Value: The PCGS Price Guide values this coin at $7,500 although they include no premium for a CAC sticker that this finest known piece has earned. This registry quality beauty of a Barber Dime is reserved at just $6,450, which allows the opportunity to acquire this coin for as much as one thousand under the price guide.
---
Why we love it: The 1893-S Morgan Dollar is a famous key date that does more than just transcend its own series as it is so greatly desired by every collector across the entire numismatic spectrum in all grades. This choice AU example features mostly white, frosty surfaces with strong remaining luster and such minimal wear making for extremely nice eye appeal. This coin could also be determined as proof-like as a resubmission. It comes from a small mintage of 100,000 coins struck, in which far fewer have survived and is the lowest of all business strike Morgans as is.
Value: The PCGS Price Guide has the value of this key date rarity set at $23,500 with the CPG coming in at virtually the same amount of $23,600. That closeness of estimation from these two reputable sources should bring great assurance and confidence to bidders that those are accurate evaluations. Ours is reserved $1,500 plus less in this week's auction at just $22,000.
---
Why we love it: A rare proof gold commemorative from a mintage of just 100 pieces. Flashy, mirrored surfaces with fantastic overall eye appeal make this coin truly a gem in every sense of the word. There are only six other examples of this issue graded finer by PCGS.
Value: The PCGS Price Guide value for this rare proof gold commem is set at $18,000 although the CPG Value is a bit lighter at $15,100. With the most recent auction records hailing from 2014-2016 (three coins at $23,500!), we are glad to offer a reserve amount in this week's auction far below both estimation at just $13,250. This seems like a fantastic value in our eyes with investor potential.
---
Why we love it: A popular early P-Mint Morgan Dollar issue that becomes notably rare and far more desirable with DMPL surfaces. This gem displays light golden tints with rose highlights around the rim, which creates captivating eye appeal. Although in an old ANACS holder, PCGS and NGC have just five examples graded finer combined.
Value: The PCGS Price Guide and CPG have this DMPL rarity evaluated at respective amounts of $18,000 and $16,300. Our beautiful gem example is graded by ANACS and considering market trends falling far short of the price guides we can offer a relatively affordable avenue of acquiring this coin in gem grade with DMPL surfaces. The best price being just $4,500 through our Make Offer function.
---
Why we love it: The 1921-S is the key to the Walker set in most grades from VG-MS64, in which MS65 examples of this date are seldom offered and highly desired. This is a lovely, mostly white gem with a light golden patina and a faint hint of rose near the rims. The luster and strike are exactly what you'd expect from the date giving it ideal eye appeal. NGC recognizes just two others as finer. It's one of our favorite dates in the popular Walking Liberty Half Dollar series, and it's a great showcase coin for the advanced or beginner collector depending on the grade.
Value: The CPG lists this key date with a value at $108,900 with the PCGS Price Guide at an even $110,000. The NGC Price Guide comes in a bit stronger at $116,000! With the most recent PCGS example selling for over these numbers, and the lack of availability of this date/grade in anything similar as far as condition, we are offering this coin for a discounted price of $65,000 via Make Offer as one of our centerpiece Coins We Love.
---
Why we love it: Very tough first-year issue Barber Half Dollar struck in San Francisco. An affordable example with a heavily toned obverse contrasted by its light gray reverse. Original and evenly worn though, CAC approved and could easily pass as a Good.
Value: The PCGS Price Guide values this coin at $150 although they include no premium for a CAC sticker, which cannot be ignored as in Good condition where this piece belongs, it is worth $250-$300. With that said our best price via Make Offer is $225, which is one of the cheapest respectable CAC'd examples you'll find of this scarce date.
---
Why we love it: A stunning ultra-gem example of this proof Franklin Half Dollar with a strong, gorgeous deep cameo. The eye appeal of this coin is of the highest quality as its proof surfaces are practically completely blemish-free. It comes from a mintage of just 669,384 coins originally struck of both types.
Value: Offered via the Make Offer function for just $250, the PCGS Price Guide values the coin at $275. A reasonable price for an ultra-gem deep cameo Franklin Half.
---
---
Why we love it: A popular New Orleans minted Morgan that is a bit scarce in gem as the finest of the issue is just a 66+. This coin is lustrous and mostly white with faint rim tints and subtle toned spots on the reverse. The eye appeal and surface quality are fair for the grade.
Value: The PCGS Price Guide values the coin at $1,100 and this example is in our Auction #1071 with No Reserve. This is truly the "sweet-spot" collector grade since the value goes from $1,100 to $8,000 just one grade up.
---
Why we love it: This Swiss Medal was created to commemorate popular shooting festivals in the country that date back as early as the late Middle Ages. These medals are mostly known to be silver or bronze with a couple thousand different designs that are struck in high relief. This bronze J. Muller example is a gorgeous piece in both eye appeal and surface quality.
Value: Such a beautiful high relief design on this bronze Swiss medal. Surprisingly the market for this piece is only in the hundreds, which we feel is quite a bargain. A best price via Make Offer of just $500 creates a fantastic, fair value for potential buyers.
---
Check out all of the available "Coins We Love" from past newsletters