Coins We Love - June 22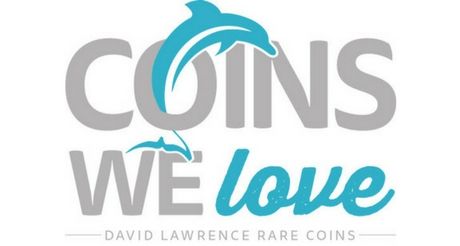 This week's CWL is coming to you from the 38 minute flight between Baltimore, Maryland and Norfolk, Virginia. I departed Baltimore a bit earlier than normal due to the amount of backed-up work in the office. Being on the road three straight weeks (although I did have two nights at home in the middle) can wear one down, so I left the A-Team of Jason, Mike, and Emily at the show for the last day. The Summer Baltimore Show is typically a more compact affair than the Fall and Spring Shows, and this year was no different. The crowds were smaller than normal, but the amount of business that we were able to transact was on par with a decent mid-size show. For those of you who stopped by and said hello, I want to thank you! It was nice meeting with many of you. For those of you that I will be missing today, I look forward to meeting you again in the Fall, if not sooner.
The first half of the week, Mike and I spent three days in Salt Lake City, Utah working with our partner Dell Loy Hansen on his collection, the <a href="https://www.pcgs.com/SetRegistry/complete-sets/master-sets/u-s-coins-complete-basic-set-circulation-strikes-1792-1964/alltimeset/149665" style=color:#26aecd">D.L. Hansen Collection. We are honored to serve as the curators of what has become the Greatest All-Time Collection of U.S. Coins. The amazing (and MASSIVE) collection has been built to rival the completeness of the Eliasberg Collection with an emphasis on a higher quality. According to the PCGS Registry Set Rankings, his primary set has exceeded the Eliasberg set, and we are pleased to have had a large hand in that work with Mr. Hansen. Typically, we like to meet up with a few of our customers when we are visiting that beautiful state, but this week was chock-full of organizing new acquisitions and putting sets together, so we were unable to venture out of the vault for visits this time. You can read about one of our newest acquisitions, an 1804 Dollar, here in our latest press release.
While the trips have been long and incredibly busy, they were productive; however, we are looking forward to the next eight weeks at home until the Granddaddy of them all, the World's Fair of Money comes along in Philadelphia. Until next week, we hope that you enjoy these highlights from our auction and inventory in this week's Coins We Love!
Sincerely,
John Brush and Your Friends at DLRC
---
Why we love it: The 1896-O Morgan has long been considered one of the key dates in the Morgan Dollar series. With very few uncirculated examples surviving the melting pot, it is a serious condition rarity. This piece is as pleasing as they come! A light golden tint with beautiful surfaces, this piece is sure to delight the new owner.
Value: The CPG value registers at $39,900 with the PCGS Price Guide resting at $40,000. A recent sale of a CAC-stickered piece in the Sotheby's sale of Morgan dollars even brought $68,750! This coin is reserved in this week's auction for a relative-bargain price of just $36,000.
---
Why we love it: Ten Dollar Indian pieces have long been difficult to find in gem condition. While the issue of gradeflation has ballooned some populations of these scarce condition rarities, the CAC seal of approval has preserved the value of some of these coins, and this piece is not a disappointment. A fresh example with amazing surfaces and fantastic eye appeal, this slightly better date $10 Indian is a winner and far above the average piece that you might see.
Value: The CPG comes in at $5,940 and the PCGS Price Guide sits at $7,500, but neither reflects the true value of a CAC-stickered example. The wholesale value on these issues, according to several dealer to dealer trading systems, is well north of $8,000. This piece is available for outright sale via Make Offer for $8,500 and is in our opinion, an excellent value due to the far above average quality.
---
Why we love it: An Ultra-Gem Liberty Quarter Eagle with a CAC sticker is nothing to sneeze at. Smooth, lustrous surfaces with a light olive tint, this stunning piece is a sure-fire winner for the gold type collector.
Value: The CPG comes in at $7,250 on this coin. While there are 14 other pieces graded by PCGS, far fewer have garnered the CAC seal of approval and only a single example has graded finer by PCGS. With no previous sales records of CAC'd examples, this piece is a surefire bargain with a reserve of $6,500 in this week's auction!
---
Why we love it: WOW!!! No further words are really needed. But to elaborate, this low mintage issue of 29,400 pieces is one of the prettiest pieces we've ever handled in the series. Beautifully original rainbow tones around the rim and high end for the grade, this example has no peers at the current grade and is simply the best!
Value: There are no previous sales records of this piece and being the finest graded, this coin has no comparables. However, it is offered at our very best price of $57,500 via Make Offer this week, and it is destined to find a home with a serious collector of beauty!
---
Why we love it: Once again, another offering of the scarcer variety of America's Most Beautiful Coin, this Flat Edge piece is an excellent target of acquisition for the type collector.
Value: Offered via Make Offer for $18,000, this example has a PCGS Price Guide of $19,000 and a CPG Price of $21,200. It's an excellent value at our already discounted price and is quite lovely for the grade.
---
---
Why we love it: Believe it or not, Morgan Dollars are the most popular selling series that DLRC offers. We handle as many non-generic pieces as anyone in the country and some of the nicest examples that come across the bourse. This satiny, lustrous gem is bested by only a single coin at PCGS and has only four other examples graded as such. A perfect coin for the Registry collector, we're happy to offer this beautiful piece.
Value: PCGS reflects a value of $19,000 with the CPG coming in $400 higher. While we see registry-quality items bringing crazy values in recent auctions (see the 1930-S 25c PCGS/CAC MS67+ FH from last week's sale), this piece is perfect for the advanced collector/investor and is available in our auction ending this Sunday!
---
Why we love it: We have long loved Proof Twenty-Cent pieces, and this example is no exception. A scarcer proof date with beautiful, cameo fields, this limited issue coin with a mintage of 1,260 is sure to please the most discerning of collectors.
Value: Reserved for $5,000 in this week's auction, we expect this piece to find a new home quickly as it is a fantastic coin at a great value as the PCGS value of $5,500 attests.
---
Why we love it: In our opinion, this is the key to the circulation strike series of 2-cent issues, and this affordable, collector grade is ideal for the casual collector.
Value: The CPG comes in at $748 with a PCGS Price Guide of $775, showing that this piece available for just $625 via Make Offer, is a quality value for the true collector.
---
Why we love it: Beautiful rainbow toning and a premium grade of gem (with a plus!) make this an easy coin to love.
Value: This is one of those unique coins that has been in our inventory far longer than we'd expect it to be, so we've lowered the price to a (too cheap!) $475 via Make Offer. It's the no-brainer purchase of the week…but Jason would give it away if we let him!
---
Why we love it: The tease from two weeks ago mentioned a numismatic vacation…well, while Matt was busy trying to call me, I was lost on a hike with some family and friends. In Virginia Beach, we all have many military-based friends, and my family and I had the opportunity to visit with one such Navy-family stationed at Pearl Harbor a few weeks ago. One of our adventures was a hike to a waterfall at Lulumahu Falls in the mountains outside of Honolulu. This once in a lifetime adventure caused us to get quite lost, and we happened upon a National Historic Site, the ruins of the Summer Palace of King Kamehameha III. Legend has it that these ruins hosted a luau of over 10,000 islanders in the mid-1800s, and while it is now a long-lost historic site, we had the pleasure of happening upon it in the middle of a tropical rain storm. I wouldn't advise anyone to try to look for this place, but it was a fascinating find that matches this beautiful Old Green Holdered Hawaiian Cent quite well.
Value: Available in this week's CWL for a value of $1,600 via Make Offer, it's a popular piece amongst U.S. coin collectors and not just specialists in Hawaiian coinage!
---
Until next time, thanks for stopping by and sharing some time with us to browse our Coins We Love.
Check out all of the available "Coins We Love" from past newsletters