Coins We Love - June 27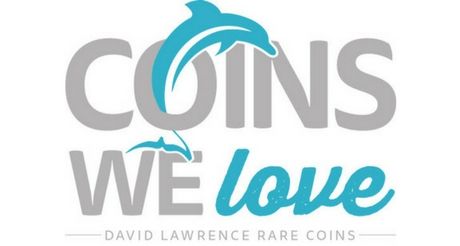 With the spike in gold recently to over $1,400 an ounce, we have seen a noticeable increase in customer activity this past week. While the majority of your certified material is not directly affected by this increase in the precious metal, it does seem to always spark interest among the coin collecting community in general. We took this into consideration when picking out our Coins We Love selections and have showcased some interesting gold pieces we feel strongly about including a pleasing 1860-S $3 NGC AU53 and a key S-mint 1912-S $5 PCGS MS63. Take a minute to review these and each of the items we felt worthy of our CWL newsletter!
Sincerely,
Jason Smith and Your Friends at DLRC
---
Why we love it: The 1877 Indian Cent is such a famous key date that it transcends its series and grabs the attention of nearly all collectors of U.S. coinage. This lovely toned red-brown gem example from a mintage of just 900 in this proof format features frosted mirrors with pretty reddish-orange and magenta tints. This captivating eye appeal and superb surface quality makes this piece the ideal, perfect example of this grade.
Value: Being such a rare key date especially in proof, there are no sales of this NGC grade in over four years; however, the PCGS Price Guide and CPG Value give fair, comparable estimates of $12,000 and $11,900 for the coin. We are offering a best price for this piece of just $8,500 via Make Offer, which considering the desirability of the date and the relatively low price point, we expect it to go fast.
---
Why we love it: The 1914-D Lincoln Cent is highly desired across numismatics in which it becomes even more rare and highly sought after in gem condition. This beautiful, lustrous example features lovely lavender tones that, along with its delightful pristine gem light brown surfaces, make for perfect Brown eye appeal. There are only six other pieces graded finer by PCGS with the Brown color designation.
Value: Our last auction record of a coin with the same date and grade sold for $5,850. The PCGS Price Guide Value for this coin is set at $7,350 with the CPG Value just below that at $6,880. The best price we have available for this coin is over one thousand lower than both price guides at just $5,500 via Make Offer.
---
Why we love it: The 1937-D 3-Legged Buffalo is a scarce and popular variety, highly sought after by even non-Buffalo Nickel collectors. There is a total survival estimate by PCGS of just 10,000 coins. A beautifully lustrous near gem featuring complete originality and no detracting marks makes this the ideal piece for the collector right before a large price jump as well.
Value: The PCGS Price Guide and the CPG Value are comparable on the estimated value at $7,000 and $7,310 respectively. The MS64 grade point is perfect for the collector as the next grade up sees an uptick in value of about $20,000, making this truly the "sweet spot" to acquire this incredible issue. Via Make Offer, this piece is available for just $5,750.
---
Why we love it: The 1796 Draped Bust Dime is known for being both the first year of issue for 10-cent coinage and for being a desirable numismatic rarity. This lovely choice VF is a truly original example with a smooth surface free of contact marks and has even wear. Being a late die state and in an old green labeled holder just adds to the allure of the issue.
Value: In our Internet Auction #1051 in February of this year, we sold this exact same coin for $5,850. Additionally, the PCGS Price Guide Value of the coin is slightly higher at $6,000. We are still offering a best price for our piece at the reasonable amount of just $5,750 via our Make Offer function.
---
Why we love it: Our favorite date in one of our favorite series, the 1901-S is by far the most famous, rare and desirable key date among all Barber Quarters. It's so popular as a date that this issue transcends the series and key date collectors specifically seek this coin out. This more affordable example has light, even color and wear along with attractive, original surfaces for the grade.
Value: The PCGS Price Guide sits at $8,500, but it is available for purchase at the low price of just $7,500 via Make Offer. That is a sizable discount of $1,000 off the PCGS Price Guide value for this incredible, rare key date Barber Quarter that is famously known and sought-after across the numismatic world.
---
---
Why we love it: A gorgeous type coin with beautiful Cameo mirrors, this piece is ideal for anyone interested in proof Seated Dollars. Flashy frosty toned surfaces with gorgeous highly contrasted cameo, this example boasts excessive eye appeal and so nearly gem surfaces. It has a mintage of just 600 coins available at a type coin price.
Value: The PCGS Price Guide reflects a value of $6,850 for this immaculate proof Seated Dollar. This nice, eye-appealing issue is available this week for a healthy discount making for an incredible best price of just $5,750 via Make Offer.
---
Why we love it: A popular New Orleans Mint Morgan Dollar that is difficult to locate with Deep Mirror Proof-Like surfaces. This super flashy gem features pristine, mostly white surfaces with a hint of golden toning. This Morgan Dollar has only two other examples in existence graded finer by PCGS with the Deep Mirror Proof-Like Designation.
Value: The PCGS Price Guide reflects a value of $20,000 with the CPG at $16,900. Available in auction ending this Sunday reserved at $14,500. With the last auction offering of a CAC-stickered piece bringing $17,625, this seems to be a great value and a fantastic opportunity to secure this flashy DMPL gem with only two pieces graded finer by PCGS.
---
Why we love it: A popular and desirable scarce date Morgan from the New Orleans Mint. This Old Green Label Holdered stunner is mostly blast white, full of strong luster and possesses just a few marks on the obverse making it an ideal example of the choice uncirculated grade. One of the desirable low mintages from the popular collector year of 1893, the O-mint gets far less recognition than its San Francisco and Carson City counterparts.
Value: The PCGS Price Guide Value for this coin is set at $8,250 in MS63. This bright white, lustrous example of this popular, scarce O-Mint Morgan is available for purchase via Make Offer at just $7,000, which is a generous discount of over $1,000 off the price guide.
---
Why we love it: A scarce Three-Dollar Princess Gold issue from a mintage of only 7,000 coins struck in which 2,592 were destroyed at the Mint. From the legendary Harry Bass Collection, this choice AU example displays faint wear and nearly perfect detail across all devices. Additionally, it's the subtle remaining luster and ideal yellow coloring that makes this rare coin so pleasing to the eye.
Value: The PCGS Price Guide and CPG Value both have the value set at $7,500. That closeness of estimation from these two reputable sources should bring great assurance and confidence to bidders that those are accurate evaluations. Our NGC-graded example is available via Make Offer with a best price of just $5,750 even with the Bass pedigree.
---
Why we love it: A key date San Francisco Minted Indian Half Eagle from a relatively low mintage of 392,000 that becomes especially scarce in uncirculated grades. No major blemishes, strong striking and lovely luster headline the characteristics that give this richly toned beauty its high-quality eye appeal.
Value: The PCGS Price Guide sits at $15,000, but it is available for purchase at the generously low price of just $12,500 via our Make Offer function. That is quite a large discount of $2,500 off the price guide for this pretty example of what is a much better date S-Mint Indian Half Eagle.
---
Why we love it: A popular and scarce early CC-Mint Double Eagle with blazing luster and frosty, nearly proof-like surfaces. This grade is surprisingly desirable for this issue as the eye appeal is uniquely beautiful, and there are none in existence graded finer than MS62 at PCGS with a considerable price jump. This coin comes from a lower original mintage of just 138,441 coins struck, in which few have survived.
Value: This low mintage coin is valued at $14,500 by PCGS, with a CPG value of $15,700. Available via Make Offer for just $12,250, that is a great value for this scarce, early CC-Mint Double Eagle with gorgeous, flashy luster.
---
Why we love it: The 1881 Double Eagle is one of those scarce dates that are underappreciated except to the learned specialist. From a mintage of just 2,199 pieces, the 1881 $20 is simply an impossible date to locate in an acceptable state. This nice, eye-appealing AU is a quality survivor that is not likely to be offered again in quite some time.
Value: The PCGS Price Guide and the CPG Value are quite fair and comparable at $40,000 and $42,400 respectively. In this lovely NGC-graded AU condition, we are offering an excellent value for our best price for this rare Double Eagle at just $38,000.
---
Why we love it: These first issues were sanctioned by the federal government and were our first gold dollars issued in America. The Bechtlers were prolific in their minting of private gold coins during the first U.S. gold rush in the 1830s. Even when the Federal mints at Dahlonega and Charlotte opened, the Bechtlers continued to strike coins that circulated alongside their Federal counterparts. Among the finest graded examples, this well-centered strike still has semi proof-like luster adhering to its surfaces.
Value: There have been no sales record of this exact issue and NGC grade in the past decade showing the limited availability and how incredible this opportunity is right here. The PCGS Price Guide and the CPG value this piece of pioneer gold at $25,000 and $22,400 respectively making our best price of $17,500 via Make Offer extremely intriguing.
---
---
Why we love it: The Clark Gruber is a popular and rare Pioneer gold issue struck immediately before the Civil War from gold in Colorado. From an under-appreciated time in our history when the Colorado Gold Rush was producing large amounts of the precious metal, shortly after the California event that overshadows all gold rushes. Bright, eye-appealing surfaces with flashy yellow gold color and luster.
Value: The PCGS Price Guide has this AU Clark Gruber valued at $16,500 with the CPG at $16,300; however, we are proudly offering our example in Auction #1072 with No Reserve! Our pretty, lustrous yellow-gold example of this scarce and desirable territorial gold issue will now go to the highest bidder in auction ending July 7th.
---
Why we love it: The $50 Humbert, commonly referred to as the "Gold Slug," is such a scarce and unique issue desired highly across numismatics. These were a reliable currency used in the period of the California Gold Rush, before the United States could produce enough coinage for everyday use. This example is an impressive survivor from the California Gold Rush era. Frosty, lustrous surfaces with nice overall eye appeal, these pieces are historically important as they were produced by one of the legendary figures of the California Gold Rush.
Value: The CPG has this coin valued at $54,400 although our example is available in Auction #1072 at a sizable $9,400 discount for just $45,000 as a Vault Value. That is an excellent price for this famously popular Gold Slug as its rarity and desirability are unmatched among California Territorial Gold.
---
Check out all of the available "Coins We Love" from past newsletters