Coins We Love - June 29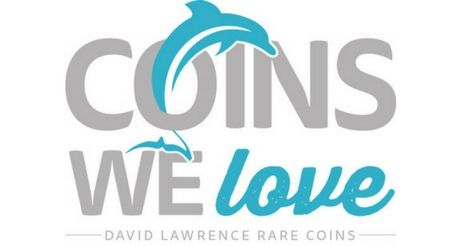 Last week's Baltimore show was a huge surprise for us. We expected a slightly slower event due to the typical lighter summer traffic, but upon our arrival early Tuesday, we were bombarded with buying and selling opportunities. In fact, our regular show routine was abandoned immediately, and we weren't able to carve out time for the gym, any relaxing dinners with friends/customers, or producing a Coins We Love newsletter. We ended up surviving off room service, Chipotle, and a few bananas from the lounge.
Starting on Tuesday, we viewed auction lots for a large chunk of the morning before our usual suspects arrived with inventory for sale. Once people started to arrive, we were active buying coins until late in the evening for several nights, and the activity was a huge surprise. We wanted to focus on our buying at this show as we have about a month before our next major event, and boy, were we able to accomplish this! With Gary and I hitting various vendors, we not only came home with a large quantity of new offerings, we brought back some really neat items. While we didn't expect a very active selling show, Thursday turned out to be a welcome surprise as many old and new friends dropped by the table, with many taking something new home to their collection. One of our favorite new purchases, a VF Continental Dollar was put in our case and sold pretty much immediately. While coin shows may not be the hive of activity that they were in years past, we were quite pleased, and it leaves us encouraged as the state of the coin market is still improving.
We hope that our week off was refreshing to you, but now that we're back on track, we hope that you'll drop us a line of feedback here (include link for a new email) with subject Coins We Love. As always, please don't hesitate to let us know about your new want lists, inquiries on selling, or if you just have a general question. We value all your input and we hope to hear from you soon!
Numismatically Yours,
John Brush and Your Friends at DLRC
---
Why we love it: A classic rarity as a proof-only issue, the 1863 Proof Quarter Eagle hails from a mintage of just 30 pieces, far less than the popular 1848 Cal. or the 1854-S issues (mintage of 1,389 and 246 respectively). In addition, as many as half according to research went unsold by the mint and were melted as a result. Of this estimate of 15 survivors, two reside in the Smithsonian collection. Thus, the rare issue is even scarcer than most would expect. This amazing example is the finest graded by either service and is truly high-end for the grade. A true treasure of numismatics, it ranks as #88 in the book 100 Greatest US Coins by Jeff Garrett and Ron Guth
Value: According to our research, this example has never appeared for sale publicly in auction, and we are proud to present it as one of our favorite offerings to handle in recent years.
---
Why we love it: This piece heralds from a pair of classically famous collectors, Col. Green and Eric P. Newman, and is the perfect example of a Coin We Love. Glorious blue and gold rim tones highlight the attractive central devices. A fantastically beautiful early Bust Quarter issue that belongs in the most discriminating cabinets of U.S. numismatics.
Value: Having recently sold in public auction for $41,125, pieces of this caliber rarely come across the auction block or bourse floor. The same coin sold in a NGC holder for the same amount in 2013, which goes to show how a beautiful coin can hold its value, no matter the container. We are pleased to offer this amazingly attractive piece for just $39,750 via Make Offer this week.
---
Why we love it: Another classic numismatic rarity, this 1796 50c celebrates the addition of the state of Tennessee to the United States. The 16th star on the obverse was engraved to commemorate the addition of the Volunteer State to official statehood and is popular amongst many southern collectors. A nicely wholesome Fine example of this popular early date is unusual to locate, especially with this kind of eye appeal.
Value: The frequency of offerings for this type of issue is few and far between. In fact, it had been four years prior since another example of a Fine-graded piece was offered in auction. The recent record of a darker, less attractive piece stood at $51,700 with a large price jump in the VF grades to nearly double the price. The PCGS Price Guide reflects a value of $60,000 and the CPG stands at $55,500. An unusual rarity that is far more attractive than most, we are offering it this week for just $53,500 via Make Offer.
---
Why we love it: Shipwreck issues have long been popular amongst collectors and historians. The deadliest shipwreck on the Pacific Coast at the time (July 1865), 244 passengers were lost, along with a large shipment of gold. Discovered by a sea salvage company in 1996, year years of litigation held up the ownership of these coins before they were sold in a single auction in 1999. The first "Shipwreck" coins to be promoted so heavily, the Brother Jonathan discovery and sales model was a popular one that was followed by the SS Central America, and the SS Republic. This piece is a sparkling reminder of the famous California Gold Rush and of what may continue to lie on our vast ocean floors.
Value: The PCGS Price Guide sits at $24,000 with the CPG at $22,500. While recent auction records appear closer to $19,000, the Brother Jonathan pieces are far rarer than the other Shipwreck recovery coins, and we're proud to offer this piece with a reasonable reserve of just $21,000 in this week's auction.
---
Why we love it: The 1796 25c is highly sought after by collectors of all levels. The first year of mintage of Quarters by the U.S. Mint, produced to the tune of 6,146 pieces, it is a classic numismatic rarity that is always regarded as a popular issue. A beautiful, wholesome Very Fine example, this piece is the perfect coin for a high-end collection.
Value: This exact coin sold in a public auction last summer for $41,000. With the PCGS Price Guide conservatively reflecting a value of $43,500, we're offering this piece at an absolute bargain level of $40,500 via Make Offer in this week's Coins We Love!
---
---
Why we love it: This Registry Quality ultra-gem is a flashy, white example of this date that becomes scarce in high grades. Only a group of four are graded finer (MS68+!) and the silky-smooth surfaces stand out to us as an ideal coin for the discriminating collector.
Value: The PCGS Price Guide sits at a hefty $27,000, but we're able to offer this beauty for just $6,000 via Make Offer. An excellent value on a coin that you'll likely not be able to best in a single lifetime.
---
Why we love it: This key date Morgan is one of the most sought after issues, in one of the most popular grades. In many cases, the AU58 examples are far more attractive than MS60, 61, or 62 graded pieces. This coin is no exception and is a perfect addition at a very reasonable price point.
Value: The Greysheet wholesale value sits at $17,500 with the CPG standing at $21,300. This piece is reserved for a conservative $17,500 in this week's auction and is an excellent example for what we perceive to be a good value.
---
Why we love it: High grade Indian Cents are a series that we believe to be very underrated in the current market. When a gem or finer example comes available, we do our absolute best to acquire it. This registry quality gem is tied with six others as the finest graded example of this date. Frosty surfaces with amazing eye appeal, this is a coin that is impossible not to love.
Value: The PCGS Price Guide rests at a robust $15,000, with recent auction records settling closer to the $10,000 level. This piece has already met a very conservative reserve and is deserving of consideration by any Type Set or Indian Cent collector.
---
Why we love it: We continue to have what is probably the largest offering of VAM Morgan and Peace Dollars on the web. If you're looking for something or find anything of interest, we'd be happy to work with you, whether it is through a Make Offer or through one of our auction listings.
Value: The 1878 VAM-84 listed here boasts a PCGS Price Guide Value of $1,100, but we're able to sharpen our pencil to a very reasonable $1,000 this week via the CWL.
---
Until next time, thanks for stopping by and sharing some time with us to browse our Coins We Love.
Check out all of the available "Coins We Love" from past newsletters