Coins We Love - June 8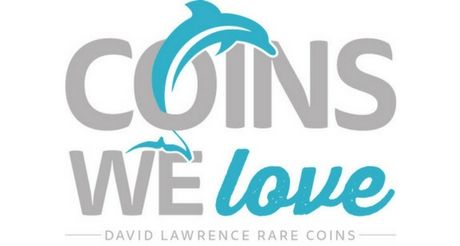 It's starting to feel like summer in Virginia as schools are starting to let out and the weather has shifted from days in the 50s to weekends in the 90s. This week Gary and Mike are holding down the fort at the Long Beach show while we process purchases that have mounted up over the last few weeks. We are also preparing for a huge Baltimore show in a few weeks, but in the meantime, we have a pair of fascinating auctions with some really neat pieces and many highlights on the way.
One of our favorite parts of what we do at DLRC is dealing with our customers. In fact, this week we were discussing a consignment possibility with a longtime customer of his collection, and he brought up a few questions that were interesting enough to mention here. First, he asked why our preliminary sight-unseen estimates were less than an auction estimate he received from another auction company. One of our goals at DLRC is to keep all transactions simple and clean. By doing so, we don't tack on fees for imaging, processing, etc and there's no sliding scale for your auction proceeds. We've learned that it's not in anyone's best interest to make things complicated. But, the most important question was, why was our estimate lower? Truth be told, we're always going to do our best to over-deliver. It's really impossible to give accurate estimates on anything numismatically (besides generic gold!). Of course, we can come up with a number that would beat any other estimate, but we want to be honest all of the way through the transaction and we think that once you see our final results, you'll find that we were the correct choice. Not only do we want to provide the best results for our consignors, we want to place the right coins with our customers. By making our process simple and transparent, offering the best service that we can possibly provide, and not sacrificing quality, we believe that it's always worth talking to us. Whether it's time to buy or sell we will always do our best possible, no matter the situation, even if our estimates seem lower…we'd rather over-deliver than under-perform.
Sincerely,
John Brush and Your Friends at DLRC
---
Why we love it: The 1905-S is a truly underrated Liberty Gold Eagle. From a mintage of just 369,250, only three pieces survived the melting pots or heavy circulation in this condition with only a single piece graded finer. Less than a dozen pieces remain in MS63 condition as well, making this an underappreciated later-date issue.
Value: The only comparable sale was a recent auction record of $14,100 for one of the other two examples. The PCGS Price Guide reflects the value a little higher at $15,000, but this piece is reserved for just $13,500 in this week's auction. This piece has it all, value, rarity, and fantastic quality.
---
Why we love it: Wholesome with nice luster, this is an ideal piece for the collector who appreciates quality in Territorial Gold issues. The Moffat operation was known for their honesty, which was unusual amongst most private coiners of the California Gold Rush. This trust and leadership allowed for the Moffat operation to later be chosen to run the San Francisco Assay Office when the US government put their foot into the fray.
Value: Most recently a similarly-graded example sold for $6,400 in a public auction, thus the similar PCGS Price Guide value of $6,450. We have the coin available for direct purchase for $6,250, but we can move it to a new home for just $6,000 via Make Offer.
---
Why we love it: This 1795 $1 was one of favorite purchases from the recent Central States show. Fresh to the market, the surfaces are gorgeously toned with light blue and lavender tints that being out the fantastic details evident throughout the piece.
Value: The Collector's Price Guide reflects a value of $14,200, with the wholesale Greysheet buy price at $12,000. With a reasonable reserve of just $11,500 in this week's auction, this coin is sure to please even the most discriminating collector in price and quality!
---
Why we love it: The 1856 Flying Eagle Cent is a famous rarity amongst collectors of all types of coppers. Generally unaffordable for many collectors this wholesome, low grade proof is the most affordable piece that we've offered in years.
Value: The PCGS Price Guide sits at $7,250, while a VG10 recently sold for $7,600. A great deal for a true collector at the reserve of just $7,000 in this week's auction.
---
Why we love it: Only 85 examples of this date were struck, making it a surprisingly rare date especially when compared to the plentiful business strikes. Beautiful surfaces and radiant devices highlight the overall outstanding nature of the coin. It's truly a beauty!
Value: The PCGS Price Guide reflects a value of $27,500 and CAC examples are exceedingly tough to locate. Offered in this week's auction with a reserve of $24,500, this seems like an ideal value for someone that's looking to add a beautiful proof gold issue of high quality without breaking the bank.
---
Why we love it: The 1894-O is a slightly better date in the series that becomes scarce in gem grades. Ideally preserved with a matte-like surface, it is extremely difficult to find a higher-graded example.
Value: The Greysheet bid reflects a wholesale value of $3,500, with the CPG settling at $4,200. An elusive issue, it is typically priced for $3,750, but we have made it available for $3,400 via Make Offer, $100 below the established wholesale value!
---
Why we love it: A fantastic registry-quality issue, only 4 others have been graded as such by NGC with none finer. Lovely light pastel colors with gorgeous surfaces, this piece is truly a piece of art with amazing eye appeal. An ideal piece for the advanced type collector, there are none graded finer!
Value: The PCGS Price Guide reflects a value of $5,300, but recent auction records record values around the $4,000 level. Typically listed for $4,500, this coin is available for just $3,950 via Make Offer this week.
---
Why we love it: A popular Civil War issue, this coin is a great historic piece to stir the interests of new collectors or for the dealer who needs a little more stock for their operation.
Value: The Greysheet Bid price is $85 individually, but we are happy to offer these for just $800 for the lot, or $80 per coin!
---
Why we love it: An extremely popular issue as it is the first year of issue of Half Dollars by the US government. This piece is an unusually affordable lower grade example that is perfect for the beginning type collector.
Value: The CPG price sits at a reasonable $7,500, while the PCGS value is inflated to $8,750. We are proud to offer this piece at a tad over the $6,250 Greysheet Bid at a very reasonable $6,500 via Make Offer.
---
Until next time, thanks for stopping by and sharing some time with us to browse our Coins We Love.
Check out all of the available "Coins We Love" from past newsletters