Coins We Love - March 14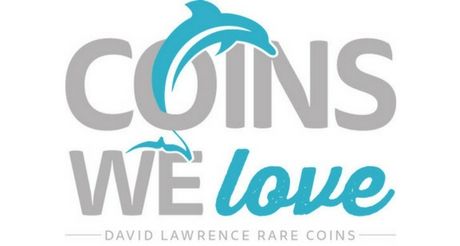 This week I found myself moving houses as my father has moved in with my family. What makes it interesting is that my father is the reason I became a coin collector as a child, and that led me down the path of life that I find myself at DLRC. While I've worked many jobs from sports referee to construction worker to security guard to various chaplaincy/counseling positions, they all felt like "work" at some point or another. Coming home after a long day at the office when you're playing with coins is completely different.
While my wife and kids never quite understood what I was talking about when I tried to explain the triumphs of winning an auction on the 1885 Proof Trade Dollar, 1804 $1, or 1854-S $5, let alone the allure of finding a bag of uncirculated Wheat Cents, it changes slightly when you can actually explain what you do on occasion when you get home. Unfortunately numismatics doesn't cross the mainstream quite as much as sports or the news, or other hobbies, it's still a blast for those who enjoy it and can actually share the perils, excitement, and drama of collecting. Whether you're talking about the one that got away, or the mistake you made on passing on that 1995-W Silver Eagle when it was only $750, coin collectors understand each other, even if our collecting habits, budgets, or interests don't align.
Now, my father collected things such as a circulated set of Peace Dollars and Walking Liberty Halves…a middle class budget didn't get far in the hobby, but it was always fun. That's why we carry coins from $5 to $5,000,000 at David Lawrence. Coins can certainly be expensive, but they don't all have to be that way. First of all, coins are a hobby, and you can only buy what you can afford. While we always suggest that you buy the best quality that you can afford, it's quite alright if that quality is a VF Buffalo Nickel. Without collectors of all shapes, sizes, budgets, and interests, this hobby doesn't continue. I don't suppose that this message carries a lot of meaning, but it does explain a bit further our roots and why we believe that to assist in building collections, you have to be a collector yourself. And that's why we don't just offer a marketplace to present coins, we want to talk to YOU about them as well. After all, it's not just work for us, it's our hobby as well!
Sincerely,
John Brush and Your Friends at DLRC
---
Why we love it: The 1909-S VDB is a legendary key date rarity famously known across all sectors of numismatics. This registry-quality ultra-gem example is tied with 14 others as the finest known at PCGS. These pieces rarely come to market, and this one is immaculate in every sense with all its lack of blemishes and original luster beaming from these lightly toned blazing red surfaces.
Value: The PCGS Price Guide at $70,000 and the CPG Value at $72,600 are quite comparable, which should bring assurance to bidders. Our lustrous, lightly toned example of this famous key date is available in this week's auction with a reserve set far below both price guides at a fair $62,500.
---
Why we love it: A nearly perfect ultra-gem full bands example of this slightly scarcer Mercury Dime. These surfaces are as pristine and beautiful as it gets between having basically no visible marks, perfect luster and stunning toning. Its mostly golden color includes hints of orange and red on the obverse with the addition of green on the reverse. Only beaten out by two pieces with plus grades at PCGS, this coin has arguably the nicest eye appeal among any example of the date.
Value: The most recent sale of this exact date and grade combination in PCGS Holder with CAC approval brought a strong $18,800 at an auction this past September. The PCGS Price Guide has it valued a bit lower at $15,000 since it does not factor in the CAC Sticker's premium, yet this example offered in this week's auction is reserved lower than both amounts at just $14,350.
---
Why we love it: This first year of issue for the Dahlonega Mint is popular amongst Southern gold and branch mint collectors. This rare Quarter Eagle comes from a small mintage of just 13,764 pieces struck. A choice XF example that represents the grade well with its full originality, light, even wear and wholesome beauty.
Value: A relatively more affordable method of acquiring this desirable, rare branch mint issue Quarter Eagle. Available via Make Offer for just $6,200, we find this to be a fantastic value for an NGC graded example as the CPG Value puts this coin at an $8,750 evaluation.
---
Why we love it: This flashy, high-grade gem Liberty Seated Quarter has simply stunning eye appeal with its gorgeous deep-cameo, mirrored surfaces. Our blast white CAC approved example of this proof issue is the lone finest known piece graded by PCGS from a low mintage of only 1,000 originally struck.
Value: This coin, being the finest known example for the issue on top of being CAC approved, defines the phrase "one of a kind" and therefore makes it incomparable to any price guide. However, our reserve amount of $29,500 is set to acquire this gorgeous gem proof Seated Quarter, which we feel creates an excellent value to bidders.
---
Why we love it: A desirable early rare date from the Liberty Seated Half Dime Series from a mintage of just 27,000 coins. An issue so scarce that this choice XF example is only beaten out by 12 finer pieces at PCGS. The wear on this coin is light and even, which along with some pretty rainbow-colored toning making it unique. The CAC approval is no surprise as the coin could pass for a low-end AU.
Value: This Seated Half Dime Issue is so rare that a PCGS example has not be sold in almost a decade leaving no fair comparisons. The Price Guide does value it at $4,500 in XF45 and $6,850 in AU50, which makes the reserve of $5,100 in this week's auction reasonable as it is CAC approved.
---
---
Why we love it: A near-gem example of this popular and scarce Type 2 Gold Dollar. This is a fair example of the grade as there are some marks mostly on the reverse but true gem level upside coming from its incredible overall eye appeal. Its surfaces are lustrous, and the coloring is its fully original yellow-gold.
Value: The PCGS Price Guide, CPG Value and most recent comparable sale price for this coin are set respectively at $7,500, $7,880 and $8,400. Even with those numbers stated and such a high sale occurring just this past October for the same date and grade combination, we are proudly offering our example at the reasonable price of just $6,350 via Make Offer.
---
Why we love it: A lovely gem example of the key to the 2-Cent Piece Set that has only six red-brown examples graded finer by PCGS from a 65,000 coin mintage. This piece has beautiful eye appeal from its pristine, lustrous surfaces covered in unique, captivating toning. The obverse is a bright red with rose tints and the reverse is richly toned with blue, green and rose hues.
Value: The PCGS Price Guide Value and CPG Value for this coin are set respectively at $9,500 and $8,750. Our pretty, toned gem example of this scarce 2-Cent Issue is available for purchase for a fair discount off both price guides at just $8,000 via our Make Offer function.
---
Why we love it: A popular type coin for the Type 3 Gold Dollars that becomes an extreme scarcity as this excessively high grade, in which just two others exist graded by PCGS. This example is up there with the nicest Gold Dollars in existence as it simply has it all with its beautiful luster, gorgeous golden yellow tints, lack of marks and simply fantastic overall eye appeal.
Value: This Type 3 Gold Dollar type coin becomes so rare this nice that there are no auction records available for any comparable sales. The Price Guide does value it at $19,500 in its finest known grade, which makes the reserve of $15,250 in this week's auction arguably a steal for this registry quality gem.
---
---
Why we love it: A lovely, wholesome example of this much better date Indian Cent. This pretty choice AU has original chocolate brown coloring and nearly no visible wear even on the highest points, which makes this piece the absolute ideal example of the grade.
Value: The CPG Value comes in at $280 with the PCGS Price Guide right below that at $240 for this scarcer Indian Cent. With a best price via Make Offer of just $225, this is a perfect, affordable opportunity to acquire a great coin at an excellent value.
---
Why we love it: The 1909-S VDB is one of our favorite key dates of the 20th Century and is a famous, scarce issue that is highly desired by all collectors of U.S. coinage. This high-end AU example displays only the slightest signs of wear on the obverse with nice original surfaces that show subtle remaining luster.
Value: The PCGS Price Guide Value for this famous key date is set at $1,250 but can be purchased via Make Offer for just $1,050. If you are not in the market for finest known example we have in this week's auction, then this is an incredible, affordable alternative to acquire one of the most popular and collectible coins in numismatics.
---
Why we love it: The perfect gem level type coin for the Liberty V-Nickel Series. This piece offers pristine surfaces that are covered in blazing luster and lovely pastel toning creating gorgeous high-quality eye appeal. The color features highlights of blue-green, lavender and gold especially on the reverse.
Value: The CPG Value comes in at $1,650 with the PCGS Price Guide set unrealistically at a bloated $2,500. With a best price via Make Offer of just $1,300, this beautiful gem V-Nickel type coin comes at such a great value that it even undercuts the CPG Value by a fairly large margin.
---
Why we love it: A sizable lot of ten earlier, near-gem Full Bell Line Franklin Half Dollar type coins. All 10 coins feature clear full bell lines and well-struck devices with sharp detail giving them high-quality eye appeal. This is a fantastic chance to obtain these attractive Franklin Halves that display incredible luster across the board for a reasonable price.
Value: The PCGS Price Guide has this lot of 10 coins valued at a combined $460; however, this group is available for purchase at the low price of just $400 via Make Offer. That is a solid $60 discount off the PCGS Price Guide value for this set of 10 near-gem Franklin Half Dollar type coins.
---
Check out all of the available "Coins We Love" from past newsletters