Coins We Love - March 16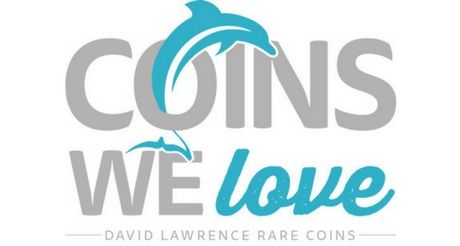 We pass along our apologies for skipping our CWL last week, but it was an absolute blur, highlighted by the purchase of a large collection in Florida, the ANA's National Money Show in Orlando, and the introduction of Gary Adkins into the fabric of DLRC.
We viewed the ANA's show as a great success. We don't expect the Mid-Winter ANA show to ever be as large as a Baltimore show, the FUN Show, or the ANA. However, with the location set in gorgeous Orlando, Florida, the attendance was better than expected and there were many active collectors. Several national dealers skipped the event, but we'd say that it was a mistake based upon our activity and success there. And you certainly couldn't beat the weather!
Our trip started off with a visit to the family of a long-time collector on the Space Coast of Florida, where we purchased a large collection of seated material, a wide range of currency, as well as various collectible odds and ends. The trip was educational, not just for the purchase, but to really get a sense of what true collecting is about. It's not always the finest coins, the highest grades, or anything like that, but the true enjoyment of collecting and acquiring that next piece is what drives all of us.
We also had an opportunity to catch a few innings of an Atlanta Braves Spring Training Baseball game, and I had the pleasure of taking a behind the scenes tour of some of the processes at Walt Disney World. It was a thoroughly interesting few hours to see the mechanical processes of such a large organization that is known for efficiency and service. We hope that we're able to incorporate some of these principles into what we do at DLRC in the coming months…we always try our best to be service-oriented, but there's always more that we can learn.
While we work on improving what we offer at DLRC, we hope that you're able to improve your collection with a few of the highlights that we're proud to offer this week. Please enjoy these coins and don't hesitate to contact us if there's anything of interest or if you're simply looking for something that's not listed here!
Sincerely,
John Brush and Your Friends at DLRC
---
Why we love it: This was one of our favorite purchases from the ANA and is a real cherry. Such gorgeous surfaces and fantastic luster, and the preservation is simply unseen by most collectors and dealers. There is a single finer-graded piece by PCGS, but the eye appeal of this particular piece is simply impossible to find any nicer.
Value: We have lowered the price on this coin and highlighted it as a recent DLRC Discount. The reduced price of $14,500 via Make Offer for this marvelous coin is a steal based on the previous auction record of $16,450 and the similar PCGS Price Guide. A finer issue has never been offered, and this is a great value to be considered by an astute collector.
---
Why we love it: The first dollar ever issued by the United States is often ignored for the pageantry of the 1794 issue. In fact, the Continental Dollar was truly the first issue made by our fledgling colonies during the Revolutionary War. While this type of coin "Belongs in a Museum!", we are proud to offer it as a late addition to this week's auction. While not as lustrous and power as the MS63 examples that we've offered recently, this is a far more affordable example with plenty of meat in the details.
Value: Offered with a very reasonable reserve of just $44,000, we hope to place this coin in the hands of a collector who will appreciate the quality and the rich heritage of this issue.
---
Why we love it: The 1909-O is the lowest mintage issue of the $5 Indian series. While not as rare as the 1929, this was the last year of production for the New Orleans mint as it closed in April of 1909. The rather paltry mintage of just 34,200 secured this issue as one of the two most difficult dates to acquire for the set. A lovely piece with just a touch of wear, we find it very difficult to locate examples with the coveted CAC sticker.
Value: CAC-stickered gold coins are always in high demand and when a key date such as the 09-O comes available, it's an opportunity that can't be missed. Available this week via Make Offer for just $24,500, it is a significant savings over the NGC Price Guide value of $26,500.
---
Why we love it: The 1878 Proof Morgan issue is often an underappreciated issue. An estimated number of just 250 pieces were produced and only a single Cameo-designated piece by PCGS grades finer. The mintage is less than one third of the coveted 1895 Proof (880 coins!) and deserves to be considered as a real sleeper in the Proof Morgan set. This gorgeous proof example is one of the incredible highlights from this week's offering of the Peachtree Proof Morgan Dollar Collection.
Value: Reserved for just $30,000, this pales in comparison to the PCGS Price Guide Value of $50,000. Another piece is not likely to be offered in quite some time, and we expect an advanced collector with eyes to the future to scoop up this treasured rarity.
---
Why we love it: The 1901 is a mysterious condition rarity in any grade higher than MS63. In fact, only three pieces are graded finer by PCGS and none have ever been offered publicly. This gorgeous near-gem example is a stunning piece with light golden highlights around the central devices. For the high-end Morgan collector, this piece is a can't-miss coin. While there are 34 other examples in this grade, many possess a less than desirable appearance, and this piece is far above the average.
Value: The only two examples to have sold in the past two years have garnered $47,000 and $51,700 in public auction. With a PCGS Price Guide of $51,500 and a Collector's Price Guide value set at $58,800, this piece seems like a bargain at our discounted price of $47,000 via Make Offer.
---
Why we love it: Shipwreck issues from the SS Central America in gem condition have become far scarcer in the past several years. While the coin is still ever-popular amongst collectors and dealers, it is simply less available than it was previously. In fact, most pieces that we see these days are in the lower grades of MS63 and for the price-point, we're far more likely to recommend at least an MS64 example for just a touch more.
Value: When these issues first hit the market, they were commanding premiums into the low $20,000s, but we've seen a settling in recent years at a much more reasonable level in the mid-teens. In fact, we can offer this PQ gem for just $14,500 via Make Offer.
---
---
Why we love it: Morgan Dollars simply do not come prettier than this pristine gem. Gorgeous prooflike fields with absolutely no toning, this blast white specimen is a treasure and will surely be coveted by many high-end Morgan collectors. Words simply can't do the eye appeal justice on this beaming prooflike gem!
Value: Reserved for a very reasonable $11,250, NGC has not certified a finer Prooflike or DMPL example of this date. The PCGs Price Guide reflects a value of $15,000, making this seem much more reasonable as coins don't come much prettier than this!
---
Why we love it: This coin is the finest graded example by PCGS. While there are several non-prooflike pieces in existence, this gorgeous, lightly-golden toned superb gem coin is a beauty to behold. Part of the Peachtree Proof Morgan Dollar Collection, this unusually fully-struck example of this tougher date is surely to attract attention from registry-set collectors.
Value: PCGS Prices this coin at just $23,000, but our reserve in this week's auction sits at $19,000 which suggests that we expect this coin to attract spirited bidding, simply due to the eye appeal and desire of many Morgan Dollar registry owners.
---
Why we love it: The King of Morgan Dollars, this 1895 Proof has found its way back to an offering by DLRC, and we couldn't be happier! It's truly one of our favorite coins that we've offered in recent years, which is why we highlight it on many of our advertisements. The gorgeous, original surfaces, amazing reflectivity, and overall rarity all add up to this being one of our favorite issues.
Value: Available in this week's auction with a reserve of $147,500, we love the value, not only based on the PCGs Price Guide of $162,500, but due to the lack of availability of such outstanding pieces in today's market.
---
Why we love it: From a mintage of just 600 pieces, fewer than twenty examples qualify for a Deep Cameo designation and less than five are graded finer by PCGS. This beautiful gem is highlighted by gorgeous, reflective fields and is an ideal Type Coin for a high-end proof set.
Value: Most recently, similar examples have sold for a minimum of $3,290 in public auction, with most pieces approaching $4,000. This coin seems like a fantastic value at our even lower price this week of just $2,950 via Make Offer!
---
Why we love it: An underrated date in the $10 Indian series, this pristine gem is truly undervalued by most dealers and collectors. From a mintage of just 351,000 pieces, several gem examples exist, but few with the coveted CAC sticker, accounting for the vast over-grading of many pieces in this series.
Value: A true two-tiered market has developed for Indian Gold Eagles, pushing the value of CAC-stickered pieces far above the average coins that are often over-graded or problematic in one way or another. In fact, the last example of this date and condition garnered $16,450 in auction, and while we don't expect this coin to start there, we think that the reasonable reserve of $14,750 is a great place to start. We hope that it finds a home due to the great value and quality that is being offered.
---
Until next time, thanks for stopping by and sharing some time with us to browse our Coins We Love.
Check out all of the available "Coins We Love" from past newsletters