Coins We Love - March 2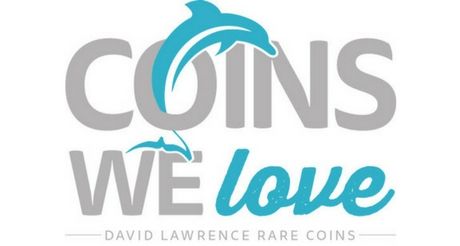 This week at DLRC…all I can really say is wow. Over the past week, we have had a lot of excitement including the Sunday auction being rather incredible, the Virginia State Tax passage making the rounds in the numismatic press and personally to DLRC, the announcement of a new affiliation with Gary Adkins.
We are excited to add a numismatist and a gentleman of the caliber of Gary Adkins to DLRC. Gary has been buying and selling coins for over 50 years and has served on the boards and leadership of the two most important coin-related organizations in the world, the American Numismatic Association board (he's currently running for President!) and is the past president of the Professional Numismatists Guild. Not only has he been active in these organizations, he's run a business that features the highest level of customer service for many years. When the opportunity presented itself to join forces with Gary, we jumped at it. We're still working out some of the kinks in the transition, but we wanted to pass along word here that you can expect to see us at a few more shows in the coming year, and we will have an extended presence when we are able to be in attendance. With Gary's addition, we'll be able to work with you more closely in the coming years. We hope that you'll welcome Gary, and if you've dealt with him in the past, please feel free to continue to do so. (To read our recent press release regarding this announcement, click here.)
Our first show together will be the National Money Show in Orlando next week, where we will be occupying tables 517 & 616. Please stop by if you're planning on attending, and if we can bring any coins for you to view in-hand, please don't hesitate to give us a call or shoot us an email!
Of course, we don't want to forget the main stars of our emails, the actual coins. We hope that you enjoy this week's highlights and please let us know if we can be of service!
Sincerely,
John Brush and Your Friends at DLRC

---
Why we love it: The 1887/6-O is a top 100 VAM issue and is rarely seen in gem grades. In fact, there is only one other example (PCGS MS65) that grades this high. Very high end for the grade, we think that this coin could be considered under-graded by many, and it's simply a coin that, when held in-hand, will truly wow the collector.
Value: The CPG reflects a value of $40,700, with a wholesale price of $32,500 for this date and grade. While the PCGS example last sold in 2008 for $37,375, we think that the NGC coin is just as nice, if not nicer,. With a reserve of just $30,000 in this week's auction, this piece presents an incredible opportunity for long-term value.
---
Why we love it: The history behind these uniquely designed octagonal slugs is an intriguing one, as they were struck by the forerunner to the San Francisco mint during the California Gold Rush, the Assay Office. Minted under the direction of Augustus Humbert, these pieces circulated widely during this shortage of available coinage and resulted in much wear and damage to the edges of many examples. This piece exhibits none of these issues and is one of the nicest examples that we've handled in quite some time. The obverse fields are certainly prooflike, with great detail and fully struck. We love the opportunity that this rarity presents, and we think that it's an excellent piece to be considered a Coin We Love.
Value: Reserve for just $79,500 in this week's auction, this is an opportunity to acquire a high-quality coin with the coveted CAC seal of approval. Based on auction data, this is a treasured opportunity that we doubt will present itself again for years.
---
Why we love it: As part of our tribute to the California Gold Rush, the California Commemorative is one of our favorite designs amongst classic silver commems. This piece exhibits a beautifully original light brownish tone with a nice, original skin. While generally not available in such high grades, this is an excellent piece for the collector who is putting together a distinguished set of silver commemoratives.
Value: The CPG sits at $1,680 this week, with the PCGS Price Guide stretching to $1,950. This superb gem is an unusual offering and one that we're making available via Make Offer for just $1,550 this week.
---
Why we love it: The 1901 Morgan Dollar doesn't command the excitement of pieces dated 1892 or 1893, but when it comes to high grade examples, the 1901 is right up there due to its scarcity. In fact, only six pieces have been graded higher than this lovely MS64. PQ for the grade with gorgeous luster and flashy white surfaces, this piece is the ultimate opportunity for the advanced Morgan Dollar collector.
Value: The CDN bid price sits at $47,000, equal to recent auction records, with the CPG value at $58,800. Fortunately, we're able to offer this piece at an even better deal than these recent values, as it is available in auction for a reserve of just $46,000 this week. Don't miss this limited opportunity for a gorgeous near-gem Morgan.
---
---
Why we love it: The Redbook lists a mintage of just ten pieces, which explains the reason that we really love the rarity of this piece. Unfortunately, early proof issues and low mintage proof issues rarely get the kind of appreciation that they deserve. This beautiful golden rose example is in the middle grade of existing pieces, and is an excellent opportunity for a collector who prefers the less-traveled path.
Value: The PCGS Price Guide reflects a value of $24,000, which helps to justify the reasonable reserve of just $21,750 in this week's auction. An opportunity to find a piece with such a low mintage on a coin that becomes available once in a decade can't be dismissed!
---
Why we love it: Simply put, the High Relief is America's most beautiful coin design. While they are seemingly rare, hailing from a mintage of just 11,250, these pieces are popular amongst collectors, and seem to be readily available in grades under MS65.
Value: The CPG sits at above $30,000, with a Greysheet bid level of $26,000, but we're proud to offer this coin for the wholesale price of $25,750 this week via Make Offer.
---
Why we love it: Generic gold issues have long been popular amongst modern collectors and investors. This beautifully-designed gem trades in large quantities between dealers at times, but we're proud to offer a small lot of them this week as part of our Certified Generic Gold offerings.
Value: MS65 examples were bringing well over $2,000 just four to five years ago, but have settled at a far more reasonable level in the past year. We are making our offerings today available for just $1,775 each via Make Offer.
---
Why we love it:The circulation strike 1885 V-Nickel is one of the key dates to the series. Due to the expense for acquiring a high-end piece, some collectors substitute gem Proof examples into their sets to make it a more affordable venture. This wholesome, fully struck example is housed in an Old Green PCGS Holder and is an excellent opportunity to complete a collection of high end nickels or proof type.
Value: The CDN wholesale price guide lists this coin at $1,200 with a CPG around $1,440. Recent auction records are all above $1,200 with a PCGS Price Guide at $1,700. With all this data available to everyone, we are sure that this piece will find a new home with the special offer this week of just $1,150 via Make Offer.
---
Why we love it:
Value:
---
Until next time, thanks for stopping by and sharing some time with us to browse our Coins We Love.
Check out all of the available "Coins We Love" from past newsletters