Coins We Love - May 11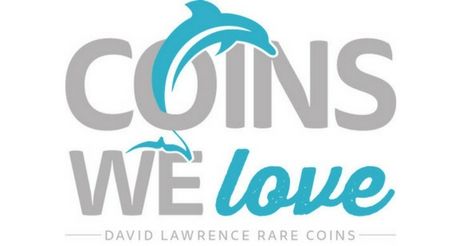 The numismatic world is enjoying some brief downtime between major shows and auctions for about a month. It's a much needed hiatus from the traveling and gives us a chance to catch up in the office. Surprisingly, we've been moving several mid 5-figure coins in the last week, and we've seen some real strength from a wide variety of collectors. The diversity of buyers and their variety of numismatic focus has been something that we've greatly appreciated as it's given us an opportunity to offer a plethora of numismatic series. We continue to find that quality is the most important thing, but the variety of offerings that we have at DLRC is also key. While we can't boast that we offer everything, we're able to acquire many high quality coins of different series at fair prices as we're not afraid to branch out. We offer many CAC-stickered coins (you can see those here), but we also think that you can miss out on some nice coins and fantastic opportunities outside of the CAC sticker. By dealing in PCGS and NGC coins, we are here to promote the hobby of coin collecting, and we want to help build and sell great collections. We hope that you enjoy our musing from this week's CWL and please don't hesitate to contact us. While we will continue to offer new coins across the spectrum, we won't dismiss our heritage as we simply love coins.
Please also keep in mind the features that we offer with our website. One of the most underrated features that we offer is our online Want List. We encourage you to check it out here. Please feel free to enter as many coins as you'd like and when one comes available, you'll get an email. While you're at it, send us an email of what you're looking for a well to coins@davidlawrence.com. Many times, we can offer you coins before they even hit our website if we know you're actively looking for them. Until next week, thanks for stopping by!
Sincerely,
John Brush and Your Friends at DLRC
---
Why we love it: The California gold rush shaped the future of the western United States in a decade that was later overshadowed by the developing Civil War. These "Slugs" were produced in the Assay Office of the United States before the official San Francisco mint could be established and are a popular item for historians and collectors alike.
Value: With a PCGS Price Guide of $19,500 and a jump to $24,500 for a VF20, we think that these issues are under-appreciated in the current market as they fly off of the shelves in all grades from damaged pieces to high-end AUs. This piece is reserved for $19,000 in this week's auction and the long-term viability and investment in such a piece is something we can certainly stand behind.
---
Why we love it: The penultimate year of issue for Carson City Morgan dollars is one of the better issues in the Morgan Dollar series and is not one of the more familiar issues with Prooflike or DMPL surfaces. This beautifully mirrored example is one of only 14 designated as such by PCGS and is highly desirable to Morgan Dollar and Carson City collectors.
Value: A comparable piece has not sold since 2013 where it realized over $13,500 in public auction. More recently in 2015, a far less attractive piece with uneven toning and spotting brought over $11,000. While the Bluesheet reflects a lower end wholesale value of $11,000, this piece is reserved for an incredibly reasonable $11,500 and we love the value.
---
Why we love it: This is not an issue that one would think of as rare initially due to a mintage of over 1.6 Million, and the number of coins in lower grades that one is able to find. However, since the mint did a rather poor job of striking these pieces, very few gem quality pieces survived. In fact, only three pieces overall are graded as 65+ or 66 by both services, underlying the rarity of this grade.
Value: The Bluesheet reflects a conservative wholesale value on this issue of $9,400 with the Greysheet jumping all of the way to $20,000! While we don't think of this issue as a $20,000 coin, it is priced at a very reasonable $12,750 on our website, and we're able to offer a $1,000 discount to $11,750 this week via Make Offer.
---
Why we love it: The 1856-S is a particularly rare issue in mint state grades. In fact, less than a dozen uncirculated pieces have been graded with only nine grading higher. The survivorship of this particular issue was likely since the rapid growth of the western United States, due to the Gold Rush, created an intense need for currency and change. Thus, the already small mintage of 286,000 pieces were likely swallowed up in commerce.
Value: The PCGS Price Guide reflects a value of $10,500. With availability being so small on such a piece, we're proud to offer it at a substantial discount of just $7,750 via Make Offer. It's an excellent opportunity to acquire a piece that is truly scarce by all accounts.
---
---
Why we love it: 1877 is an important year for numismatics as it is THE key date to the Indian Cent set. There are numerous popular and elusive proof issues of which this is a fantastic example. As a proof-only issue with only 510 coins struck, this date is far more elusive than the grading populations present, likely due to the number of resubmissions of these coins. This specific old-holdered piece from NGC is a lovely example of this tough to find issue.
Value: The PCGS Price Guide sits at $4,250 with the CPG a little lower at $4,150. CAC'd examples are even tougher to locate, but this piece with a reasonable reserve of $3,800 seems like a great bargain to us.
---
Why we love it: he San Francisco issues of Gold Half Eagles in the 1870s are quite underrated as a whole as the mintages were very small and few high end examples survived the need for commercial use. The 1874-S was a particularly low mintage date with only 10,000 pieces struck.
Value: Elusive in AU grades and non-existent in mint state condition, this is a perfect price point before it doubles in just a grade higher. Available via Make Offer for $3,000, this is a fantastic value play due to the scarcity and the affordability of the grade.
---
Why we love it: The Classic US Commemorative market has long been an overlooked place for collectors, but it is a series that we truly appreciate at DLRC. The range of designs, originality of many remaining coins and availability of high-quality coins make this a rather fun set to collect with numerous different possibilities. The Monroe issue is particularly interesting as the coin typically does not come very attractive. This lovely piece exhibits a lovely original toning, with very few marks. It's one of the nicer examples that we've owned in some time and a piece that we simply love.
Value: The PCGS Price Guide is at $2,350, with the CPG at $2,520. The Greysheet seems to be a more accurate representation at $2,100, but we're offering the coin for just $2,000 this week via Make Offer.
---
Why we love it: The price of gold has stayed within the $1,200-$1,300 range lately, and we still view it as a rather conservative play. While we typically shy away from promoting any type of graded modern issue, this little piece doesn't come at a huge premium and is a great gift or piece of physical gold to hold on to for investment purposes.
Value: We have approximately 40 identical pieces that we can offer at $165 via Make Offer this week. If you'd like one or two, please feel free to pick them off…but if you'd like a larger quantity, email us at coins@davidlawrence.com, and we'll be happy to save you the work!
---
Until next time, thanks for stopping by and sharing some time with us to browse our Coins We Love.
Check out all of the available "Coins We Love" from past newsletters