Coins We Love - May 16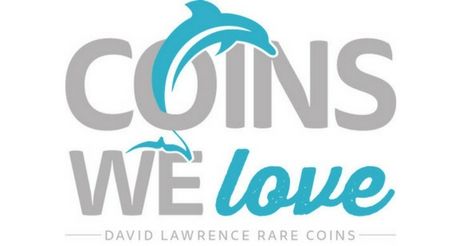 This week's CWL is full of coins of all sizes, colors, values, and shapes (as long as you only consider round). With new purchases from recent shows mixing with the numerous items that have come into our office over the past few weeks, we have a wide variety of numismatic offerings. Some are CAC, some are PCGS, some are NGC… While they might not fit into every collection, they have been hand-picked and are quality items that can fit many different levels of collectors.
You may also notice our new addition where we highlight team members of DLRC with their favorite coins. We hope that you enjoy this view into the great folks here and find their perspectives to be interesting as well.
For those of you who typically visit us at the tri-annual Whitman Baltimore Expo, we'll be leaving our table open this time for the first time in 20+ years! Falling on Memorial Day weekend caused some scheduling issues for our office, and we're unable to fully man a table this time around, but we'll definitely be back in the Fall.
As for now, we'll leave you with a few coins here and we hope that you enjoy a few Coins We Love!
Numismatically Yours,
John Brush and Your Friends at DLRC
---
Why we love it: Wow! A stunning ultra-gem condition rarity example of this popular and otherwise common Morgan Dollar issue. This registry-quality item is bested by no other examples at PCGS and based upon that, it would certainly highlight any high-level set of Morgan Dollars. This immaculate gem features gorgeous, light golden toning around the obverse rims along with a crescent of rainbow toning on the reverse. So incredibly lustrous with nearly perfect blemish-free surfaces that create the coin's beautiful eye appeal. Tied for the finest known and as close as it gets to MS69.
Value: The PCGS Price Guide has this coin valued at $43,500 which discounts the value of the coveted CAC sticker, but it is nonetheless available in this week's auction with the reserve set reasonably at just $37,500. This perfect, finest known registry-quality gem Morgan Dollar is a fantastic opportunity for advanced collectors of the series and those trying to complete a finest known registry set.
---
Why we love it: This immaculate ultra-gem Denver Mint Washington Quarter is tied for the finest known in existence across all grading services. This nearly perfect-quality example shows zero notable marks or blemishes. The eye appeal of the coin is simply stunning as it is lightly toned with a strong strike and excessive amounts of luster.
Value: The most recent sale of an NGC graded example brought just over $880 at auction in 2017, which shows how incredible of an opportunity this piece available via Make Offer for only $775 truly is. That is over one hundred dollars lower than a past sale of the exact same date and grade combination.
---
Why we love it: The 1856 Flying Eagle Cent is a famously popular key date rarity desired highly across all of numismatics. It comes from a low original mintage of just 1,500 coins struck. This lovely gem example displays beautiful eye appeal highlighted by its pretty rose-gold tints and pristine surfaces that are free of any notable marks.
Value: The PCGS Price Guide and the CPG Value are comparable on their generous respective estimates of $35,000 and $37,500 for this coin. Even with its gem level pedigree and famous rarity, this 1856 Flying Eagle Cent is being offered in this week's auction reserved at just $23,500.
---
Why we love it: A popular and scarce early Bust Dollar that is perfectly suited for an impressive type set. This lustrous AU example represents the grade nicely as the coin is completely original and features light, even wear with pretty honey-gold coloring. This Draped Bust Dollar comes from an extremely low mintage of just 7,776 coins originally struck.
Value: The CPG comes in with a value of $17,800 on this attractive piece. This accounts for the somewhat recent sale of a PCGS graded example that brought an excessive $18,800 at an auction in 2014. The PCGS Price Guide levels are maintained at $14,500, but we have our beautiful AU example of this great, early Bust Dollar available for purchase via Make Offer for just $10,750.
---
Why we love it: The 1893 is a fantastic scarcer date in the series that is completely overlooked as its mintmarked counterparts steal the limelight. This much better Morgan's proof-like surfaces add to the scarcity and eye appeal of this coin tremendously. The coin also comes with a notable lack of marks as to what would be expected from this grade and a nice, wholesome overall look.
Value: The PCGS Price Guide has this underrated, scarce Morgan valued at $10,500, which is quite bloated. Even with these captivatingly unique surfaces that are rare for the issue, we have this piece reserved in this week's auction fairly at less than half the price guide at just $4,550.
---
---
Why we love it: A stunning, well-struck gem example of this popular and tough Type 2 San Francisco Mint Issue Buffalo Nickel. This lovely piece displays plenty of strong luster and a pretty, pristine rose-gold surface with subtle rainbow tints. There are only 11 other examples in existence that were graded finer by PCGS.
Value: The CPG comes in at $4,750 with the PCGS Price Guide at $4,500 in MS66 and skyrockets in value to an unaffordable $35,000 in MS67. This nicely toned gem example is perfect for the collector as it both comes in right before that price jump and comes at a great value for its own grade with a best price via Make Offer of $3,800.
---
Why we love it: A popular and desirable New Orleans Minted Gold Eagle from a lower mintage of just 108,950 that becomes notably scarce as it approaches gem territory. This lustrous CAC approved stunner is as close as one can get to a gem between its nearly spotless, mark free surfaces and perfect coloring and eye appeal.
Value: A far more marked up example of the same date and CAC approved grade sold last year for $6,900. Between that, the CPG and PCGS Price Guide agreeing at $7,500, we feel our Make Offer price of the same $6,900 just stated is somewhat of a steal considering how nice it is for the grade and the price jump it would take with an upgrade.
---
Why we love it: A nearly perfect ultra-gem full bands example of this popular Mercury Dime issue. The surfaces are as pristine and beautiful as it gets between having basically no visible marks, perfect luster and flashy white eye appeal. Only beaten out by three pieces with plus grades at PCGS, this coin is certainly of quite prestigious registry quality.
Value: The most recent sale of this exact date and grade combination in PCGS Holder without a CAC sticker brought $4,800 in auction this past November. By the way, our example does have far nicer eye appeal. The CPG comes in at $6,250 while the PCGS Price Guide has it valued a bit higher at $6,500, yet this example offered in this week's auction is reserved fairly at just $4,850.
---
Why we love it: An affordable yet attractive example of this much better date Indian Cent. This pretty choice XF has wholesome, original coloring and surfaces that feature relatively light wear, making this piece quite nice for the grade and could pass as a low-end AU.
Value: The CPG Value comes in at $455 with the PCGS Price Guide almost identical at $450 for their evaluation of this scarcer Indian Cent. With a best price via our Make Offer Function of $375, this is a perfect opportunity to acquire a great coin at an even better value.
---
---
Why we love it: A scarcer Denver Mint Lincoln Cent in lovely near-gem condition with pretty brown tones and underlying red highlights. The incredible lack of blemishes and strong luster gives this gem nice eye appeal and even makes it seem under-graded, making the CAC approval unsurprising.
Value: This slightly better date Lincoln Cent is valued by PCGS at $325 and is for sale via Make Offer for just $300 this week. This is quite an opportunity to acquire this so nearly gem Lincoln Cent for under the Price Guide.
---
Why we love it: A slightly scarcer 3-Cent Nickel issue coming from a mintage of just 21,000 coins struck. This example represents the grade well with its lack of marks and pretty eye appeal. It is incredibly lustrous and features attractive toning on both sides, which gives it some nice character.
Value: The CPG Value for this coin a quite fair at $1,090 with a similar estimation from the PCGS Price Guide of $1,050. We are glad to offer this better date gem 3-Cent Nickel through our Make Offer function at just $800.
---
Why we love it: The perfect gem level type coin for the Liberty V-Nickel Series. This piece offers pristine surfaces that are covered in strong luster and lovely rose toning with yellow-gold highlights creating gorgeous, high-quality eye appeal.
Value: The CPG Value comes in at $702 with the PCGS Price Guide set at basically the same amount at $700 even. With a best price via Make Offer of just $600, this beautiful gem V-Nickel type coin comes at such a fair value.
---
Why we love it: A lovely gem Jefferson Nickel Full Steps type coin that displays excessive amounts of stunning luster. It also features white, pristine surfaces with a strong lack of marks. This high-grade example of this Jefferson Nickel issue is "out-graded" by only eight others at PCGS.
Value: The PCGS Price Guide has this coin valued at $1,000 with the plus grade and Full Steps designation. This gem Jefferson Nickel is available for purchase via Make Offer for just $700, which is a generous price point as it comes it at $300 below the price guide.
---
Why we love it: A reasonable yet attractive San Francisco Mint Issue Liberty Seated Half Dime. A CAC approved near-gem example of this Mintmark Below Wreath Type. The eye appeal is lovely as the surfaces are covered in bright golden toning, strong luster and so few detracting marks that make it look high-end for the assigned grade.
Value: The PCGS Price Guide Value for this coin is set at $400, which does not even factor in the premium for the CAC sticker. Our beautiful golden toned near-gem example of this popular S-Mint Half Dime is available for the same $400 via Make Offer even with its CAC approval.
---
Why we love it: The High Relief Saint Gaudens is one of the most popular and beautiful designs across all of U.S. Numismatics. This scarce issue comes from a low mintage of only 11,250 coins struck. This choice uncirculated example possesses the eye appeal and overall surface condition of a MS64 as it is absolutely pristine with no detracting blemishes. That along with its well-deserved CAC approval and old holder gives it a fair argument for being simply under-graded.
Value: The PCGS Price Guide has this coin valued at $23,500 in MS63 but this example is so far advanced from the average 63 that it cannot be fairly compared to this evaluation. Between the sticker, holder and coin itself, if you are in the market for a high relief Saint at this grade and price level, then this is the perfect coin. Reserved at just $24,250, we find that to be an excellent potential value.
---
During this week's in-office version of Coins We (the employees) Love, we asked Katie K. what her favorite coin was!
"My favorite coin would have to be The Athenian Owl Silver Tetradrachm. I'm absolutely obsessed with Ancient Greek history! These coins were very crudely designed and generally of poor quality but that's what I find so fascinating about them. Unlike most coins today, which all have the same perfect round shape and all done by a machine, the ancient coins were struck by hand and no two coins are exactly the same. You can literally hold a (slabbed) piece of ancient history in your hand!"
---
Check out all of the available "Coins We Love" from past newsletters