Coins We Love - May 18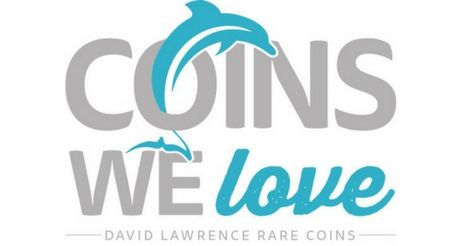 We've hit a small break in the recent run of shows at DLRC, and it has allowed us to catch up on imaging, organization, and getting to know our kids a bit better. However, the market as a whole has not slowed down. Despite this lull, we've been incredibly busy with packages coming in from customers (we received what may be a record on Monday this week!), and are continuing to make new "coin marriages" with customers every day. We hope that there is something of interest for you in this week's email. If not, please feel free to check out our website, plug in a few items into your want list and email us as well, as we'll continue to strive to find more Coins that We hope you Love!
Sincerely,
John Brush and Your Friends at DLRC
---
Why we love it: This coin is an absolute cherry. Housed in a well-preserved old NGC holder, this early Large Cent displays gorgeous surfaces and very few marks. In our eyes, the coin could easily grade as a MS65 with the current grading standards, but we love the coin so much as-is, we offer it without seeking PCGS or NGC's opinion on the higher grade.
Value: The PCGS Price Guide reflects a value of $30,000 for a MS64RB with a jump to $65,000 in MS65RB. Reserved for a very reasonable, if not cheap, $24,000, this is one of our favorite copper offerings that we've had in some time.
---
Why we love it: The 1911-D gold issues are popular for all the smaller denominations and the same holds true for the Half Eagle. This coin displays a quality MS61 surface with a well-preserved old PCGS Holder. While we don't view the coin to be an automatic upgrade, we do believe it to be very high-end for the grade. Acquired by Gary Adkins at a recent smaller show, this is exactly the kind of coin that we both can stand behind!
Value: The PCGS Price Guide reflects a value of $13,500, which seems a bit aggressive for our tastes. Thus, our reserve is set at a more conservative $11,000 in this week's auction. It's a coin that is sure to be loved by whoever its new owner may be.
---
Why we love it: While not nearly as popular or rare as the dollar issue from the same date, the 1893-S Half is a surprisingly difficult issue to locate in high grades. With a lovely original, satiny surface, the luster shines below the light honey-gold patina and it's a much more impressive coin in-hand as the true look can't be captured by a camera.
Value: The PCGS Price Guide sits at $4,950 and our most recent offering garnered nearly $4,400 in auction. This week we can offer it directly for the discounted price of $4,000 via Make Offer. When you consider the value, the quality, and the typical service of DLRC, this coin is a vaunted triple.
---
Why we love it: Incredible type coins were all the rage in the hobby in the 1970s. Currently, type coins in these grades do not have the following that they once did, but the rarity on many of these issues is far better understood. Despite its low mintage of 14,400 pieces, it is not considered a rare date, but a slightly better one. However, in superb gem condition of MS67 only two other pieces are known with a single other CAC-stickered example. Even more difficult to find is a piece with such a lovely look to it. Blazing white with gorgeous luster, this is a great value for a date that seems underappreciated.
Value: Most recently offered in public auction, the price realized was nearly $10,000. In the current market, the PCGS Price Guide remains at $12,500. Whereas this piece is an excellent value in this week's auction with a reserve of just $8,100.
---
---
Why we love it: Despite the mintage of 98,508 pieces, the 1862 issue from Philadelphia is a very difficult coin to locate, especially in mint state preservation. This lustrous Civil War issue is bested by approximately 16 pieces, but the luster on this example is incomparable. Beautiful surfaces with fantastic luster certainly add to the character of this fantastic issue.
Value: The PCGS Price Guide reflects a value of $6,250, with a CPG Price of $5,700. However, we're pleased to offer this piece for a discounted price of just $5,400 today via Make Offer.
---
Why we love it: One of the Holy Grails for VAM collectors, this gorgeous Micro O variety is extremely elusive. In fact, only six pieces are graded finer than this one, a couple most likely reflecting re-submissions. A rare offering that deserves attention, this coin is easy to love!
Value: Most recently a similar example garnered nearly $50,000 in a 2014 auction. While a 64+ more recently brought nearly $30,000. This piece is reserved for a more reasonable $24,500 in this week's auction, and we hope the specialty collector that can really appreciate such a piece lands the winning bid.
---
Why we love it: We simply cannot keep CAC'd gold coins in stock these days. We have a few pieces that we are offering directly and via auction, but it is by far one of the hottest segments of the rare coin market, in both retail and wholesale. However, the offering of such an affordable early Gold Half Eagle with the coveted CAC sticker is a rare occurrence, and we're pleased to offer this wholesome coin in this week's Coins We Love.
Value: Due to the unique grade, there are few pricing references to such a piece, but suffice it to say that it is a rare offering with what we perceive as a very reasonable reserve of just $5,750.
---
Why we love it: One of the prettiest Silver Commemorative issues, the actual Oregon Trail has most recently been commemorated by a computer video game that was incredibly popular in the late 1980s and early 1990s. A fascinating time of history for our country as Manifest Destiny took hold, we have quite a few of these to offer from a recent mini-hoard that we were able to procure.
Value: This coin boasts a PCGS Price of $600, but we're happy to offer it for a discounted price of just $500 via Make Offer this week.
---
Why we love it: Modern US issues currently are receiving a lot of attention, but it seems to be focused on Lincoln Cents, Jefferson Nickels, and the larger quarter and half dollar denominations. Roosevelt Dimes have long been ignored by the collecting public and many are impressively difficult to locate in high grades. This superb gem is an elusive date but is quite affordable and would be a great starting place, especially if you stick with the silver issues.
Value: The PCGS Price Guide sits at $250, but we're happy to offer it for a discounted $215 this week via Make Offer.
---
Until next time, thanks for stopping by and sharing some time with us to browse our Coins We Love.
Check out all of the available "Coins We Love" from past newsletters