Coins We Love - May 31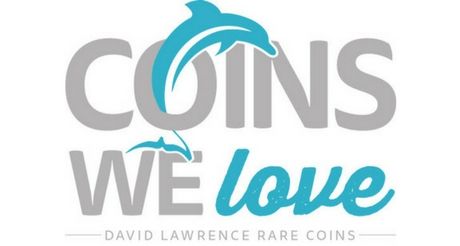 We received a lot of feedback from our faithful friends that showed up at the Baltimore show with far fewer inventories to browse! Please accept our apologies on our lack of attendance, but rest assured we'll be back this Fall with an even better display of coinage! One perk of being considered one of the more active buyers at the show is that our absence was glaring to our friends; however, we ended up having several packages shipped to us due to our absence, and we paid a little bit more for the inconvenience!
All in all, you'd think that we would be lacking coins from missing a mid-major event like this, but the fact is, we simply got more shipped to us from dealers and collectors. While we still wholeheartedly believe in attending coin shows whenever possible, wherever necessary, we also understand that we are able to produce more opportunities for collectors by sticking around the office and shepherding collections through the DLRC-system. Are shows necessary? Absolutely! Are they required every week? With the power of the internet, they are no longer as important as they once were. That being said, you'll still see us "slinging coins", as one of my banker-friends stated this week, from our home in Virginia and throughout the country. Our upcoming schedule may seem a little weak, but we'll have a few extra thrown in there. If a visit to you is necessary for an interesting purchase or consignment opportunity, let us know, and we'll show up on your doorstep!
Upcoming Shows:
July 10-12: Summer FUN
Aug 11-17: ANA World's Fair of Money (Rosemont, IL)
Sept 3-6: Long Beach Coin Show
Sept 24-27: PCGS Invitational Las Vegas
Oct 22-25: PCGS Invitational New Orleans
Nov 12-15: Whitman Baltimore Expo
Dec 10-13: PCGS Invitational Las Vegas
Jan 7-11: FUN Show Orlando
?????: Your Hometown
While the schedule seems a bit limited in variety, keep in mind that things are subject to change!
Numismatically Yours,
John Brush and Your Friends at DLRC
---
Why we love it: 1945 was a year of much rejoicing for the United States as the second World War concluded and patriotism was at an all-time high. Unfortunately for coin collectors, the euphoria did not continue to the striking process in Philadelphia as this issue comes with a notoriously weak strike on the bands of the reverse, causing the vast majority to not display a Full Bands characteristic. When the bands come as fully struck as these, this coin becomes a key date in the popular Mercury Dime set. Tied with one other coin, this piece is tied for the Finest Graded by PCGS and being the only example of this grade with the CAC sticker, there's a very good argument that this piece is the finest example. The seller had submitted the coin to PCGS hoping for a MS68FB originally, but I think we're all pleased with this grade and the green bean.
Value: The only prior sale of this exact PCGS grade came through an auction in 2018, which brought $96,000, causing the PCGS Price Guide to reflect a value of $95,000. This piece is necessary for any far advanced collector attempting to complete a finest known registry set and has already met the reserve of $90,000, so we're curious to see where this piece ends!
---
Why we love it: The 1873-78 Trade Dollar proofs are much scarcer than the 1880-83 (proof only) issues, which adds to the already strong appeal of the miniscule mintage of 900 coins that the 1878 comes from. A captivating gem with nearly mark free, pristine proof surfaces that feature gorgeous rainbow tones with pink, blue, and golden-blue tints. This coin was approved by CAC for its stunning eye appeal and accurate grading.
Value: The PCGS Price Guide is reputable and reliable but it does not go as far as to factor in a premium for CAC stickers. It states a value of $10,000 in Proof 66 and $22,000 in Proof 67 for this Trade Dollar. With that said, a reserve of $11,500 for this beautifully toned, immaculate scarce Proof Trade Dollar with CAC approval is reasonable in our opinion.
---
Why we love it: A relatively more affordable proof Double Eagle that is just lightly circulated, this piece is among the lowest price points one will find of the desirable rarity that is a proof $20 Double Eagle. This later issue comes from a limited mintage of just 98 pieces originally struck. You could most likely be the first person on your block to own one of these popular type coins!
Value: The PCGS Price Guide has this rare proof gold piece valued at $11,000 in its impaired proof grade. We have a reserve set in this week's auction for this piece at $1,000 less than the price guide at the intriguingly low amount of just $10,000. The perfect opportunity for the collector on a relative budget looking for an example from this prestigious series.
---
Why we love it: A nearly perfect ultra-gem full bands example of this later date Mercury Dime that is tied for the finest known with six others. The surfaces are as pristine and beautiful as when they flew out of the hopper at the Philadelphia Mint during World War II. They simply don't come more attractive and original. Between having basically no visible marks, perfect luster and stunning toning, this piece surely gets any collector excited! Deep, rich tones on the obverse with seemingly neon highlights including yellow and rose on the reverse. Undoubtedly of true registry quality.
Value: As a finest known piece with basically no recent comparable auction records and toning so unique to strictly this coin, it is hard to restrict it to just the $13,500 estimate of the PCGS Price Guide. We are glad to offer a reserve that has not strayed too far from that number at just $13,750. The perfect addition to a finest known toned registry set of Mercury Dimes.
---
Why we love it: A stunning bright red gem example of this popular key date S-Mint Indian Cent that becomes even more tough and desirable with that full red color. This coin displays pristine surfaces that are covered in blazing luster with reddish-orange highlights giving it incredible eye appeal. This final year is one of our favorite dates in the entire series as it comes from the lowest mintage in the series of 309,000. Only three others have been graded finer by PCGS.
Value: The PCGS Price Guide has set a generous estimation of $14,500 on this coin, showing the sort of attention and respect a red gem example of this date deserves. Our best price via Make Offer of $9,500 is far more reasonable and leaves a quite serious enthusiast of Indian Cents with a great coin at a fantastic price.
---
---
Why we love it: Proof Morgan Dollars have long been a popular item for collectors due to their size and propensity to be either gorgeously white or beautifully toned. However, the mintages are incredibly low compared to their circulation strike versions. This gorgeous proof Morgan Dollar comes from a tiny mintage of just 777 pieces struck. Mostly white surfaces with pristine mirrors and no notable blemishes make for fantastic eye appeal and overall quality so high that this CAC approved gem would certainly be considered high-end for the grade!
Value: The CPG and PCGS Price Guide values this proof Morgan at $5,500; however, PCGS does not factor in any premium for a CAC Sticker into their estimates. There is a $2,500 price jump to Proof 66 that cannot be ignored. With similar items selling in the range, we are glad to offer a best price of that same $5,500 through our Make Offer function even with the CAC approval.
---
Why we love it: Popular final year of issue for the Barber Dime series and the entire Barber design. This example is of the highest, most pristine registry quality that could be found on the market including some amazing rainbow tones. With gorgeous fiery orange and red tints with light blue highlights, this piece is certainly one of the nicest Barber Dimes we've ever handled. Tied for the finest known at PCGS with two others.
Value: There is only one other auction record comparable to this piece that was five years ago and realized an exciting $7,050. As a finest-known CAC-approved item with a PCGS plus grade, it is both incredibly desirable and offers every attribute a collector can imagine yet also makes it difficult to speculate the value it could bring. Reserved at $5,300 in this week's auction, we feel that creates a price point that is quite fair to bidders.
---
Why we love it: A great, affordable type coin for the popular Capped Bust Quarter Series. This piece is a truly choice VF as the wear is light and even across these deeply toned surfaces with mostly all details still clear. This coin can seemingly pass for a low-end XF.
Value: The PCGS Price Guide Value for this coin is set extremely accurately at $1,000 in its choice VF grade. This affordable Capped Bust Quarter type coin is available for purchase at the best price of just that same reasonable amount of $1,000 via Make Offer.
---
Why we love it: The 1923-S is a popular and desirable semi-key date Buffalo Nickel from the San Francisco Mint that is tough to find with a strong strike like this example. This lovely gem features golden highlights on both sides with lovely pinkish-blue tints throughout. Along with its blazing underlying luster, the eye appeal is simply booming. This gem grade is right in the sweet spot as just three exist in MS66, which jump 10 times in value.
Value: The PCGS Price Guide and CPG values are set respectively at $6,000 and $5,750. Recent records also show a strong sale of $9,400 and a more reasonable sale of $4,700 through us this past December. With these numbers, we find our best price of $4,750 via Make Offer to be overly reasonable for such a gorgeous example of this underrated date.
---
Why we love it: A rare Half Eagle that most of which experienced heavy circulation as it was one of the first issues of the popular denomination distributed from the Carson City Mint. From a low mintage of just 20,770 coins struck, in which at just an XF40, less than 50 pieces are graded finer by PCGS substantiating the preceding claim. A lovely choice XF with nice, lightly and evenly worn orange-peel surfaces that resulted in well-deserved CAC approval.
Value: The CPG comes in at $10,000, which is akin to the value of the PCGS Price Guide. With the last piece in this grade crossing the auction block way back in 2007, and with the scarcity of quality CAC-stickered gold in recent auctions, we proudly offer a reserve in this week's auction for just $10,000 amount even with the coveted CAC sticker, creating an exciting possible value to bidders.
---
Why we love it: A tougher red gem proof Indian Cent to find from a mintage as small as just 3,200 pieces struck. This example has flashy, bright red eye appeal with lovely richer tones throughout and unique reflectiveness across its immaculate proof surfaces.
Value: The PCGS Price Guide has this scarcer proof Indian Cent issue valued at $1,050 in its red gem condition. This coin is available for purchase via Make Offer for just $1,100. This is a fair price point as it is still on par with the price guide, but the coin is just simply too far advanced for the grade in both eye appeal and surface quality.
---
Why we love it: This attractive yet affordable near-gem type coin from the Braided Hair Half Cent series displays pristine surfaces that offer great luster and some subtle red highlights in spots. This pretty Half Cent features nice eye overall appeal with its uninterrupted, sharply detailed devices and clear, immaculate fields.
Value: This piece is available via Make Offer for just $550, with the PCGS Price Guide value at $600. A discounted price for such a lovely Half Cent type coin.
---
Why we love it: This intriguing investor lot of 10 Lincoln Cents features coins with blazing red, lustrous gem surfaces. The eye appeal of this impressive set is stunning across the board as all the coins have truly pristine devices and fields that represent the assigned grade perfectly.
Value: The PCGS Price Guide has this collector lot valued at a combined $260. It is available for purchase at the reasonable price of just $200 via Make Offer. That is a solid $60 discount off the PCGS Price Guide value for this 10-coin lot of stunning gem Lincoln Cents.
---
Why we love it: A stunning, flashy example of this proof type coin for the Three-Cent Nickel Series that comes housed in an Old Green Label Holder and is from a low mintage of just 625 coins struck. This gorgeous gem is lovely as it is lightly rose gold toned and simply immaculate as there are no detracting marks. Between those characteristics and the absolute ideal eye appeal make the CAC approval well-deserved.
Value: The PCGS Price Guide Value for this coin is set at $900 but not even factoring in the premium of the CAC sticker. We are offering this pristine 3-Cent Nickel gem proof type coin at just $825 via our Make Offer function even with CAC approval.
---
Why we love it: A fascinating lot of ten stunning, lustrous gem Franklin Half Dollar type coins. All the pieces display pristine mostly white gem surfaces that feature well-struck devices, few blemishes and strong luster. This is a great opportunity to acquire these attractive Franklin Halves for a fair price.
Value: The PCGS Price Guide reflects a combined value of $700 for this lot. The group is available for purchase at the nicely discounted price of just $500 via Make Offer.
---
---
Why we love it: The 1881-S Morgan Dollar is a common date in one of the most popular series among U.S. coins. An affordable yet desirable date within the series that is quite popular among collectors in gem grades, this example displays bright white surfaces that feature nearly no blemishes and incredibly strong luster.
Value: The PCGS Price Guide has this coin valued at $650 and is available via Make Offer for just $600. That is a $50 discount off the PCGS Price Guide value for this stunning ultra-gem example of this popular S-Mint Issue Morgan Dollar.
---
Why we love it: A better date San Francisco Minted Indian Half Eagle from a low mintage of 240,000. No clear signs of wear, strong striking and lovely luster headline the characteristics that give this yellow-gold satiny slider its high-quality eye appeal.
Value: The PCGS Price Guide sits at $1,000 with the CPG Value right at $998, but it is available for purchase at the reasonably lower price of just $900 via the Make Offer function. That is quite a fair discount of $100 off the price guides for this nearly mint state example of what is a much better date S-Mint Indian Half Eagle.
---
This week's in-office version of Coins We (the employees) Love, we asked Vice President Jason S. what his favorite coin was!
"I love the Silver Commemorative series and the Texas Centennial is probably my favorite design. This is one design that I can truly appreciate the artwork on both sides of the coin. The lone star design with bold eagle are a beautiful representation of the state on the obverse. The depiction of the winged goddess Victory, the Alamo and Sam Houston & Stephen F. Austin on the reverse tie the historical images of the Independence of Texas from Mexico.
Texas commemoratives are easily found and affordable collectibles in MS64-66 grade. I prefer ones in PCGS Green Label Holders with CAC approval and have all 13 in the set saved this way."
---
Check out all of the available "Coins We Love" from past newsletters