Coins We Love - November 10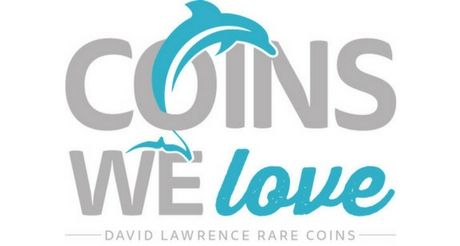 The Winter Baltimore Coin Show came in like a house cat and concluded like a lion. We came into the show with moderate expectations, assuming that retail sales would be livelier than the dealer-to-dealer transactions. However, we were wrong. Despite a conservative start for the first few hours on Wednesday, in the afternoon there was a flurry of activity, and we were selling coins that we truly didn't expect to garner any interest. This continued as the show carried on to the bourse floor on Thursday. In fact, there wasn't a moment of rest from Thursday up until 3pm on Friday. This has certainly not been the rule at recent shows, but if this is a harbinger for things to come, we certainly like it a lot!
While sales were active, we also found ourselves in the middle of quite a few purchases. Although we didn't break any records, we were thrilled with the final results of what we were able to acquire. A few special deals that crossed our paths were another installment of dollars from the California Collection and an extremely fresh 1776 Continental Dollar graded by PCGS as an MS63 with a CAC sticker. We also obtained numerous other pieces from our typical sources. Thankfully we weren't the only ones to report this activity at the show and with it being the last major event of the year, it gets us really excited for January and the FUN show!
Sincerely,
John Brush and Your Friends at DLRC
---
Why we love it: We've handled this coin three times previously and have considered adding it to our personal holdings each time! It truly is a special gem. Fully struck with amazing white surfaces and a touch of gold, this is simply one of the nicest Barber Quarters on the market and would be a treasure for any collector!
Value: We paid over $24,000 for this coin in 2010, and did so happily. When a coin this special comes available, you have to throw out the price guides. However, the PCGS Price Guide now lists this individual piece with a value of $22,500. We're proud to offer it for just $19,750 via Make Offer and think that it's a very conservatively priced offering for such a special coin.
---
Why we love it: Gem Indian Cents from the Civil War period have long been popular with collectors, despite the occasional high mintage levels. This last year of issue of Copper-Nickel cents is a beautiful gem with fantastic surfaces and eye appeal. Only three pieces have been graded finer by PCGS, and they rarely enter the marketplace.
Value: PCGS Price Guide has settled at a price of $4,150 and recent auction records have hovered in the $3,000 range. This fantastic gem is available via Make Offer for a discounted price of $2,900. It's certain to make a collector happy once they see this coin in-hand!
---
Why we love it: Bust Dollars in high grades are truly an unusual offering. We went 3-4 years without being able to acquire high-end AU or uncirculated examples with CAC stickers, but our recent efforts have proven to be more fruitful. While we may have a few in stock at this moment, we love these as much as ever and would love to widen our holdings in these types of coins as they are simply not available in even a mediocre market.
Value: Gradeflation struck Bust Dollars more so than almost any other series, thus most AU examples simply are not accurately graded. However, when you come across this coin, there are no doubts that it is certainly deserving of the grade and the green bean. Typical issues in this grade bring $20,000 or so in auction and via private sale, but we're happy to offer this lovely slider for just $18,750 via Make Offer this week.
---
Why we love it: The 1910 is a common date in MS63 grades; however, few examples of this early date were preserved by collectors, resulting in the large premium on gem quality issues. In fact, only six pieces are graded finer by PCGS than this gem MS65 issue.
Value: PCGS reflects a value of $8,000, with the wholesale Greysheet coming in at $7,000. This piece is reserved for the wholesale level of $7,000 in this week's auction, and we love the value as the price sextuples in the next grade up!
---
Why we love it: One of the major rarities in the Morgan Dollar series, the 95-O is scarcer than the 1893, 1893-O, and all three 1894 issues. While the 93-S is still the king of Morgan Dollar circulation strikes, the 95-O rarely comes with such a nice strike and is just a tad more available than the 93-S and the 1895 Proof.
Value: PCGS reflects a value of $20,000 for this date and grade with the Greysheet value in MS60 sitting at $15,500. This MS61 issue is reserved for just $18,500 in this week's auction and is an excellent opportunity for the advanced dollar collector.
---
Why we love it: After the election results on Wednesday night, we saw a huge spike in gold prices, along with a gradual correction back to the pre-election levels. With price levels where they are now, we think that it's an excellent time to buy gold. The premiums are less than we've seen in 20 years, and gold has always been considered a fantastic hedge against inflation. If you're an investor, it makes sense to consider such a purchase, and we are constantly updating our inventory with a variety of items.
Value: The prices fluctuate on a regular basis, but if there's something of interest, please feel free to make an offer. If we can't accept it, we'll always counter back with our best price!
---
Why we love it: Loyal readers may be tired of the various grades of 1916-D Dimes that we've mentioned here, but please allow us one more chance. This CAC-stickered super-slider is a lovely piece with nice eye appeal and impressive strike. We can't help but present coins that we love here and any time a 16-D is available, it can't be ignored!
Value: We've priced this coin at $13,500, but will offer a greater than 10% discount this week, and it is available for just $12,000 via Make Offer.
---
Why we love it: The 1879-CC issue is very scarce in a GSA holder and even scarcer in MS63 or finer. While the GSA market has calmed in recent years, we love the values of these original government holders now as the premium is virtually zero. This is a fantastic opportunity to jump in on a piece of popular numismatic history from the GSA coin disbursement.
Value: Available for just $7,750 via Make Offer this week, we haven't offered a similar piece at such a discounted price in recent years
---
Until next time, thanks for stopping by and sharing some time with us to browse our Coins We Love.