Coins We Love - November 17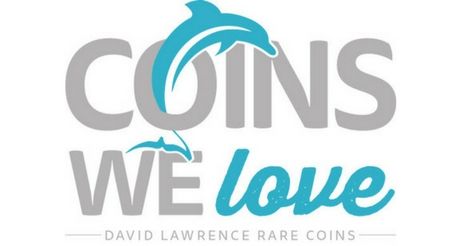 Last week at DLRC, we concluded a purchase of the inventory from a local coin shop that had been in operation for over 40 years. Devin Hipp headed the operation, and it was truly an exciting experience for us. It's not often that we're offered everything from bags and boxes of Statehood Quarters to classic U.S. type coins to world gold. However, after a few weeks of analyzing these markets, we were able to assist with disposing of this material. We ended up with a few neat highlights, including several hundred rolls of Morgan Dollars and a handful of Franklin Half rolls that had been purchased in 1962. The tag and original cost for the shop were included in the rolls! Unfortunately, the prices aren't as friendly now, but we did our best to conclude this adventure and develop a method for such an undertaking. When buying the inventory of a coin shop, it's really impossible to know what all you're going to come by, and we experienced the gamut from world currency, to stamps, to pocket watches, and even a vintage Tiffany Gravy Boat. It certainly wasn't a task for the faint of heart, but it was truly worthwhile and a project that we won't soon forget. Now if there was only a market for Virginia Statehood Quarters…
There's always something new going on at DLRC and by being active in so many different markets and opportunities, we believe that we're able to offer better services and a more diverse knowledge than most. Of course, not every collection needs to be six figures and not every purchase has to involve five trips by a small Uhaul truck (I'm not kidding), but that's why we love what we do. Every collection and collector has a different size and a different focus, and we hope we get the opportunity to work with you, whether it is for a circulated set of Indian Cents or a complete uncirculated set of Morgan Dollars on a Registry..
Sincerely,
John Brush and Your Friends at DLRC
---
Why we love it: Sometimes the storage methods of certain coins can cause different tones. This particular piece developed some of the prettiest colors that we've ever seen on a Barber Quarter. The impeccable surfaces and virtually mark-free devices highlight this awe-inspiring coin. The advanced collector would certainly find a hole in their box of 20 coins with this piece, as it would stand alone as a fantastic piece of naturally-toned art.
Value: The price guides aren't very helpful on a coin like this, as PCGS sits at a robust $26,500, but when the opportunity to buy a coin like this exists for under $10,000, it's an unbelievable buy. We're offering it via Make Offer for just $9,500 this week. This coin is sure to make even a non-collector say "wow!"
---
Why we love it: The 1908-S Saint has long been one of our favorite dates in the $20 Saint-Gaudens series. The incredibly low mintage of 22,000 pieces hints at the overall rarity of the date. This particular piece is a well-struck example with the luster of a higher grade. The marks on Liberty make it an accurately graded piece, but the overall rarity and under-appreciated nature of this second year of issue combine to make this date an elusive one that is often ignored by many collectors.
Value: The PCGS Price Guide sits at $17,500. A single grade higher on this piece pushes it into the low $20,000s, but this piece is reserved for a very reasonable $14,250 in this week's auction.
---
Why we love it: In our opinion, Antebellum New Orleans mint issues are extremely underrated. Though the mintages are sometimes rather high, the survivorship of such dates is often far less than what would be suggested. This particular issue is a lovely, original piece with fantastic eye appeal, and we certainly are proud to offer it.
Value: The Greysheet sits at $2,400, while PCGS lists the coin (inaccurately) for $1,900. We paid nearly $2,400 for this piece a few months ago, but would sell it for $2,250 via Make Offer this week as a special discounted price.
---
Why we love it: It's been a while since we've offered a superb gem example of one of our favorite dates in 20th century coinage. This lovely and lustrous piece is a headlight with great luster.
Value: Reserved for just $9,250 in auction this week, this is an excellent opportunity to snag a key date rarity that would have cost you at least $3-$4000 more just a year ago.
---
Why we love it: Despite the mintage of over 3 million coins, the 1884-S is a key date that typically does not come in an uncirculated state. This piece is certainly the outlier grade-wise and the luster is the overall highlight. Underrated when compared to the popularity of the Carson City mint issues, you would be very hard-pressed to find a piece in a higher grade.
Value: Most recently the wholesale levels on comparable pieces have been between $19-$20,000. We believe that we got a good deal on this piece at the recent Baltimore show and have it reserved for what we think is a very reasonable $19,000. A longer term layaway would also be available on this underrated date as well.
---
Why we love it: The 1918/7-D Buffalo Nickel is the key to the set of any grade-range of Buffalo Nickels. While many of us remember filling in blue Whitman albums, this hole was often left blank as it was simply price-prohibitive. This opportunity to purchase a truly choice Very Good example with the coveted CAC sticker could complete your set of Buffalo nickels and complete a childhood goal!
Value: The PCGS Price Guide rests at $1,375, and we are making this example available for just $1,300 via Make Offer. Other comparable pieces with the CAC sticker have been bringing between $1,300-$1,500 consistently, and this is an unusual opportunity for such a wholesome coin.
---
Why we love it: This sparkling superb gem proof Mercury Dime is as close to perfect as you can get on a classic piece. Flawless fields, fantastic mirrors and a CAC sticker are all highlights that help this coin stand out amongst other proof type issues.
Value: Most recently, comparable examples have sold in the $1,175 range, and we're happy to match that price level via Make Offer, which we think is an excellent value for a nearly perfect coin.
---
Why we love it: 1921-dated Morgans are the red-headed step-children of Morgan dollars. Due to the lack of production for 17 years, this rather heavily minted issue is typically left out of the category for "generic" Morgan dollars and receives its own sub-category where the dollars bring less than even the most common dates. Why do we like this date? When someone is talking about Morgan dollars in 63 grades, they can always get a better deal with 1921s and for all intent, there's absolutely zero difference, besides a 17 year age gap..
Value: Common date MS63 Morgans command about $50 on the dealer to dealer market currently, in quantities of 100+. We're offering this roll for just $44 each via Make Offer for $880. That's over $120 in savings from even the wholesale price levels.
---
Why we love it: Carson City gold has long been popular amongst even the newest of collectors. In fact, it's one of the few mints that has really developed a true following where collectors focus solely on pieces from that locale. This 1874-CC is an issue that was minted in rather conservative numbers with a final total of under 17,000 pieces. In fact, only two uncirculated examples can be accounted for and that justifies it as being a truly scarce piece and worthy of a CWL mention.
Value: The PCGS Price Guide lists this piece at $4,750, with sales records for PCGS-graded coins in the $4,100 range. A NGC piece in this grade has not been offered in nearly two decades, but we think that this offering at $3,800 via Make Offer is an excellent value on a date that is not easily found.
---
Until next time, thanks for stopping by and sharing some time with us to browse our Coins We Love.