Coins We Love - November 2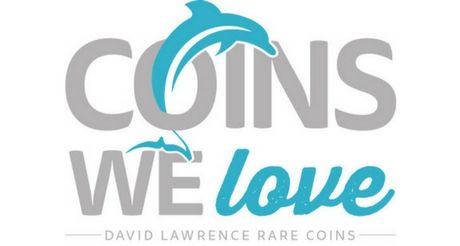 This week's CWL features a grouping of non-auction coins that are discounted to our very minimum values. We try to do this every week with our regular offerings in the CWL, but this week we picked a few older examples that haven't found new homes, and priced them to the quick! We hope that there is something for you in this wide assortment of discounted pieces.
This week at DLRC, we visited the South Carolina Numismatic Association show for the first time in 20 years! It was a trip down memory lane for myself (John Brush) as I had attended that show for many years before joining DLRC. A more welcoming group would be difficult to find, and it was nice to catch up with some old friends. This week we're continuing to shore up a few weeks of new items before we head to the Whitman Baltimore Expo next week. As usual we will be in Booth #540 near the front entrance and if there's anything you'd like us to bring, just email us at coins@davidlawrence.com. We'll be packing our bags in the coming days, but we'd love to bring something along if you can let us know!
Until next week, we hope to see you in Baltimore, and please check out our website for this week's newest offerings!
Sincerely,
John Brush and Your Friends at DLRC
---
Why we love it: Flashy, deep cameo fields with fantastic eye appeal. This is exactly what a top-quality gem proof should look like. An amazing specimen that is sure to catch the eye of even a non-collector.
Value: The PCGS Price Guide reflects a value of $26,500, but the most recent sales records in auction come in at $22,350. This piece is reserved for slightly less than that at $22,000, reflecting an ideal value on a pristine gem!
---
Why we love it: Beautiful, even chocolate surfaces with pleasing luster. A truly unusual early 19th century issue, this 1800 Large Cent looks nicer than many 63s. Smooth surfaces and fantastic eye appeal highlight this turn of the century example of what we'd love to see in Large Cent Copper coinage.
Value: The PCGS Price Guide sits at $15,500 and while this may be a bit strong in our opinion, this coin is worth every bit of our special offering this week of $8,750 via Make Offer. The wholesale Greysheet bid for a MS60 rests at $8,500, marking this as a fantastic value.
---
Why we love it: A superb gem in every respect, this popular Civil War issue is a fantastic gem with amazing eye appeal. The CAC seal of approval is simply the cherry on top of this gorgeous piece.
Value: PCGS values this coin without the CAC sticker at $7,850. With no comparable sales ever dropping below $7,000, this piece is available for just $7,250 via Make Offer, a $250 discount below our previous best price and wholesale value of $7,500.
---
Why we love it: The 1856-S is a particularly rare issue in mint state grades. In fact, less than a dozen uncirculated pieces have been graded and only nine graded higher. The survivorship of this issue was likely since the rapid growth of the western United States, due to the Gold Rush, created an intense need for currency and change. Thus, the already small mintage of 286,000 pieces were swallowed up in commerce.
Value: PCGS Price Guide values this underrated rarity at $10,500. With only three pieces graded as such by PCGS, our discounted offering of $7,000 via Make Offer seems like an excellent long-term value.
---
---
Why we love it: This piece came to us as part of a larger collection at the Long Beach show earlier this year. One of the few remaining pieces from that offering, we've further discounted this coin to a price that we think is ideal for the advanced collector.
Value: PCGS and CPG agree on an estimated value of $4,500 on this piece, and we can further discount it this week to our wholesale level of only $3,800 via Make Offer. This is a discount from the previous auction records of over $3,800 and is even with the wholesale Greysheet price guide.
---
Why we love it:Rarely do we get the chance to offer a ready-made set, but this 50-piece commem set is a welcome respite. Meticulously put together, this incredibly eye-appealing set can be used as a start to the complete Classic Commemorative set or as a fantastic addition to a collection. It has already met reserve in this week's auction and will find a new home in the coming days!
---
Why we love it: Scarce in all mint-state grades, the majority of the over 3.7 pieces produced was melted in the 1930s. Thus, few examples in all grades survive. An elusive date for many, this is an unusually affordable mint state example.
Value: The CPG reflects a value of $15,400 with PCGS coming in at $14,500. With the most recent sales records coming in at over $13k, the reserve on this piece is set at a very competitive $13,250 and is an ideal opportunity to purchase this coin before the price triples in just a grade higher.
---
Why we love it: The 79-O is a rare issue in MS66 and no finer examples have ever sold. This exceptional gem exhibits frosty surfaces and brilliant luster with amazing eye appeal. While it doesn't carry the gravitas of the other key dates, the poor storage and handling of this New Orleans-based issue has allowed this date to become very difficult in high grades, thus our excitement at this unusual jewel.
Value: The cheapest sales price that we can find in recent years is $15,275. With the Greysheet bid of $16,000, the CPG of $20,000, and PCGS at $17,500, we have discounted this coin to the Bluesheet level of $15,250 via Make Offer. This is by all accounts the cheapest we've seen a comparable coin offered.
---
Why we love it: This coin is nothing less than a sparkling golden little jewel! The first year of issuance was 1856 for the Type 3 gold dollar type for the Philadelphia and Dahlonega mints, while San Francisco continued to use the Type 2 obverse for the year. The Upright 5 feature is scarcer than its Slanted 5 sister from the same year, and there is only a single coin certified finer. Rich satin luster envelops both obverse and reverse, and the coin has the perfect "skin" for what you expect to find in this grade. Only one or two inconsequential contact marks on the reverse are what keep this coin from an MS66 designation. CAC agrees with our opinion that this coin is top end for the grade! Perfect for the Type 3 gold dollar specialist.
Value: The Greysheet bid price remains at $8,250 with a CPG at $9,900. Offered this week via Make Offer for $8,500, this is below the typical dealer price when compared to price guides.
---
Why we love it: Flashy white, high-end example for the grade with CAC approval.
Value: Although 68's are available for this date, the price triples to over $3,000 for ones that have gained CAC approval. This piece is reserved at a very comfortable $950 and should meet reserve in this week's auction.
---
Until next time, thanks for stopping by and sharing some time with us to browse our Coins We Love.
Check out all of the available "Coins We Love" from past newsletters