Coins We Love - November 30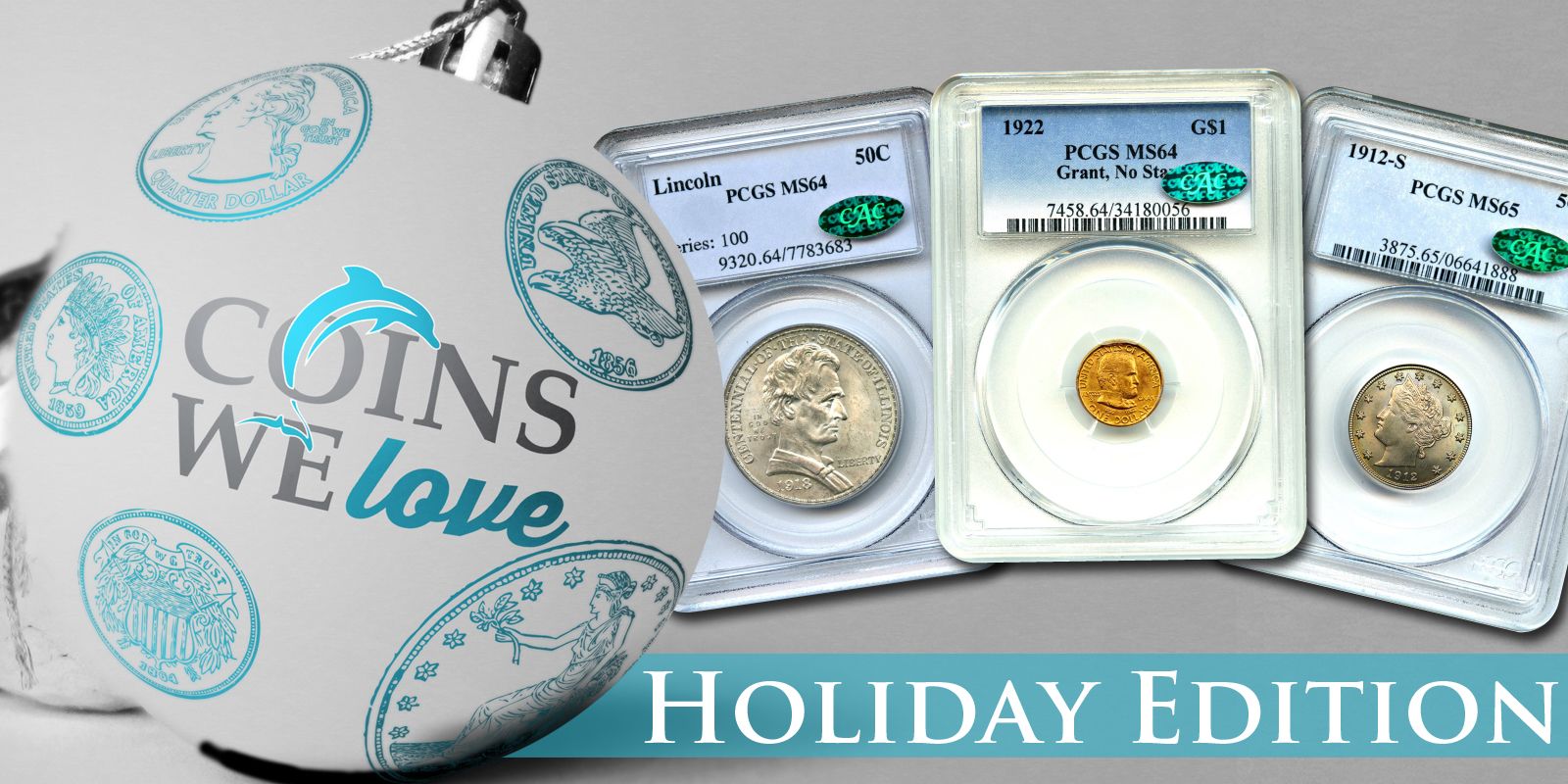 This week at DLRC we tried to spend some time recovering from the Thanksgiving holiday and the resulting business that occurred over the four day weekend. In fact, we had a record number of orders to ship out on Monday and while our shipping department went home exhausted, it was a fun day overall as we really had to step up our game. Since Monday, we've been busy preparing another auction as well as handling a large number of packages that have been coming our way from other collectors. It's certainly been an energizing week as we make our way through these and various other small projects, but we're thankful that it is something that we really enjoy. Unfortunately, we have to keep it short this week as we're plowing through an end of the month inventory, but we'll be back next week with a new collection of currency and another wide variety of coin offerings that are sure to please all types of collectors.
Sincerely,
John Brush and Your Friends at DLRC
---
Why we love it: One of the most popular U.S. issues of all time. This piece is one of the nicest gems that we've held. The obverse is a pure MS66 with satiny proof-like surfaces. A true gem with astounding eye appeal. Certified in an earlier NGC holder and CAC approved for quality.
Value: Gem examples of this popular coin appear occasionally, but this piece stands out as far as quality and is an ideal example for a long-term collector/investor. Reserved in this week's auction for $55,000, the most recent CAC'd example last sold in 2014 in auction!
---
Why we love it: Popular, better date New Orleans Morgan issue with a light golden tone and plenty of gorgeous luster, reverberating from the surfaces. A beautiful, quality example. Another perfect registry grade piece just before a huge price jump to MS65.
Value: Part of the Shenandoah Dollar collection, this scarce O-Mint is a tough date in uncirculated grades and nearly impossible to find in gem state. With a PCGS Price Guide Value of $10,000 and a CPG price of the same, this coin is reserved for just $8,600 and is perfect for the discerning collector.
---
Why we love it: A popular date in circulation and proof strikes, it is particularly difficult to locate in gem condition. Pretty golden copper tones with nice eye appeal. With just sixteen graded finer by both services combined, this would be a fine addition to any Indian cent or key date collection.
Value: The CPG price of $10,600 is a responsible start while the PCGS Price Guide rests at $12,500. Available via Make Offer for outright sale at just $9,250, that's just $450 more than the wholesale price guide for an average quality example.
---
Why we love it: Civil War date era issues remain extremely popular, and we love to buy and offer them in any denomination. This beautiful mint state $10 is dripping with fantastic golden luster.
Value: With a PCGS Value of $7,750 and a CPG at $7,800, this piece is available via Make Offer for just $7,150.
---
---
Why we love it: Great opportunity to add this extremely popular and scarce early rarity. Nice and original look. Only 6,738 coins were struck and very few survive in sound condition. It's much scarcer than the 1796 quarter as few were saved.
Value: The PCGS Price Guide reflects value of $9,500 with the CPG of a Fine 12 sitting at $9,600. While a few inferior quality pieces have sold for less, we are happy to offer this popular date for just $8,000 via Make Offer.
---
Why we love it: A scarce CC issue with only seven pieces graded finer by PCGS. Frosty, white surfaces with alluring fields. An absolute beauty and one of the nicest examples of this popular date that we've ever offered.
Value: This registry quality piece is bested by only seven other examples at PCGS. With a PCGS Price Guide of $21,000 and a CPG value of $22,500, this coin is reasonably reserved for $19,500 in this week's auction.
---
Why we love it: Popular first year of issue for the revised reverse design. Light pink & gold toned surfaces with great luster. The addition of the CAC sticker makes this coin a great find!
Value: A beautiful piece with amazing toning, this coin is far better than the average. With a CPG value of $6,000, this example is offered for what we think is a fantastic value of just $5,750 via Make Offer.
---
Why we love it: Key date O-mint with nice original surfaces with good underlying luster. Hints of lavender and blue toning on the outer rim. Great collector grade just before the big jump in price to MS65's which are difficult to find.
Value: The PCGS Price Guide of $4,750 is reasonable for a date that just never comes available. This piece is offered in this week's auction with a reserve that has already been met at $3,600.
---
Why we love it: Great early type coin! Smooth and original surfaces with green CAC sticker approved for quality.
Value: Decent population available in the VF grade, but limited with CAC approval. Listed at $1,050, offered this week at $900 to the first savvy taker!
---
Until next time, thanks for stopping by and sharing some time with us to browse our Coins We Love.
Check out all of the available "Coins We Love" from past newsletters