Coins We Love - November 23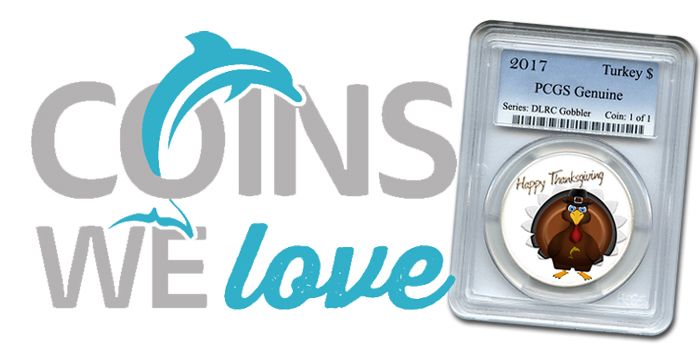 This week's issue of the CWL comes to you during one of our favorite holidays. We hope that you are enjoying some turkey and time with your families. We also wanted to take the opportunity to thank you for your business and friendship this year. Since 1979, DLRC has provided collectors with one of the widest selections of high quality coins and it would have been impossible to do without you!
Please enjoy this week's variety of highlights. Our offices are closed Thursday and Friday so that we can spend time at home with our families and friends. Please feel free to give us a call on Monday when our office re-opens or if your needs are more urgent, just email us at coins@davidlawrence.com and we'll be happy to respond over the long weekend.
Sincerely,
John Brush and Your Friends at DLRC
---
Why we love it: Trailing behind only the 1870-CC Double Eagle, the 1871 issue is the second-rarest date in all the Carson City $20s. With less than five uncirculated examples known, this coin is prohibitively difficult to find in higher grades.
Value: The PCGS Price Guide rests at $68,500 with the CPG at $70,800. A very unusual opportunity that has already met the reserve and is sure to catch many eyes in this Sunday's auction.
---
Why we love it: The beautifully original surfaces on this early Half Eagle catch the eye. Lovely orange highlights remind us of the leaves in western Virginia this time of year. This coin comes to us from a long-time collection in North Carolina and has not been offered for sale in over a decade. We think that some might see the surfaces as being nicer than XF, alas we're happy to offer the coin with a little bit of meat on the bone for the collector.
Value: The PCGS Price Guide reflects a value of $8,750 with the CPG value of a XF40 registering at $8,100. This piece offers the ultimate upside of freshness and originality and is sure to catch the attention of many bidders. It is reserved for $8,000 in Sunday's auction.
---
Why we love it: Most uncirculated examples of this better "type" coin come with darker surfaces. However, there are very few true gems, this being one of the most attractive that we have seen. An absolutely fresh coin that found its way to us through a wholesale dealer, it is new to the market and is certainly a piece to be considered for the advanced collector.
Value: The most recent comparable auction price comes to us from all the way back in 2009, where a darker, less attractive piece brought $27,600 with a NGC coin selling in 1998 for $47,000! This alone shows the rarity of this grade. Thankfully the values have settled a bit and we are proud to offer this coin in our Thanksgiving weekend auction with a reserve of just $22,500.
---
Why we love it: From a mintage of less than 12,000 pieces, this coin is difficult to locate in all grades, but especially finer than this AU50. A lovely, wholesome example, it is the first year of issue for a Carson City dollar, which becomes much more plentiful with the Morgan Dollar issues, starting in 1878.
Value: The CPG value sits at $5,520 with the PCGS Price of $6,450. Typically offered for $5,500 on the DLRC website, we're offering a Turkey Special Price of just $5,000 via Make Offer this week!
---
---
Why we love it: A fantastic registry-quality issue, only four others have been graded as such by NGC with none finer. Lovely light pastel colors with gorgeous surfaces, this coin is truly a piece of art with amazing eye appeal. An ideal example for the advanced type collector, there are none graded finer!
Value: The PCGS Price Guide reflects a value of $5,300, but recent auction records record values around the $4,000 level. Typically listed for $4,500, this coin is available for just $3,950 via Make Offer this week.
---
Why we love it: With a mintage of just 18,140 pieces, far fewer are known to have survived. It is one of our favorite designs with the classic obverse mintmark on a Classic Head Gold Quarter Eagle. A popular rarity from the famed Southern branch mint in Charlotte, North Carolina, it is one of the nicer examples grade-wise as well.
Value: The wholesale CDN Bid price is listed at $9,750 with the CPG value of $11,700. A great coin at a nice value, we are offering this piece with a reserve of $9,500 in this week's auction.
---
Why we love it: This earlier middle date of the Indian Cent series is a phenomenal gem with beautiful red highlights. A gorgeous registry quality coin that is sure to be the highlight of any advanced Indian Cent collection.
Value: The PCGS Price Guide value is listed at $12,000 and there are no pieces graded finer for the date. Less than a decade ago a pair of examples of this date and grade sold for well over $20,000! This piece is far more reasonably reserved at just $9,500 in this Sunday's auction.
---
Why we love it: The 1877 Indian Head cent is a coin whose importance transcends its mintage or price. The potential is obvious seeing as it is the only other coin in the series (besides the 1909-S) with a mintage below one million (852,500). The popularity of the piece grew to be the universal choice of most collectors, because it was a rare coin that people could find and save. This example has rich red brown surfaces with beautiful overall eye appeal.
Value: Our favorite key date from one of our favorite series, this popular rarity boasts a CPG value of $14,200 with a PCGS Price Guide of $16,000. Offered at just $12,500 via Make Offer, $500 over the wholesale Greysheet bid of $12,000, we think that this coin is a cornerstone of a fantastic Indian Cent collection.
---
Why we love it:
Value:
---
Until next time, thanks for stopping by and sharing some time with us to browse our Coins We Love.
Check out all of the available "Coins We Love" from past newsletters