Coins We Love - October 12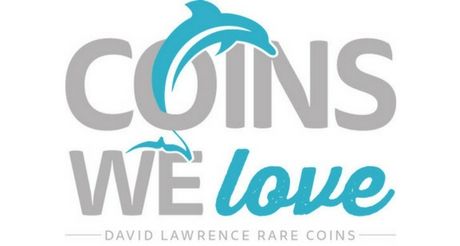 The comings and goings of DLRC are quite dull in our eyes at times, as it's difficult to truly explain how every day is different. In Minnesota, Gary has been acquiring several collections that are slowly making their way to Virginia, while also serving the ANA and its membership as the President. We are proud to be able to work with him as he continues to grow the ANA and to focus on the hobby that we all love. On the Southern end of things, we have received more packages in the last two weeks from collectors than we have in years! It has certainly kept Matt, Jason, and I busy the last few weeks, but we're hoping to come up for air by Friday. It's an excellent time for collectors as we're offering some of the "freshest" opportunities in the hobby with our diverse inventory and weekly auctions.
While we know that there are many other places you can buy coins, we hope that you'll consider us whether you're buying or selling as we will always do our best to work with you and offer the best service possible! Of course, if you have any questions we'd love to talk to you. Give us a call at 1-800-776-0560 to reserve any of the listed coins or to simply talk about something else, and we'll look forward to hearing from you!
Sincerely,
John Brush and Your Friends at DLRC
---
Why we love it: With a mintage of 1,000 coins and very few survivors of true "gem" status, this popular Civil War Proof is a stand-out piece in our inventory this week. While three others are graded as such by PCGS, we would venture to say that this is arguably the nicest of the lot due to its overall eye appeal. A true jewel that is also an underrated date in the series.
Value: The PCGS Price Guide lists this coin at $25,000 and with the sole auction appearance garnering $24,675 in 2013, we think that the overall value is a bit conservative. Nonetheless, we have this piece available for outright purchase a touch less than this issue has ever sold as we are offering it via Make Offer for just $24,000 at wwww.davidlawrence.com.
---
Why we love it: It's easy to see why we love this coin. It's a phenomenally beautiful rainbow toned example of this 2 year type coin. Eye appeal can certainly add a lot to a coin and the toning on this piece is nothing less than beautiful art.
Value: Similarly, colorful items can bring "moon" money in auctions, and we expect this coin to garner a lot of attention. It is reserved in this week's auction for just $5,250. With a PCGS Price Guide of $6750, we think that this could be a fantastic value for the long term.
---
Why we love it: This date is historically important since it is the first dime struck at the New Orleans mint and is another excellent example of a two-year type design. Remarkably well-preserved and completely original, this piece is a true gem with a lot of personality.
Value: The CPG reflects a value of $23,100 with the PCGS Price Guide coming in at slightly less ($22,500). This coin has been traded in auction several times where it reached up to $28,200 in 2014! It has settled at a much more reasonable level and one that we think makes it a fantastic value with a reserve in this week's auction of just $19,500, which is directly in-line with the wholesale Coin Dealer Newsletter "Bid" price.
---
Why we love it: The 1837 Proof dime issue hails from a mintage of just 30 pieces, of which about 20 examples survive today. Only four grading events have occurred finer (at least one is a re-submission), and the lovely original blue and gold tones of this example help it to stand out. A truly choice proof issue with fantastic eye appeal, this rare issue is easy to love!
Value: The thing that stands out for us when it comes to value on this coin is its rarity. With only 30 pieces produced, all for special treasury officials and government VIPs, this is a must-have for the truly numismatic-based collector. PCGS Price Guide suggests a value of $16,000, but this piece is reserved at a much more reasonable $13,500 in this week's auction.
---
Why we love it: Despite this writer's southern roots, this Grant with Star issue is one of our favorite classic commemorative issues. A very difficult issue, no matter the grade, this lustrous gem with light rainbow toning is a jewel amongst the many dark, "original" pieces that are on the market.
Value: Only five examples are graded finer and they typically realize well north of $40,000, making this piece that is reserved for just $13,500 in this week's auction seems like a much more realistic opportunity for the value-conscious collector.
---
---
Why we love it: A beautifully cascading crescent of rainbow toning on the obverse helps this gorgeous Carson City gem stand out amongst its peers. Similarly toned issues can go for a lot of money in auction, but we're proud to offer this beautifully toned specimen to our collectors at a discounted price in this week's CWL.
Value: Typically offered for $950 on our website, we can accept an offer of $825 this week via our Make Offer function.
---
Why we love it: The 1870 is a truly underrated Philadelphia issue amongst Quarter Eagles. From a mintage of just 4,520 pieces, only eleven coins have survived as truly "uncirculated" according to PCGS. While typically unappreciated as a rare date, the advanced numismatist may do well to remember this example when piecing together a value-conscious low mintage gold type set.
Value: Available via Make Offer for $4,750, the quality and opportunity are a great mix for this issue.
---
Why we love it: The 1848-C is an incredibly underrated branch mint gold issue in our opinion, especially in high grades. In fact, only six pieces have been graded finer by PCGS. CAC stickered examples are nearly impossible to find, making this super-slider an unusual issue that is destined to be "put away."
Value: Typically offered for $7,500 via the DLRC website, we can further discount this piece to $6,950 via Make Offer this week. While price guides can't accurately reflect the quality of this piece, a recent NGC example sold for $7,344 in an auction a year ago.
---
Why we love it: You may ask, what is the Granite Lady Hoard? It's a fair question, but the answer is a fascinating one as these coins survived numerous catastrophes in the housing of the U.S. Mint in San Francisco. Described affectionately as the "Granite Lady", the San Francisco mint housed a small group of coins for many years in their vaults that entered the market in 2016. While many sold for huge premiums when initially released, these are now available for a much more reasonable price and could tell a fantastic story if only the coins could talk…
Value: Available via Make Offer for just $4,300, we view this opportunity to purchase a CAC-approved piece with a fantastic history to be a no-brainer as you're getting the pedigree for free!
---
Why we love it: This is our loss-leader for this week's CWL. While PCGS disagrees with us, we believe this coin to be a circulation strike instead of a proof issue. While the differences are very minute, the values are about $1,000 different. Alas, our pleas were not heard, and we are presenting this lovely issue in this week's CWL for an unexpected loss.
Value: Typical proof issues sell for around $850-$950 in this grade, but we are offering it (not necessarily happily!) for just $950 via Make Offer.
---
Until next time, thanks for stopping by and sharing some time with us to browse our Coins We Love.
Check out all of the available "Coins We Love" from past newsletters