Coins We Love - October 13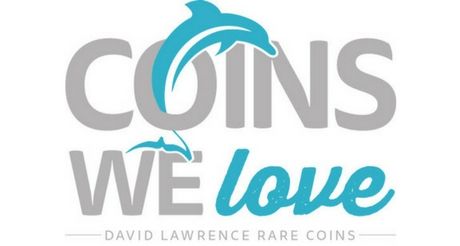 At DLRC, we're often asked how we are able to handle such a large quantity of coins. There's not a simple answer to that, but we do our best to put ourselves in the right position to see as many coins as possible! We have a wide base of dealers who give us "first shot" at their coins at a coin show. This may mean that we have to arrive in cities a day or two in advance of the actual show, but it's a necessity to be able to get the change to buy the "right" coins. By doing this, and by purchasing a wide variety of coins, we're offered more coins than almost any other dealer. Having a check that's always good helps as well!
If you think that the number of coins that we handle is incredible (which it is!), you should see the number of coins that we pass on, whether it be for quality, price, or some other external factor. Of course we sometimes end up with coins that are traded in to us by customers that don't really fit our inventory quality standards, and we utilize different wholesale channels to reduce that clutter from our website. In fact, we also do our best to help PCGS, NGC, and CAC when we find coins that may have slipped through the cracks and aren't necessarily deserving of grades or stickers.
In our opinion, it shows the skill of a truly well-rounded numismatist to be able to handle the entire spectrum of coins, whether they be PCGS, NGC, PCGS/CAC, or NGC/CAC. By not pigeon-holing ourselves into a small niche market, we're able to offer a far wider variety of items, which translates to lower margins/prices. Sometimes there are great coins that are CAC-certified or graded by a certain service, but you can't ignore the fact that there are nice coins that deserve to be placed in even the finest of collections that may not fit an exact niche subset. There are coins of all shapes, sizes, and grades that fit a wide variety of collections, and by not judging a coin by its cover (or holder!), we're proud to offer what some consider the widest variety and highest quality of coins available.
We certainly appreciate your taking the time to read our regular write-ups here in the CWL, and I encourage you to please send a note to me at john.brush@davidlawrence.com if you have any questions or thoughts about what you'd like to hear more about in future CWL's and newsletters from DLRC!
Sincerely,
John Brush and Your Friends at DLRC
---
Why we love it: Prior to the discovery of the SS Republic in 2003, 1865 Double Eagles were quite rare in uncirculated grades. This changed with the recovery of many examples of these pieces from the Atlantic Ocean, but the popularity of these Civil War Dates did not wane. In fact, the shipwreck-recovered gold coins actually increased in popularity. We have not had the privilege to offer many of these, but we've found that the after-market values on these are really far better. We are happy to offer this example with all of the marketing trimmings, and it is the perfect item for any historian or coin collector.
Value: While some of these examples sold for incredible sums when they were first released to the public, the market has settled into a far more reasonable level. In fact, to find examples with the original box and certificate of authenticity is quite unusual these days. This set is offered in this week's auction with a very reasonable reserve of just $25,000, and we expect it to find a new home as bidding has already been feverish!
---
Why we love it: Proof Three-Cent Nickels have never carried the popularity that should be deserved for such scarce items. In fact, the mintages are quite low on nearly every date. This set is of particular interest to us as we were able to acquire it intact before any of the more "crack-out" minded dealers were able to view it. There are quite a few examples in here that are clearly undergraded, but we find that the unique nature of this set and the individual contents are more interesting as a whole than by individually maximizing the grade and value.
Value: The individual values combined support the very reasonable reserve level of $25,500 for this complete set. However, the rarity of a completely matched grouping in similar holders is certainly a unique opportunity. We hope that the buyer enjoys the set as much as we enjoyed offering it!
---
Why we love it: Three Dollar Gold coins have long been underappreciated by collectors and by that nature, the coins have been available on the market. In recent months, after the offerings from the Pogue Collection were dispersed, several collectors recognized the overall value on many pieces in this particular set. The 1880 is a prime example of an underrated value, with very few examples selling in auction compared to more common issues. However, for a slight premium, this low mintage date can be acquired and it seems like a very good value to us!
Value: Not often do you find an uncirculated coin with a mintage of 1,000 coins that is available for a price under $10,000. In fact, this fantastic value is available in auction this week with a reserve of just $6,500. The PCGS Price Guide sits at $7,500, and an item of this overall value is something that we can't often offer enough to our customers.
---
Why we love it: The 1922-P Saint-Gaudens issue is considered a common date in the series, though its mintage is only half of what was produced from the S-mint. Unfortunately, the majority of coins from the San Francisco mint were either melted by the government or shipped off to foreign banks. It was long considered a rarity, despite its mintage, until several small groups showed up on foreign soil, though very few were of uncirculated grades. Still considered a scarcity, we love the underrated nature of the 1922-S and are pleased to offer this pretty slider that is really of the highest quality, but not quite reaching an uncirculated grade.
Value: Available for just $2,400 via Make Offer, that is exactly in-line with the CDN (Greysheet) wholesale ask price of $2,400.
---
Why we love it: Very lightly toned with nice luster, this is a great type coin with above average eye-appeal. Certainly under-appreciated compared to the larger half dollar and dollar denominations, we are contrarians and enjoy the design and size of these issues with far lower mintages.
Value: The PCGS Price Guide lists this piece with a value of $1,250 without the CAC sticker. As a special in this week's CWL, we can offer it for just $1,050 via Make Offer, over a 10% discount from the regular list price.
---
Why we love it: A lovely and original lower uncirculated example of one of our favorite designs, this piece housed in a collectible Old Green Label Holder by PCGS is certainly perfect for the value conscious collector before the price more than doubles in a single grade higher.
Value: The PCGS Price Guide lists this coin and grade at $3,300. We're pleased to offer this piece at a substantial discount via Make Offer this week for just $2,400.
---
Why we love it: I was reminded this week that not all collectors want to collect the "Finest" graded pieces. In fact, collectors come in all budgets and collecting mantras, and the root of coin collecting is often found in children who enjoy piecing together collections in albums. This is how most of us started and this is the perfect example of a collectible coin that is affordable for many collectors. A perfect hole-filler for the beginning or advanced collector, the surfaces are slightly porous and have some issues, but this coin from the early stages of our country is a historic piece of art and great for many collectors.
Value: Available for just $500 via Make Offer, this is certainly an excellent opportunity for someone that appreciates history.
---
Why we love it: One of our favorite commemorative issues, this particularly pretty piece exhibits fantastic rainbow toning on the obverse. Unusual with this kind of eye appeal, it's the perfect coin for someone who appreciates toning or is building a set of attractive silver commemoratives!
Value: The PCGS Price Guide lists an average piece with a value of $3,250, but we are pleased to offer this particularly attractive example for just $2,750 via Make Offer!
---
Until next time, thanks for stopping by and sharing some time with us to browse our Coins We Love.