Coins We Love - October 20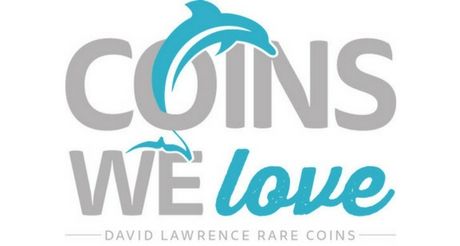 First of all, thank you for the replies and suggestions from last week's CWL newsletter. Nothing is more encouraging than to know that these are read and enjoyed by our customers. I also appreciated the questions that were levied at me, and I hope that those keep coming!
This week I thought that I'd touch on selling with DLRC. As you probably know, we offer several different ways to sell your coins, and we will always do our best to make the suggestion that fits your needs and allows you to reach optimal results. Most frequently I'm asked about our No Reserve or Guaranteed Auctions. With the No Reserve option, we're able to give you the best rates since we're guaranteed that the coin will sell. This is often the best option for coins that are popular amongst collectors and have nice eye appeal. The Guaranteed Auction is also a popular alternative for many sellers. While we have to charge a tad more for this option, it does give your coins a minimum as to what you'll receive in the auction. On more esoteric items, for coins that are "fresh" to the market and unique offerings, this is a great option. We're always happy to set "Guarantees" and final minimums for collectors who are a bit nervous with letting the coins "fly in auction." In fact, this is one of the advantages of dealing with DLRC. We want your coins back so that we can offer them again, and we think that each coin has a value. Therefore we'll do our best to not allow any pieces to slip through the cracks, which can happen when service isn't considered the ultimate goal. If you have coins that you're thinking of selling or just want to chat about any of these options, please feel free to email me, and I'll do my best to answer promptly!
Sincerely,
John Brush and Your Friends at DLRC
---
Why we love it: This rare key date proof issue has long been popular amongst collectors. In lower grades this date typically comes rather unattractive and dark, but this lovely example exhibits beautiful fields and gorgeous reddish-orange tints. A lovely example of one of our favorite key dates in a popular, yet short-lived series.
Value: The PCGS Price Guide lists this piece at $32,500. All of the recent sales from the past two years for PCGS-graded pieces have been between $29,000-$42,000, making this piece with a reasonable reserve of $27,750 a very good value for even the most discerning of collectors.
---
Why we love it: One of three examples in this grade with only two graded finer at PCGS, the mintage of 28,000 pieces is far higher than the survivorship of this Post Civil War date. Pretty surfaces with nice luster, this coin is new to the market and an incredible opportunity for someone who truly appreciates rarity.
Value: Available for just $7,150 via Make Offer, this is likely a once in a decade (if not longer) opportunity for a truly scarce issue. Similar mintage and condition rarity pieces would bring multiples of this price, and we view this as a very underrated bargain!
---
Why we love it: Early type coins have long been popular, but are very difficult to locate with the coveted CAC sticker. This post-Revolutionary War issue is a perfectly wholesome AU example of this short-lived design. With a mintage of 44,527 and far fewer pieces extant, this is an important survivor and an absolutely lovely coin.
Value: The PCGS Price Guide reflects a value of $15,000 on this piece, and though recent sales have been rather aggressive for CAC-stickered examples, this piece is available for just $12,250 via Make Offer this week.
---
Why we love it: A legendary rarity, even amongst non-collectors, the 1895 Dollar is always worth mentioning. We have handled many examples from circulated grades to Proof 67 Deep Cameos, but we really appreciate the lower uncirculated proof grades as they seem to be a great value before the price jumps another $10,000. Pretty surfaces are very rare in this grade range, and these light tints are far nicer than the typical extremely dark piece.
Value: Reserved for just $45,000 in this week's auction, it's an incredibly desirable piece for all collectors of Morgan Dollars.
---
Why we love it: Matte Proof issues were generally disliked by early collectors, thus the mintage of just 1,050 pieces. This particular piece exhibits lovely pink and purple hues with great overall eye appeal. We typically don't see many Matte Proof Buffalo issues, but this coin is really second to none and a great opportunity before the price more than doubles for the elusive higher graded examples.
Value: The PCGS Price Guide reflects a value of $4,950. CAC'd examples have not frequently sold, but have brought north of $4,800 consistently since 2013. We got a very good deal on this piece and are pleased to have it reserved for just $4,750 in this week's auction.
---
Why we love it: The New Orleans mint has long been popular amongst historians and collectors due to its prolific mintage season and the fact that it was the only mint that was taken by Confederate soldiers, yet still operated in the Reconstruction period and beyond. This large mintmark variety is a very desirable issue even among mainstream collectors.
Value: The Greysheet sits at $1,750 for this piece, and recent auction records have settled in the $1,760 range. Available for just $1,700 via Make Offer this week, we're ready to allow this large O quarter to find a new home.
---
Why we love it: Early Washington quarters were typically not saved appropriately to maintain such pristine conditions. This is an outlier compared to most pieces and exhibits the original skin that is so often lacking on these early issues for the type.
Value: PCGS Price Guide sits at $1,800 for this particular grade, and recent sales have settled between $1,500-$1,750. This 100% original piece, that is perfect for the registry collector, can be purchased for a bargain at just $1,400 via Make Offer this week.
---
Why we love it: Indian Princess $3 Gold pieces exhibit some of the most intriguing mintages of all U.S. gold series. With just 7,036 coins produced, we think that the series is criminally under-appreciated when it comes to rarity. This specimen is the perfect collector grade with nice eye appeal and would be a great starter piece for a beginning $3 collector.
Value: The Greysheet value of an AU50 example sits at $1,750 with recent sales of AU55 examples all north of $2,100. This Antebellum Indian Princess is available via Make Offer for just $2,050 this week.
---
Why we love it: Flashy, truly gem quality Saints are easy to enjoy and have long been popular amongst collectors. The 1911-D is a date that you see far less than the dates we consider "generic" like the 1908, 1924, 1927, and 1928, but it can be purchased for basically no premium over these dates. A great harbinger of value on a high quality coin!
Value: Greysheet for an MS65 of average quality sits at $2,200. Available via Make Offer for just $2,400, the buyer is effectively getting a "+" for free!
---
Until next time, thanks for stopping by and sharing some time with us to browse our Coins We Love.